If you're anything like me, the promise of a deep and blissful state of total relaxation is a cool but largely impossible aspiration.
Yoga, acupuncture, massage, mediation, sleep… you name it, I have an inept ability to turn my mind off. I swear sometimes I flit between two dozen different dreams in a night, with familiar faces and locations, though in the most obscure situations. Did I rest at all?
I make list after list at both home and work, and when I'm not writing or looking at lists, I'm ticking never-ending to-dos off in my head. Hey at least I'm organised, right?
When I saw the signs for the Freedom Float and Wellness Centre go up along West Burleigh Road late last year, I added it to my mental checklist—I must try that some day soon. But as always, a busy schedule and the general line up of excuses got in the way, AKA life.
I'd heard anecdotal accounts from others who'd floated and said it was the most relaxing thing they'd ever done—a truly out-of-body experience. Once I finally booked in for my first float, I found the mention of it to others would draw blank stares from many; most were intrigued, yet very few had tried it.
Floating is not a new phenomenon—in fact, it was conceived by a neuroscientist in the 1950s and later pursued by psychologists who discovered plunging oneself into ultimate relaxation or "sensory deprivation" gave the body and mind the chance to heal itself without distraction.
Founders Benny and Asher, and the other kindred spirits at Freedom Float Centre, have created a peace-filled oasis in a somewhat industrial area of Burleigh. I instantly felt at ease walking in, knowing I was about to give my body and marathon-running mind a treat it desperately needed.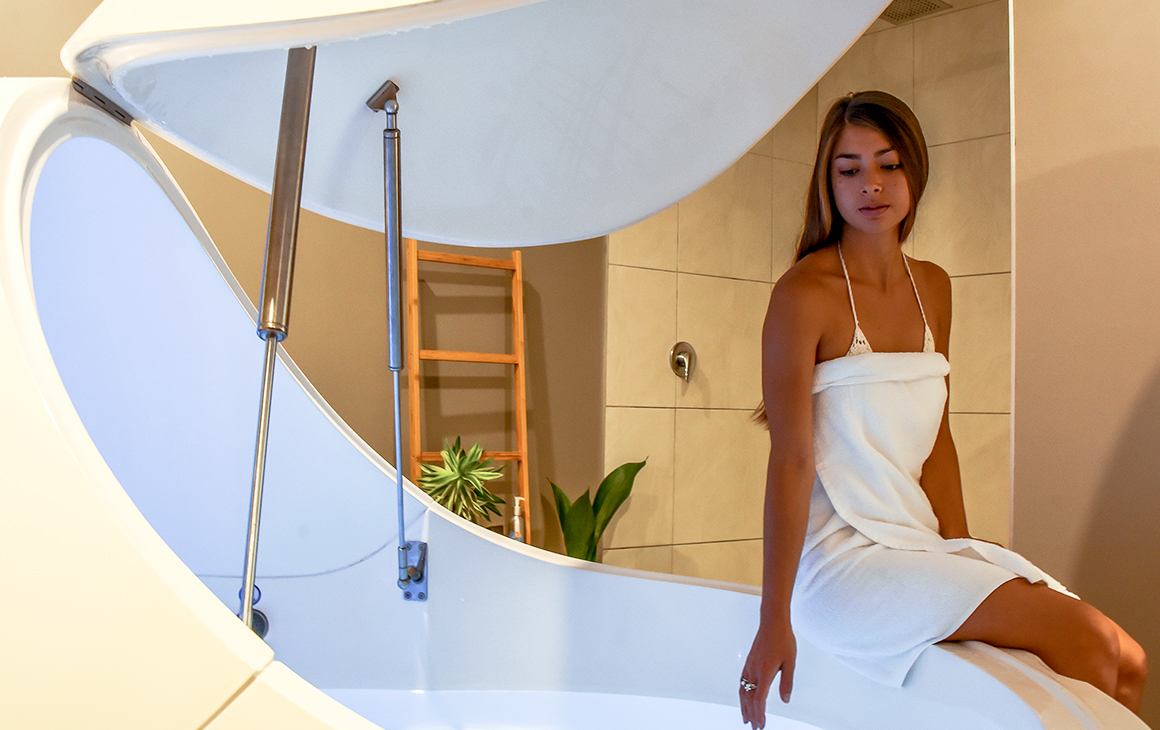 But what if I fall asleep, I thought, might I drown? Fortunately, that's impossible due to the high concentration of Epsom salts; a similar density to the Dead Sea. Freedom Float prides itself on the centre's three state-of-the-art "I-sopod" floatation tanks—the best on the market—and uses nothing but the highest quality, gold label salt, with a whopping 550 kilograms dissolved in each tank. Magnesium absorbed into the skin also has a whole host of detoxifying benefits in itself. But never fear, the water goes through an advanced filtration process after each use and, given the insanely high salt content, is completely sterile.
After a detailed walk through of the process, I was left to shower, strip to my birthday suit, step into the spacious pod, pull down the lid, and then, within seconds, the lights went out and I was in utter darkness. Eep!
Once positioned on my back with my arms floating above my head, and allowing my ears (protected by ear plugs) to sink below the surface and take any pressure off my neck, the all-consuming wave of calm was instantaneous. Surreal almost.
After 10 minutes the sedating rainforest music faded out and I was left alone in the darkness and silence, yet for the company of my own breath and thoughts.
Inside the pod, water is warmed to the same temperature as your skin, so before long I could barely recognise the difference between myself and the water. More so, it felt as though my limbs were no longer attached and on occasion I'd wiggle my toes or fingers to check they were still with me.
... it felt as though my limbs were no longer attached and on occasion I'd wiggle my toes or fingers to check they were still with me.
I honestly could've been anywhere, or anything. Was this what it felt like to be in the womb? Or floating in space? The closet thing I could liken it to was night SCUBA diving: the inky darkness, the Darth Vader-like sound of my own breath, and where the inhaling and exhaling of air deep into my lungs affected my neutral buoyancy. But in here, there was absolutely no stimulation, it was freakishly other-worldly.
A few times I'd briefly jolt out of a semi-slumber with a splash—which I was told afterwards was a mediative state of being neither awake nor asleep and where the body was producing high amounts of energy and endorphins. Yep, I could believe that. Allowing the mind and body to drift into a hypnotic space (there was no list checking, whatsoever!) promotes self-healing and works wonders for stress management and anxiety. And who doesn't need a little help to put those nasties in check?
Zero gravity is also said to be incredibly healing, as it takes pressure off injured areas allowing blood to flow freely to the muscle fibres. Just as was experienced by local pro surfer, Bede Durbidge who has used floatation therapy while recovering from a severely fractured pelvis. It's even promoted to help reset sleep patterns and ward off jetlag, with a one-hour float the equivalent of a four-hour slumber. Almost too good to be true, huh?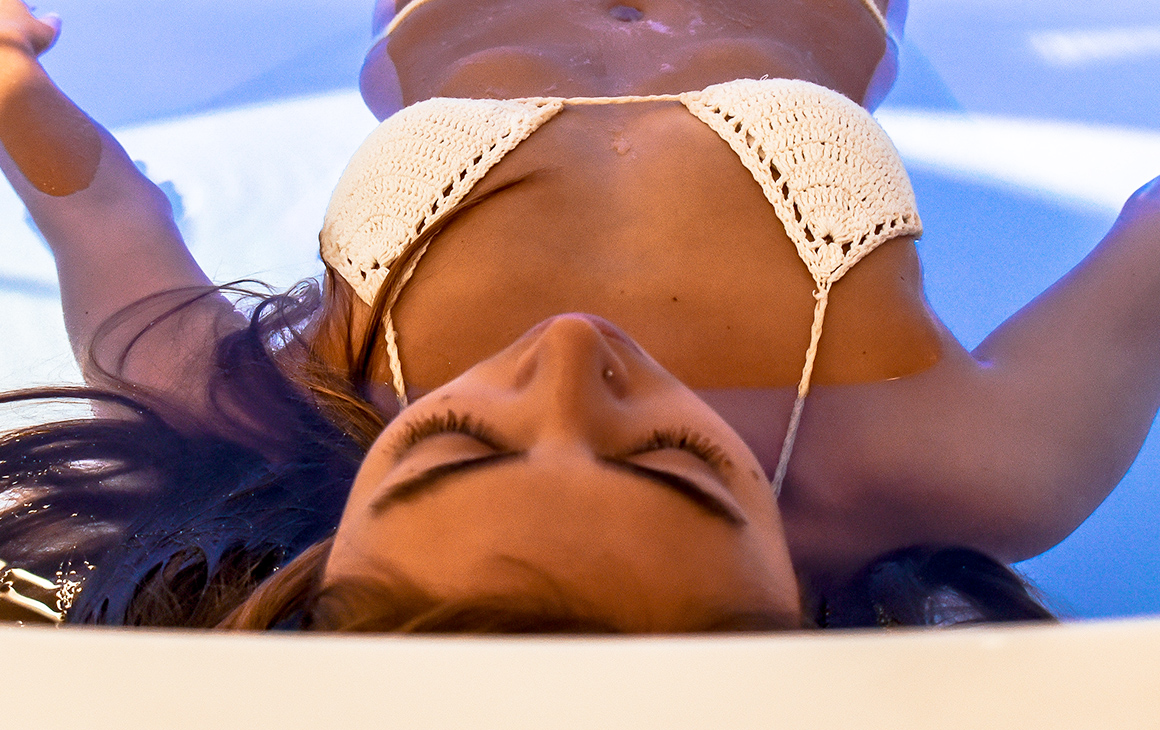 With five minutes to the end of my hour-long session, the rainforest music returned. Having lost all sense of time, I could've sworn no more than half that time had passed. My post-float glow was followed by an afternoon of heightened awareness, clarity, and, given floating stimulates the right side of the brain, creativity. I know, I'm sounding all cliché now, but it's the honest truth.
Those scared off by the fear of being claustrophobic, stuck in a tiny dark room, needn't worry, as there's always the option to leave the lid open or the iridescent blue underwater light left on. How you float is totally up to you.
There's just one other venue for floating on the Coast, yet we especially love that Freedom Float is a welcoming community-focused wellness centre that offers the full spectrum of alternative health therapies. With an in-house naturopath; acupuncturist; Bowen, Reiki, massage, and beauty therapists; and a chill-out room used for gentle yoga classes, stress management and meditation workshops, sound healings, and documentary screenings. Their self-love mantra is about providing remedies to improve overall mental health and wellbeing, within a society that largely doesn't know how to disconnect. Yep, it's a truly heart-warming destination.
I reckon you'll be pleasantly surprised by the prices too, specifically the Taste of Freedom introductory float package which includes three one-hour floats for $150, valid over two months. Or, once you've tried the introductory package, for those who find floating really pushes all their buttons, there's the Freedom Fighters Club membership where $59 per month will give you one hour-long float per month, with extra floats within the same month just $50 (minimum three-month sign up).
They say the effects of floating therapy only compound with each visit, so I'll be back, and I hope I've piqued your interest too, 'cause one float and you'll be seriously hooked. Promise.
Where: Shop 5, 105 West Burleigh Road, Burleigh Heads
Contact: 07 5535 7778
Photo Credit: Freedom Float Centre