You know society has progressed when you can get restaurant-quality food from the back of a truck. Food that is a little tastier and better presented than mangled pizza that fell off the back of a bicycle and much better service than the grumpy delivery boy who also just fell off said bicycle.
The only issue with food on wheels is that it has the ability to move, so we're here to tell you the best food trucks on the Gold Coast, and where to find them *puffs on Sherlock Holmes pipe*.
The Weiner Haus
Now we're a little angry with these guys. Their motto is 'No D*ck Jokes Please' and we feel like that takes away half the fun of buying and devouring a hotdog. But what they lack in d*ck jokes, they make up for with authentic and gourmet dogs. From Brekkie Béarnaise to midday Mexican Munchies there's a hotdog for everyone, plus super friendly service and expertise. They're also pretty understanding when you make a d*ck joke despite it being their only rule, so that's pretty cool too.
Track them down via: www.thewienerhaus.com
Siguenos
No stranger to food truckin' and being damn good at it, you would never believe Siguenos' Mexican came from a truck. Specialising in the almighty taco, these guys have nailed the art of gradual flavor hits. You know the one, where you take a bite and wait for the different flavour stages to hit you, like you're licking the walls at Willy Wonka's factory. Siguenos are consistently mind-blowing and without doubt you'll want to try every item off the menu, and at just six bucks a taco it's definitely doable.
Track them down via: www.siguenos.com.au
Grind House Coffee
You might see this cheeky little coffee truck making its way around the GC, and if you do, follow it. Not in a creepy way, don't follow the girl home or anything, just make sure you get a taste of that fantastic java. First of all, the large size is called 'Biggie' and the less big size is called 'Smalls'. We think that's hilarious as well as descriptive. Second of all, Grind House make ah-maze-ing coffee and have recently started stocking salted caramel and Nutella injected donuts. Finally, a trend among food vans we've noticed, the service is always outstanding and will make you feel a little better about being awake before 8am.
Track them down via: www.grindhousecoffee.com.au
JR Smokehouse
Just writing about this gem is giving us glorious meat sweats. Don't let that image ruin your appetite though, instead let us rattle off some of the menu items: pork ribs, grass-fed Angus beef brisket, pulled pork shoulder, grilled corn, and oh sweet baby Jesus—smoked jalapenos stuffed with cream cheese and sausage, wrapped in bacon. This is not a drill. Grab your bib, get on Google and find that damn truck!
Track them down via: www.smokehousebbq.com.au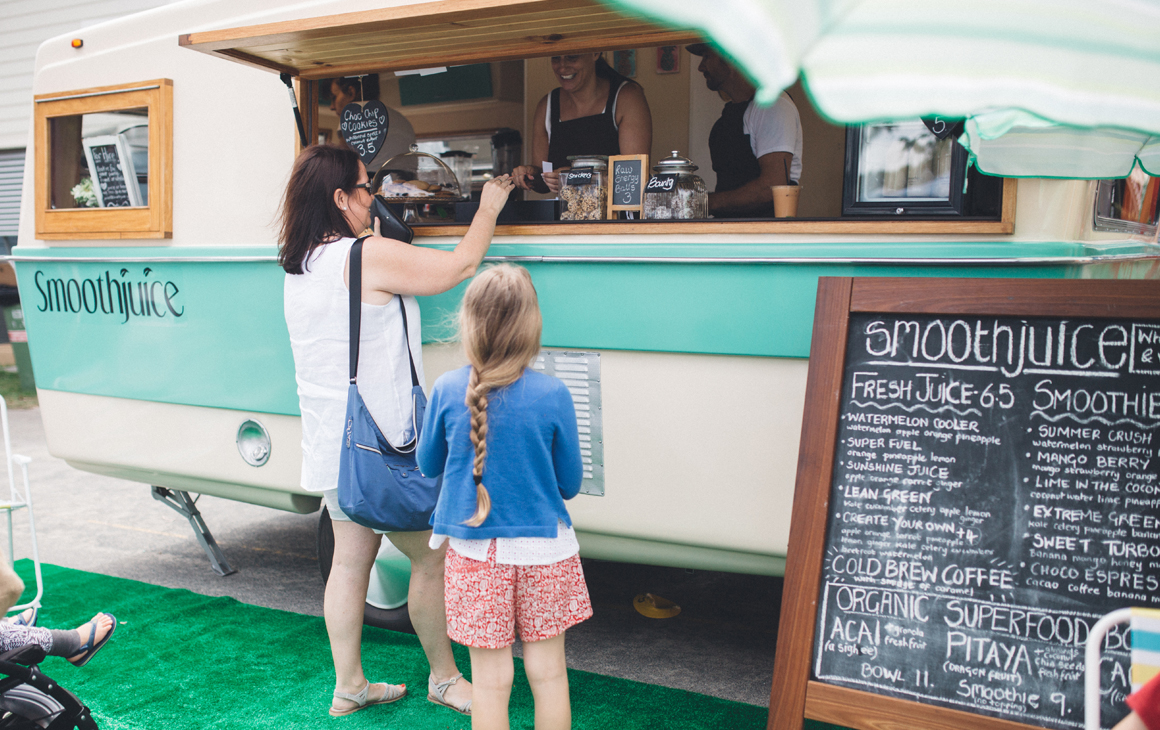 Smoothjuice
If phrases like 'meat sweats' aren't really your thang, phrases like 'raw natural ingredients', 'healthy snacks' and 'superfood goodness' might be a bit closer to home. If so, Smoothjuice is your truck of choice. When it comes down to it, there's not much that beats a fresh juice or smoothie, especially when not only do they taste delish but they're also nutritionally researched and proven to be good for you! Family run and unbelievably tasty, Smoothjuice is a truck full of wholesome goodness.
Track them down via: www.smoothjuice.com.au
Hells Pockets
Despite the name sounding like a terrifying metal band from the 90s, Hells Pockets is a deliciously delightful food truckin' experience. This street food experience is so devilishly simple it's crazy—it's like a combination of a burger and pita pocket, stuffed with ingredients like bruschetta, bacon, eggs, and feta or Spanish beef with salsa and sour cream. Unique, satisfying and perfect for a walk-around snack. Plus you'll feel like a total badass when you walk up and say "Hey mate, The Wicked One for me and The Lucifer for the lady". Awesome.
Track them down via: www.hellspockets.com.au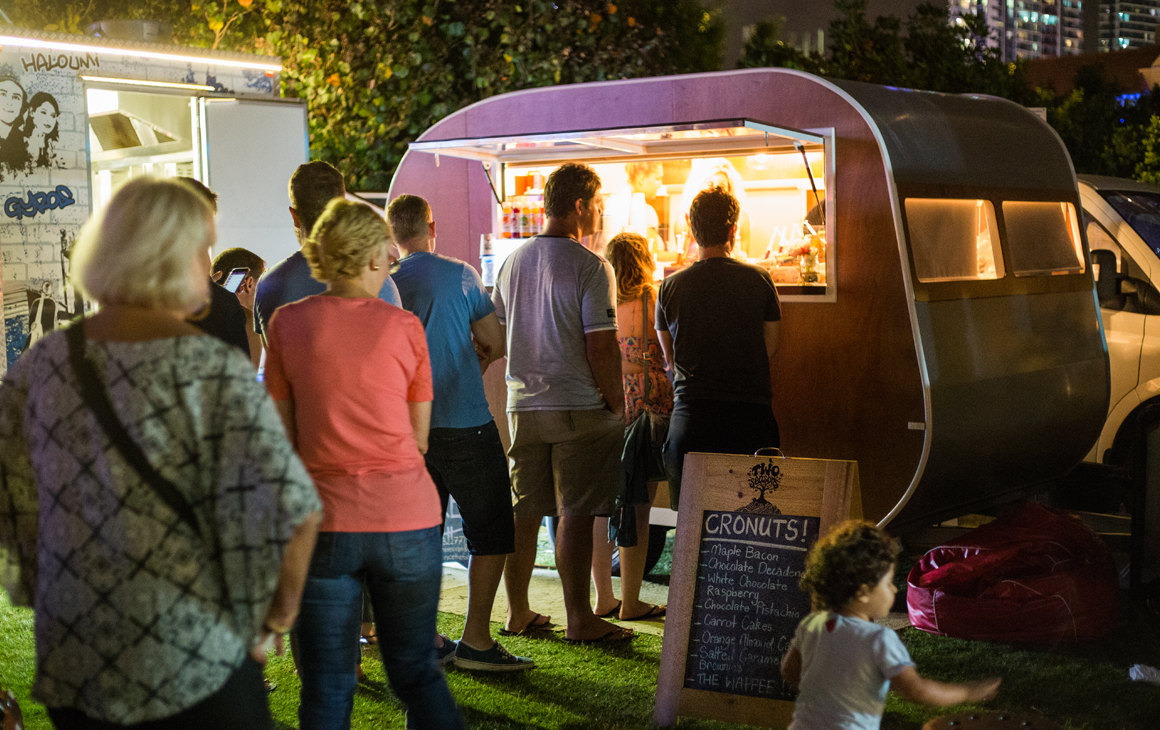 Fiery Deli
If you're looking for a little twist on typical Mexican food, Fiery Deli is a must try. With a Latin-inspired menu, they've got your daily fix of everything you love about South American food on wheels, with nachos, arepas, beans, rice, and those unbelievably tasty spice combinations. What's more, Fiery Deli may have the most environmentally conscious menu in the food truck stratosphere, with every dish gluten, dairy and yeast free, with free range chicken and organic eggs, and using locally-sourced products of course. It's food with a conscience, to help ease yours when shoveling a week's worth of food in your mouth in three minutes.
Track them down via: www.facebook.com/fierydeli
Did we miss your favourite on our list of the best Gold Coast food trucks? Let us know!
Sally Coates is a self-proclaimed comedian whose talents include convincing people she's a comedian, making terrific jokes, swearing inappropriately, and talking in third person. Destined for success, Sally's hobbies include eating bad food, binge watching TV shows, and cuddling cats. Find her on Instagram @saldawgz 
Photo Credit: Hayley Williamson and Edmond Tsang for Metropolist