The Gold Coast is torn over its commitment to gluten free, organic wholefoods, and fitness or otherwise, all-out gluttony in the form of super-sized burgers, sugar-crushing cronuts, and slurp-worthy milkshakes and thickshakes. If you're of the latter, then read on!
Maybe it's because milk, ice cream, and lashings of your fave syrup is one of the best pairings of all time. But one thing's for sure, the humble milkshake has officially made a massive comeback, and is one easy excuse to consume dessert for breakfast.
Here's our pick of 10 of the Gold Coast's best milkshakes.
Elk Espresso
With a rep for blending some of the best milkshakes on the Gold Coast, Elk Espresso sells yummo flavours like Oreo, Peanut Butter Chocolate, or Nutella. But for something a little different try their Crème Brulee shake, created with both caramel and white chocolate syrups and sprinkled with white chocolate flakes. Add extra ice cream to transform yours into a super-indulgent thickshake and suck sip until your heart's content.
Where: 16 Chelsea Avenue, Broadbeach
Doughnut Time
They've just recently joined Gold Coast's best donut scene , but Doughnut Time also make killer shakes for that sugar-hit double whammy. Their S'mores shake is out of control—a chocolate milkshake topped with toasted marshmallows, cookie crumbles, and a brownie. Your poor waist line won't know what hit it.
Where: 2375 Gold Coast Highway, Mermaid Beach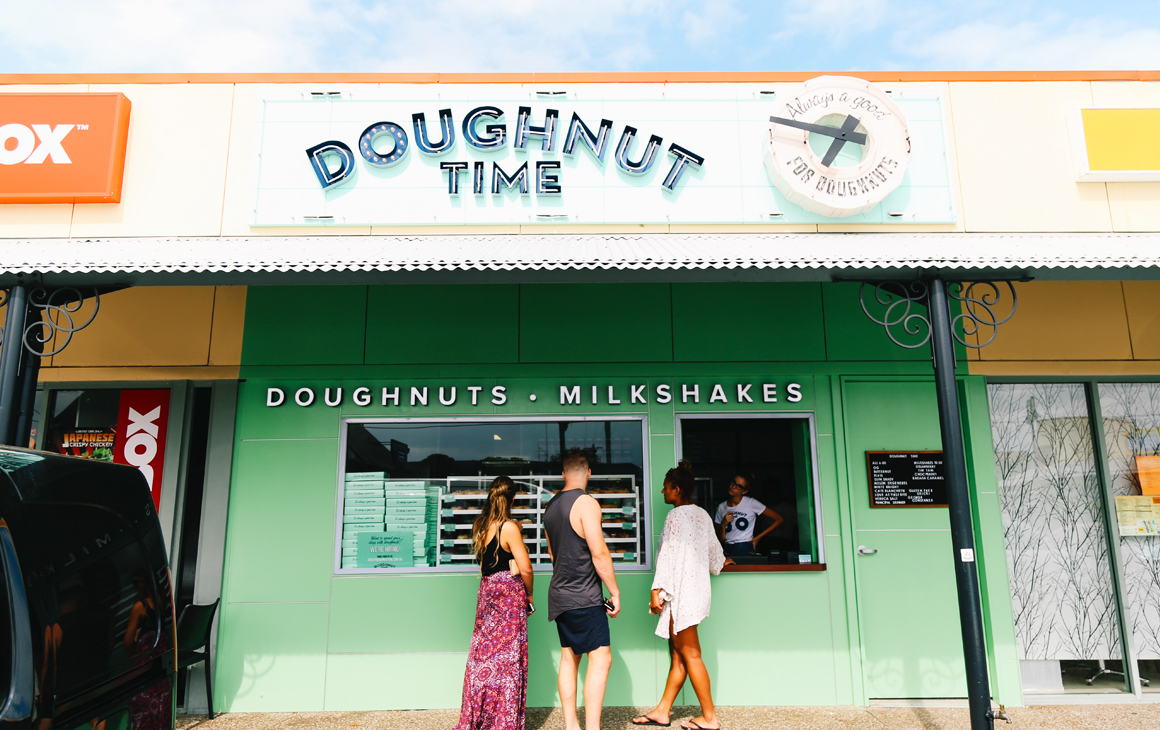 Burleigh Social
The fun-loving crew at Burleigh Social have been knocking their milkshake-come-freakshake creations out of the park lately. Recent inventions have included the jam donut (topped with a bloody donut!), and the Salted Caramel Popcorn served with toasted waffle strips and jersey caramels. I know, right? What will they think of next? (PS: they've got a new food menu too!)
Where: 2 Hibiscus Haven, Burleigh
Blackboard Café
Blackboard Cafe's massive one-litre milkshakes have long been a Gold Coast crowd pleaser. Order the Salted Caramel shake, or ask for a Blackboard Coffee blend. Served in an old school stainless steel cup, it's big enough to share with a friend or serve as lunch on its own, but that's OK—this is one hell of a good milkshake.
Where: 7/240 Varsity Parade, Varsity Lakes
Brooklyn Depot
Go to Brooklyn Depot for the burgers, but stay for the milkshakes. Brooklyn's My Man shake blends Hersey's chocolate sauce and ice cream, then topped with crushed Oreos, making for a very satisfying treat. Make it boozy with a shot of Mozart black liquor.
Where: The 4217, T2 10 Beach Road Surfers Paradise
Scoop Gelati
Scoop Gelati takes pride in blending up both classic and gourmet shakes for James Street shoppers and Burleigh beachgoers. Our fave? Their Himalayan Rock Salted Caramel and White Chocolate shake. Take a sip and you'll be greeted with even levels of caramel and chocolate, complemented with the slightest touch of salt.
Where: 1B/23 James Street, Burleigh Heads
Obsessions on Chevron
No list of the Gold Coast's best milkshakes would be complete without this Chevron Island favourite. Obsessions on Chevron's best Fat Shake (as they like to call them), is the Mr Ferrero which blends peanut butter and Nutella with ice cream for a shake that's decadently rich; dressed with whipped cream, chocolate syrup, strawberry, and a wafer. It's ridiculous, but hey—you only live once.
Where: 37 Thomas Drive, Chevron Island
Skull and Bones Espresso Boutique
Your eyes will pop when ordering Skull and Bones' Blue Heaven Cotton Candy thickshake, with its knockout colour and raspberry vanilla taste. But with the straw skewering a fairy floss garnish, it reaches a whole new level.
Where: 2577 Gold Coast Highway, Mermaid Beach
Griffith Street Larder
Griffith Street Larder has managed to successfully blend a menu of both naughty and nice. So if you need a sweet treat, you can't go past their Strawberries and Cream shake. Thick, creamy and generous in size, this milkshake has all the makings of a Sunday morning brunch or a mid-afternoon pick-me-up.
Where: Shop 9 Griffith Street, Coolangatta
Betty's Burgers & Concrete Co.
Another newcomer on the scene, we first devoured Betty's top value burgers and milkshakes at their flagship Noosa store. We're stoked to hear they've expanded south to the Coast, and once you've slurped back a shake and burger combo, we're confident you will be, too. Milkshake classics done right with good ol' vanilla, strawberry, and caramel, or for the slightly more adventurous, chocolate peanut butter. #snackgoals
Where: 12-14 Chevron Renaissance Shopping Centre, 3240 Surfers Paradise Boulevard, Surfers Paradise
Did we miss your favourite on our list of the Gold Coast's best milkshakes? We want to hear from you!
When Brooke Darling is not travelling to far flung places or sailing around the world, she's scouring the coast for the best ethnic food, new openings, and hidden gems, all in the name of research for Metropolist. She loves motorbike rides to the hinterland, learning (frustratingly) to surf, and will try any adventure sport at least once. Find her on Instagram @darlingisamrs 
Photo Credit: Ariana Gillrie and Christian Nimri for Metropolist