Regardless of your penchant for meat or otherwise, if you're adventurous and appreciate fresh ingredients and a passion for food with soul, you should most certainly be intrigued by the newest restaurant to land on the Gold Coast.
Greenhouse Canteen and Bar is 100 per cent VEGAN, and here at Metropolist we could hardly contain our excitement to try it for ourselves.
The latest venue from the "cruelty free and killing it" team—who originally brought us Greenhouse Factory in Kirra—has just flung open the doors in Miami, delivering plant-based fare to the masses.
When first arriving to this stylish new eatery, we lingered for a moment in awe. Three beautiful and gutsy women stood alongside each other behind the pass, wearing their chef blacks, eyes down and concentrating as they constructed and dressed each dish before food made its way to the dining room.
Greenhouse Canteen is owned by the young and talented Natalie Evans. Natalie is supported by her right-hand ladies, her mother and younger sister Charlie, as well as a tight-knit crew working in the kitchen and on the floor; majority of whom also migrated north from Kirra when Greenhouse Factory closed its doors.
For years, Natalie has suffered with psoriasis, before removing animal products from her diet, in the process clearing her skin and improving her overall wellbeing. It was a realisation that would change her life and that of her family.
Today, most restaurants make a solid effort to accommodate vegetarians, but vegan eating is still largely under catered. So when you can't find sufficient venues to fulfil your needs, then, as Natalie did, you start one yourself.
At Greenhouse Canteen their creations are bordering on genius and are some of the most innovative to be found on the Coast.
For instance, the "Seafood Basket" teeming with fleshy mushroom fillets wrapped in nori (hence the seafood taste) then battered in besan flour and fried; seared scallops aka marinated mushroom stalks, and are accompanied by hand-cut potatoes, tartare sauce, and a lemon zest salad. Mind = blown.
We also tried and loved the Gourmet Hot Dawg consisting of a tasty adzuka bean and quinoa "sausage" topped lavishly with caramelised onion, almond cheese, smoked relish, pickled cabbage, served on a sourdough baguette, and drizzled with American-style mustard.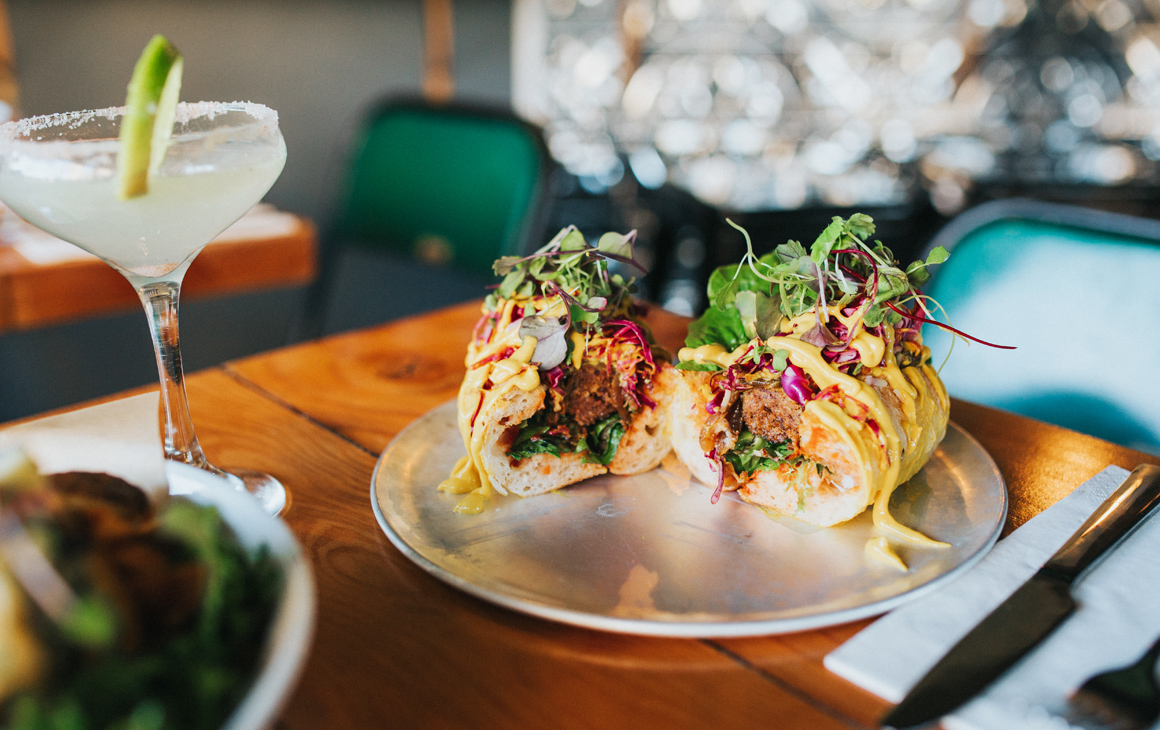 Not forgetting the antipasto platter which was seriously one of the best we've seen in terms of variety, value, and originality. Loaded with usual suspects like olives, pickled vegetables, and flaxseed crackers, but it's the curiosities like coconut mozzarella, almond feta, beetroot hummus, zucchini flowers, and house-made peppered seitan (a vegan rendition of pastrami) that'll take you by surprise; all dressed with raspberries, passionfruit, or whatever is in season.
We mopped up the drool-worthy gluten-free chocolate brownie, exploding with the rich flavour of cacao; crunchy on the outside and squishy on the inside, and served with vanilla cashew and coconut milk whipped cream. Or another fave, the raw salted caramel and popcorn slice with a vanilla cashew cream spread—the slice, perfectly balanced and not too sweet for this savoury fan.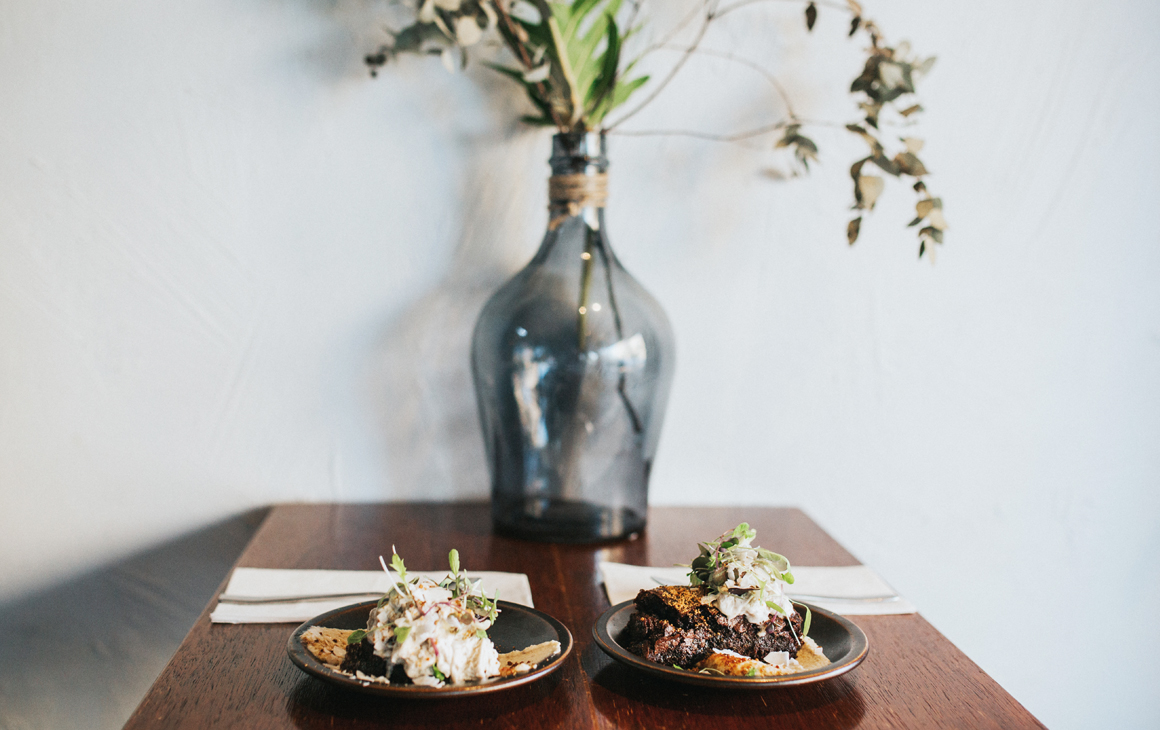 The rest of the menu looked insanely intriguing, with the smoked pulled jackfruit enchilada topped with Mexican cashew cream firmly on our list for the next visit.
Prices were affordable given the fresh ingredients, creativity, and heart and soul that's been poured into developing each dish; and especially knowing everything going into your mouth was sourced from the earth and made in-house.
Also new on the menu are aromatic and flavoursome Vietnamese pancakes, a takeaway from the team's research trip to the south east Asian nation, when recently taking a well-deserved vacay on closing their original restaurant.
We thought the ladies would've been devastated to close their doors in Kirra, forced out by development. Of course there were separation tears, but Charlie explained after two and a half years, they were ready for a new space and a new challenge. They'd grown up and evolved as a business.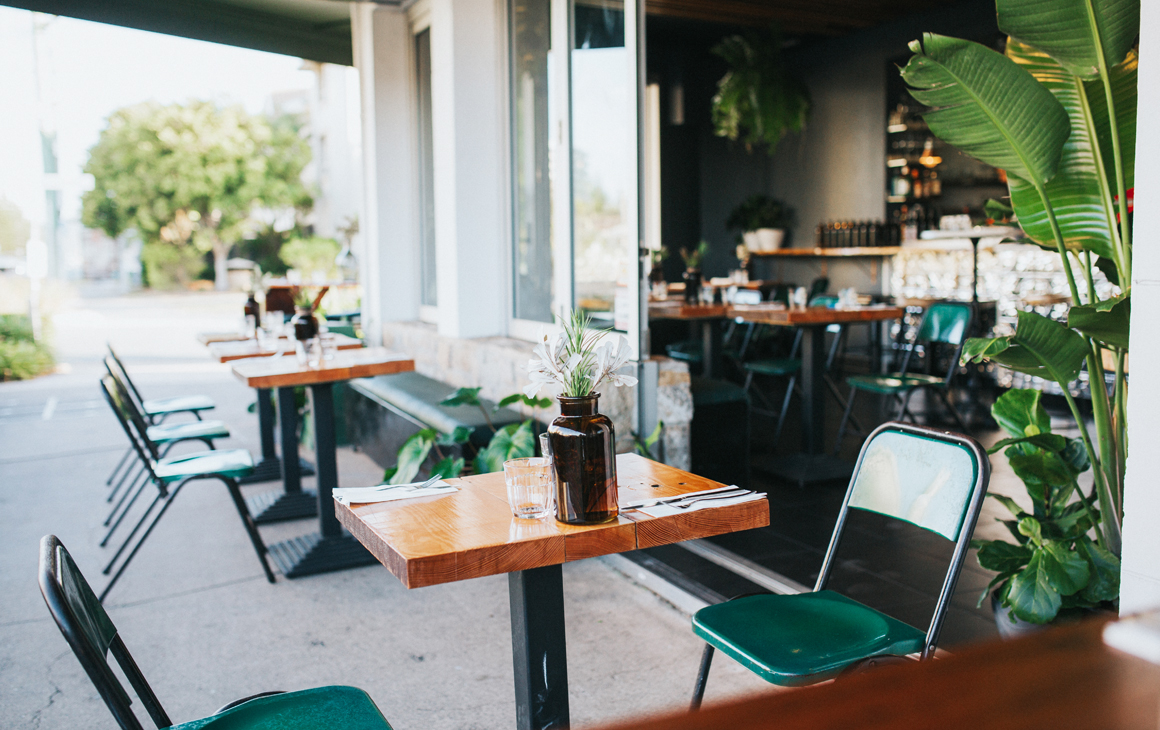 In Miami, they've made savvy use of the compact and intimate corner storefront, creating an environment that's fun, energising, and totally lends itself to lingering post-meal with a GinGin Mule cocktail or Stone & Wood in hand; which is just the vibe they were aiming to achieve.
Outside, seating wraps around the street corner alfresco-style; inside tables and high tops are snug but ooze a sense of togetherness in their mission to plant-based dietary domination. There's exposed brick, pressed metal, roughened stucco walls, wood accents, and plenty of potted palms and hanging ferns giving double meaning to the name, Greenhouse.
Together with their personable and downright passionate service, not only was it a meal of discovery, but with the team close at hand to answer any questions, we could understand why it's an all-encompassing lifestyle choice. Providing undoubtedly some of the most effortless and knowledgeable service we've encountered on the Coast, nudging them among the best restaurants on the Gold Coast.
If that wasn't enough, they've collaborated with ethnical local fashion label, Lovechild by carving away a permanent retail nook. Lovechild owner Abbey works as part of the restaurant team, manning the floor as well as being on hand for customer enquiries and purchases from her collection of vegan and cruelty-free shoes, handbags, threads, and homewares; and so far business is booming.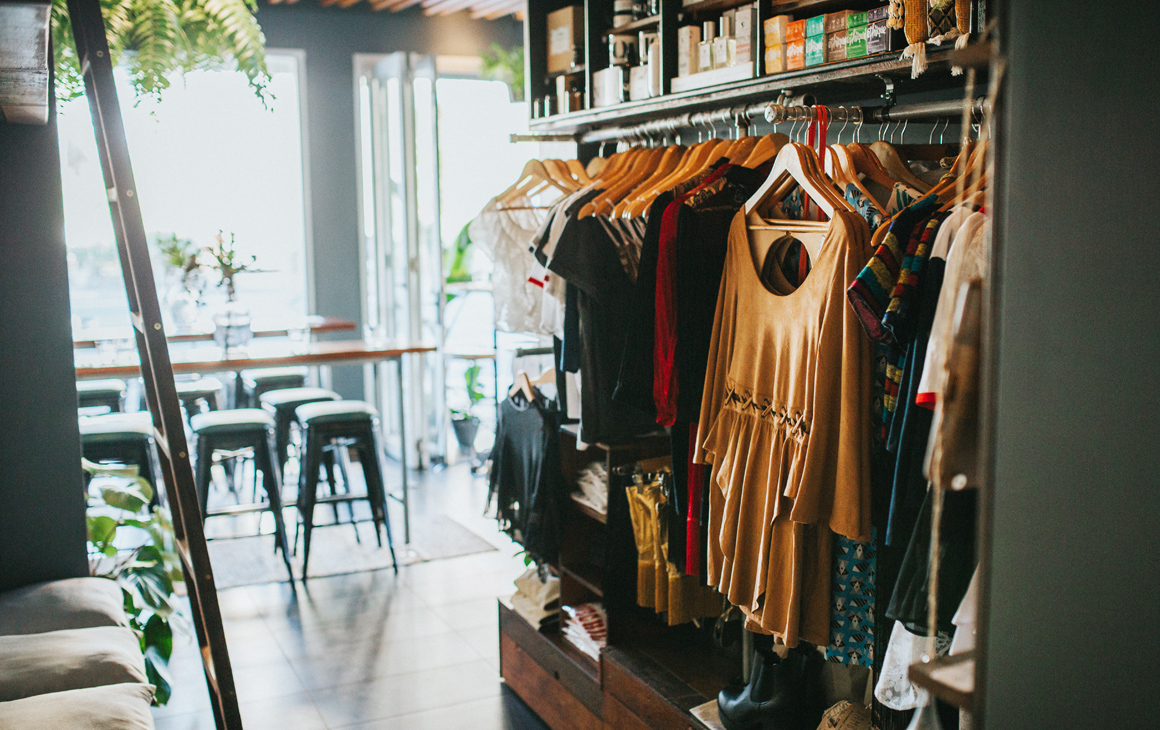 Through this stylish and welcoming space, Greenhouse Canteen will without doubt find themselves introducing veganism to a whole new wave of Gold Coasters. Those who are brought in by pure curiosity will depart with a gaping new appreciation for the movement and what's possible with food when you open your imagination. Perhaps accompanied by the sincere smugness of that one vegan friend in the group whispering, "I told you so".
When it comes to quality dining offerings, aside from the much-loved weekend night markets, Miami is somewhat of a no-man's land wedged between Burleigh and Nobby Beach. So it was heart-warming to witness the buzz created on this highway-side street corner on a weeknight. It was electric and maybe, just maybe, will be a catalyst for more new eateries to follow in its footsteps.
Greenhouse Canteen is primarily a walk-in restaurant, taking bookings for groups of five or more. The kitchen is currently open 5—9pm, Tuesday through Sunday, with plans to soon expand to lunch and eventually breakfast.
Intrigued yet? Good, 'cause you most certainly should be!
Where: 1916 Gold Coast Highway, Miami
Photo Credit: Hayley Williamson for Metropolist