Wales is the neglected middle child of the UK. Everyone's heard of it, but it's all too often overlooked in favour of its bigger English and Scottish siblings. But you'd be a fool to ignore this crazy beautiful part of Britain.
On the flipside, this neglect has left most of Wales untouched. It's one of the few great places in Europe that isn't swarmed with tourists. You can hike along the jagged coast surrounded by rolling green hills without seeing another soul all day long. And those not wanting to sweat it out can take a road trip through the mountains up north, stopping in at all the cute tiny towns along the way. There's a buttload to see and do here.
So, check out just six of our favourite reasons why you should add a week or two onto your next UK trip so you can explore the hidden gem that is Wales.
#1 The Hidden Beaches
Wales isn't known for good weather, but a hot sunny day isn't unheard of. When the sun is beating down, there's no better place to be than one of Wales' many, many secret beaches dotted along the epic coastline. They're everywhere, but those on the Gower Peninsula are just extra special. Try the three-mile-long beach in Rhosilli Bay and the smaller Three Cliffs Bay which can only be reached by a small dirt footpath. The Pembrokeshire Coast is another hot spot for swimmers. It holds the famous seaside town of Tenby but this gets overcrowded with British tourists in summer, so we suggest you try the hidden beaches on the nearby Caldey Island which is run by monks. You'll find proper peace and seclusion here.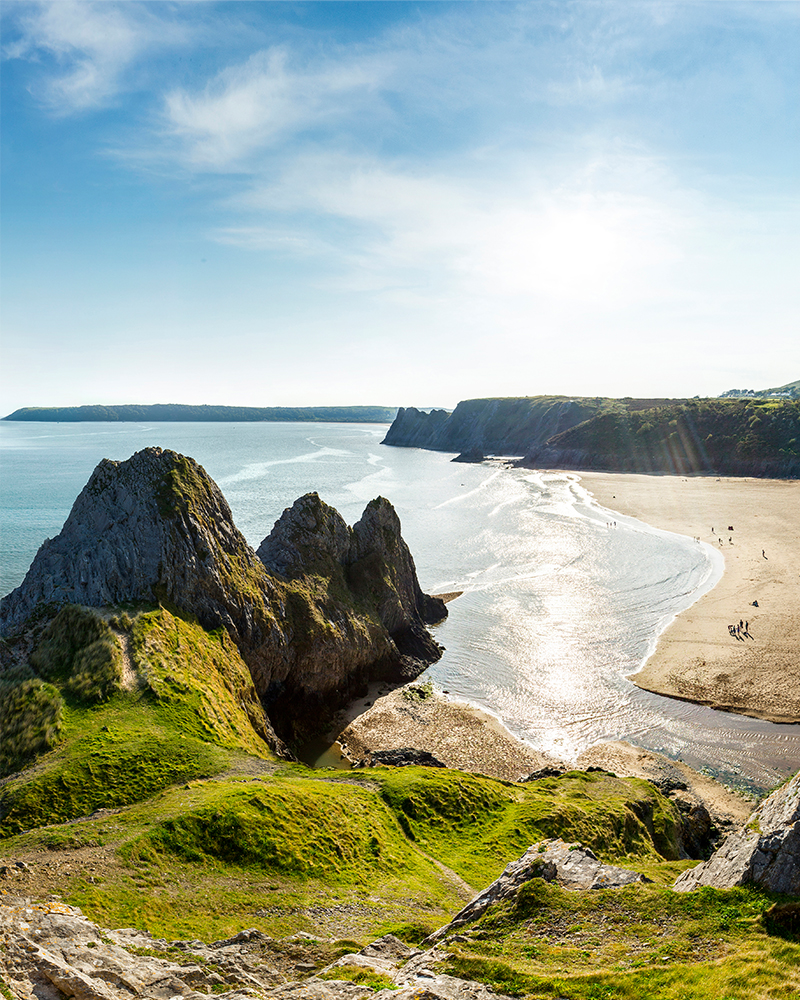 #2 The Outdoor Adventure Sports
One of the best ways to explore Wales is by getting active outdoors. Squeeze into an ultra-tight wetsuit and discover the not-so-well-known sport of Coasteering which was basically invented here. You'll head along the cliffy coast, climbing up rocks and jumping from massive heights right into the sea. You're basically cliff diving all along the coast. It's a little bit terrifying in rough weather but it's well worth seeing the country from a different angle. The best guys for this are TYF who run all sorts of other adventure activities along the coast too. You can try some leisurely sea kayaking, surfing and canoeing along the shoreline or strap in for a massive zip line up in the mountains.
#3 Go Camping Or Glamping
If you want to embrace even more of the Welsh outdoors, then you ought to do some proper camping. Wales has some of the best campsites dotted all over the region; right on the beach, up in mountains and even on tiny little islands full of puffins and seals. You can also go wild camping (setting up a tent anywhere you like) in some parts of Snowdonia and Brecon Beacons. But those of us who don't want to rough it can go try a more comfy alternative. FForest runs an incredible glamping site in Cardigan where guests can stay in clear dome tents (perfect for star gazing from bed) cabins or a luxury farmhouse in the woods. You could spend all week roaming around the surrounding fields, reading by the fire and canoeing down the river. It's a luxury escape where you're still connected to nature. You can't ask for much more than that.
#4 Walk The Wales Coast Walk
One of the best things that Wales has done in the past 10 years is link up all of its seaside walking trails to make one epic route (it's the only country in the world where you can do this). The hardcore hikers among you could attempt to walk the entire path, stopping in at all the small villages along the way but this can take up to 60 days. We recommend you just choose a few small stretches to explore as you walk off all the fish and chips you'll be stuffing into your face while visiting Wales. Our favourite little stretch lies between LLangrannog and Tresaith where you'll come across a secret cove where no one ever goes. It's remote and beautiful, much like the rest of Wales.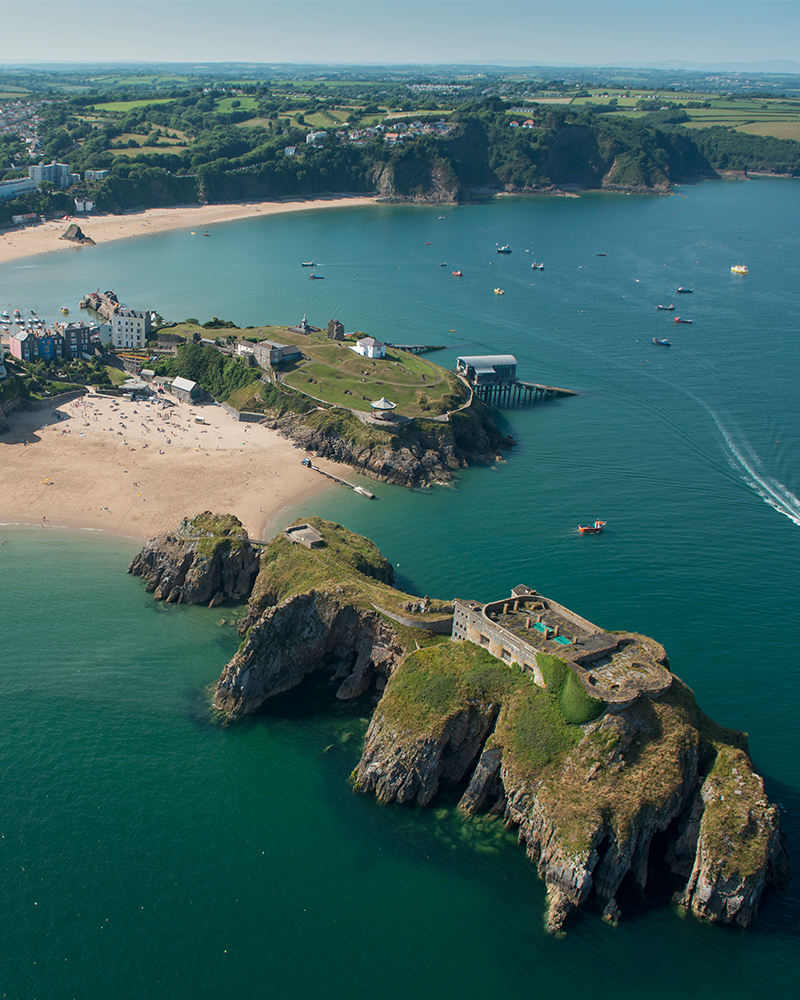 #5 The Tiny Towns
When in Wales, don't waste your time staying in the big cities and tourist hot spots. Get yourself into one of the colourful little Welsh towns and meet the welcoming and friendly locals. Each pub is a bit special, overflowing with great characters and brilliant local craft beers. Our fave has to be St David's (the UK's smallest city) which is packed full of history and is located on one of the most picturesque parts of the coast. You could spend a good week here, driving and hiking all around the area. Alternatively, Llandanbangar by the sea is stunning and Portmeirion is a bizarre psychedelic town that feels more like the Italian Riviera than remote Wales.
#6 Take A Road Trip Through The Countryside
From above, the Welsh countryside looks like a patchwork quilt. Each farm is sectioned off by old overgrown hedges full of wildflowers and weeds. And all the one-lane roads twist and turn throughout all of these hedges, making for a fairytale-esqe drive. Here, you can find some of the 600 castles which are scattered about the countryside or see some of the 15 million sheep which adorn all the rolling hills. And those who don't want to drive should jump on the old school steam train along the Ffestiniog Railway; taking in the gorgeous scenery while relaxing inside having a warm cup of tea. It's too easy.
Getting there
Plane
Those going direct can fly into Cardiff to explore the South of Wales or could fly into Birmingham to get closer to the North.
Train
From London, you can get to Cardiff in about two hours. And if you nab yourselves a BritRail pass then you get access to any train in the entire UK. That way you can explore more of Wales or head on to England, Scotland and even Northern Ireland. It's the British equivalent of the infamous Eurail pass.
Bus
Super cheap buses run from any major city to most of Wales. It can take a lot longer but it's also significantly less expensive.
Once you're done with Wales, head on to London and check out the best free things to do while you're there.
Image credit: Adam Burton, Jason Hawkes and Andrew Pickett for Visit Britain