Let's be honest, the exploding popularity of East Coast Australia's favourite holiday destination has seen the centre of this once-hippy haven assume a frenetic pace almost year round.
Dread-locked vagabonds, surfers and backpackers are often outnumbered by affluent Range Rover-driving tourists from Sydney and creative hipsters that are so fashionable it hurts.
Yet there are so many reasons to keep making the annual pilgrimage to this bohemian coastal pocket, with healing solitude and the essence of what made Byron so adored in the first place, still to be found.
And the new-look The Byron at Byron—the region's OG resort first emerging on the scene in 2004—is still the ultimate long weekend escape; be it solo self-reflection time, a romantic getaway, girl's weekend or perhaps a much-deserved babymoon. Make an excuse if you have to. Just get there.
A chill stroll away from wild and windswept Tallow Beach on the southern side of town, sprawling over 45 acres of dense tropical rainforest and wetlands, The Byron at Byron Resort and Spa is exactly what you're looking for in your next escape and then some.
Undergoing a complete revamp to the day lodge's interiors, exteriors and dining areas last December, it's hard to believe this nature-immersed property is 14 years young.
Surrounded by well-established palms and gums, Byron at Byron's spacious, self-contained suites are enough to make any inner city dweller enviable. Wake to the whooping crack song of whip birds and laughing Kookaburras or slip into a bath tub so deep you may require a set of helping hands to extract you post-soak.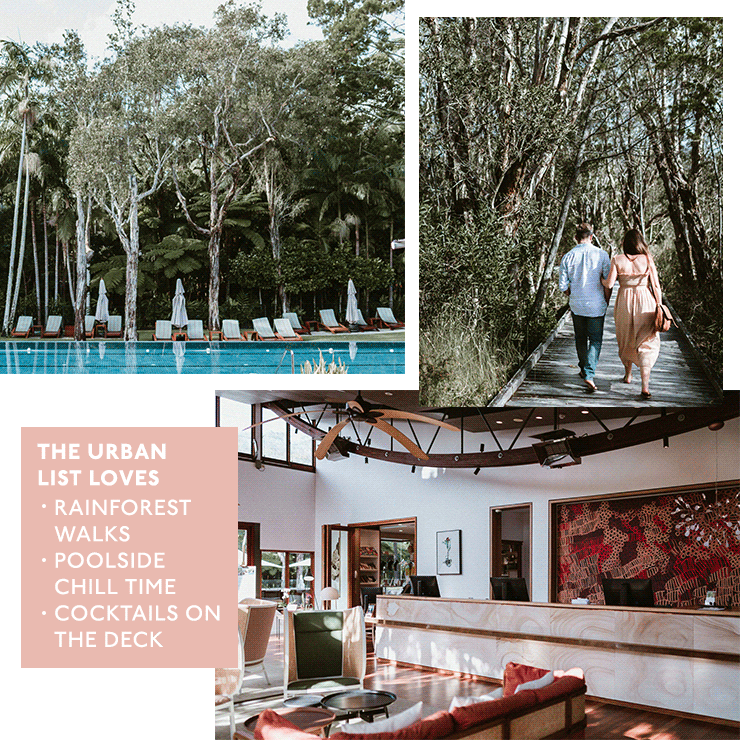 Sure Byron itself has a myriad of draw cards to lure you away (take advantage of bike hire or free shuttles to town, three times daily), though there are plenty of bonus additions that make this fab destination resort more than you average accommodation offering.
Think free yoga classes on the pool deck each morning to set the tone for your day. Or complimentary farmer's market tours guided by a resort chef every Thursday followed by the option to dine on the Providore market dinner menu, featuring all the fresh finds plucked during that morning's tour.
Leisurely meander boardwalks that snake through lilypad littered wetlands and towering Melaleuca forests or follow the signs to Tallow Beach for a sunset stroll alongside the locals with the rhythmic crash of the waves as your soundtrack. Yep, you'll find swoon-worthy Insta content and soul-warming moments around every corner.
At The Byron at Byron's refreshed day spa, treat your winter or summer skin with a Moor Mud Cocoon or the sensory Royal Ka Huna Hawaiian massage, all featuring organic botanical products. No need for a 'sounds of the rainforest' recorded CD here either, the wild native birds outside have that covered.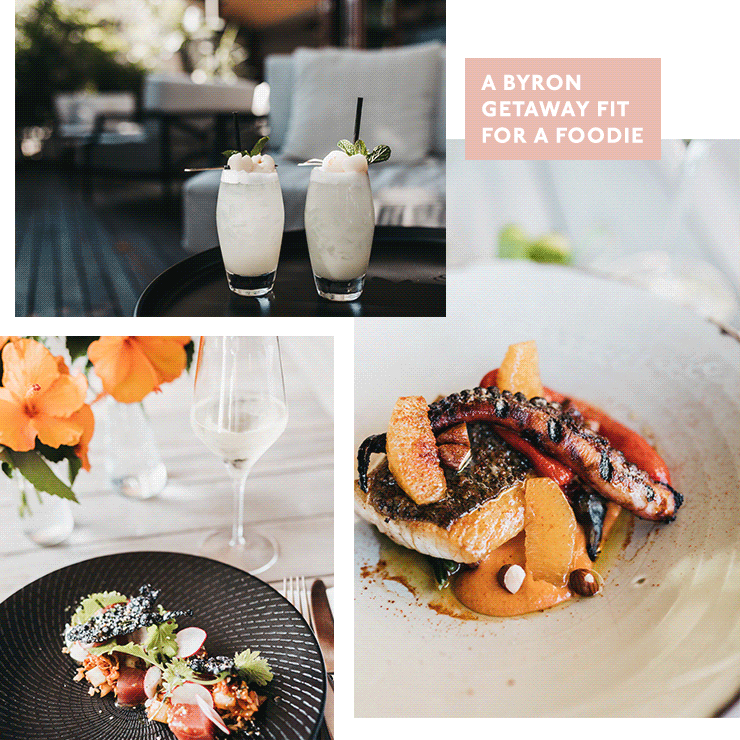 While we're suckers for a plush king-size bed and a palm-lined infinity pool, it's often the resort dining experience that can see accommodation providers trip at the final hurdle to perfection. But not here. Byron at Byron's seriously gifted Executive Chef Matthew Kemp comes with an impressive pedigree (including Michelin training and his own ventures in Sydney) and delivers a seasonal, locally-sourced menu easily placing it amongst the most impressive restaurants in the entire Byron Shire. And we've eaten at a lot!
While it's challenging to peel yourself away from the cosy couches and soft lights lining the verandah (perfect for pre-dinner cocktails and oysters), be tempted by dishes like roasted Blue Eye topped with charred octopus, caramelised Grimaud duck breast or perhaps a generous serving of gnocchi with Jerusalem artichokes, hazelnuts, portobello mushrooms and Queensland spanner crab.
Checking your diary for the next public holiday long weekend? You should be.
With handy access to one of the country's most respected farming regions in the Northern Rivers (not to mention alcohol producers Brookie's Gin, Husk Distillery and Stone & Wood in its inner circle), a vacay here is straight out of a foodie's dream.
Hot tip: plan ahead and leave valuable stomach real estate for dessert. They are nek-level delicious. We returned for second helpings of the warm hot chocolate Snickers pudding adorned with peanut butter and chocolate ice cream, plus fudge and peanut praline that crackled in the mouth like pop rocks. Though it was tortuous to go past the smooth chocolate parfait with sourdough twills, olive oil ice cream and a Pedro Ximenez sherry gel or the most perfectly pillowy passionfruit soufflé. Mmmmm. Trust us, Byron at Byron's restaurant is worth a visit for lunch, dinner or dessert alone, even if you're staying elsewhere.
Though we know it'll be tough, when you're ready to temporarily leave the calming clutches of The Byron at Byron, we've got you covered with all the best cafes, restaurants, shopping and things to do, to ensure your romance with this whimsical pocket of coastal paradise never dims.
The Details
What: The Byron at Byron Resort & Spa
Where: Broken Head Road, Byron Bay, NSW
For more information or to book, click here
The author was a guest of The Byron at Byron though, as always, recommendations and opinions are our own.
Image credit: Hayley Williamson