Something is happening in St Kilda. Traditionally and colloquially seen as a tourist hotspot, a place where your selfie stick would feel at home and a camera wouldn't go amiss, there are plenty of gems in quiet areas surrounding Acland Street if you take the time to look.
Newmarket Hotel is one such gem. Made for locals, the modern pub has obvious roots in St Kilda's history. One of the most architecturally breath-taking venues, the newly remodelled interior sits within the shell of the old Newmarket Hotel facade.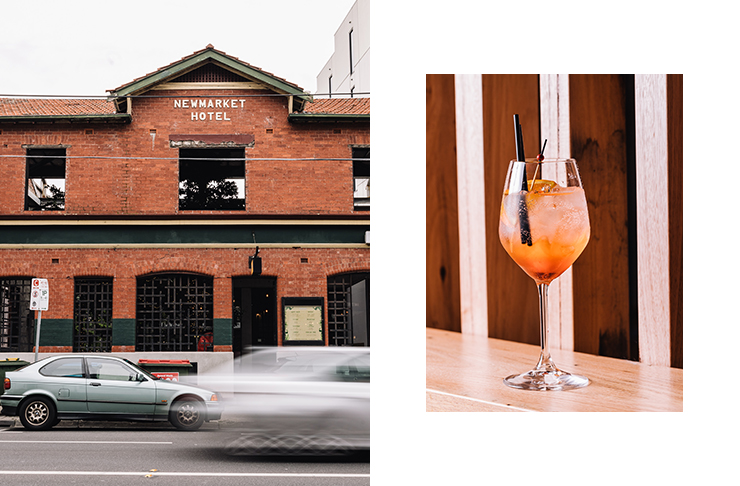 The split-level venue features several highly considered, distinct spaces, including a timber outdoor courtyard with open concrete floors and walls. Inside, looping arches and circular features are dotted throughout the venue, along with open brick and old-school style leather bar chairs.
DIY charcuterie boards, complete with options like brioche, caramelised onions, hummus, French Brie and chorizo (to name a few) comes with Newmarket Hotel's recent menu facelift. If you're bringing along your whole crew, mix 'n match small share plates including mac 'n cheese croquettes, pork rillettes and fried calamari.
Expect your standard pub fare, delivered a cut above the bar around the corner. Traditional, crispy, thin-crusted pizzas are a crowd-pleaser, while steaks come with your choice of sauce and mustards (yes, please!). Burgers are the deliciously no-fuss option, and there's an entire section of the menu dedicated to comfort food. Clearly, the Newmarket Hotel team know what they're doing.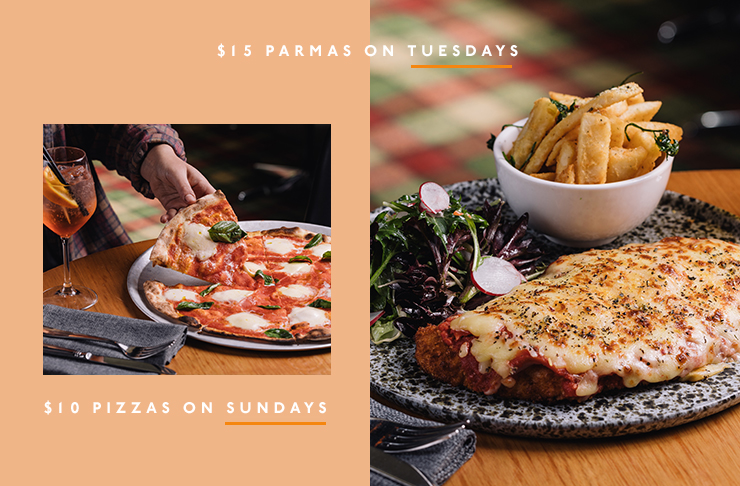 If you need an excuse to go out on a school night, Newmarket Hotel runs drool-worthy specials throughout the week. Think: $15 parmas on Tuesdays, $10 burgers on Wednesdays and Happy Hour every weekday ($10 cocktails!) from 4pm-7pm. Live entertainment runs through Friday and Saturday night from 7pm to 10pm, or if you're around on Sunday, enjoy $10 pizzas. How will you ever choose?
There's a solid list of craft beers and cider, along with a local and international list of wines. A generous list of cocktails is sure to cover your favourite classics and some creative glasses.
Not that you needed another excuse to visit, but Newmarket Hotel are giving away a month-long foodie feast for you at your three best mates! For your chance to win x1 $200 Newmarket Hotel voucher a week, for four weeks, simply fill out the form below.

Entries close at 11:59pm on 07.09.17. Successful applicant will be drawn at random on 08.09.17. By entering, you agree to subscribe to the Urban List eNews & Newmarket Hotel's email database. Prize includes x4 (four) vouchers to Newmarket Hotel, each to the value of $200. Vouchers are to be redeemed once per week, for four continuous weeks. Prize is not redeemable for cash and must be redeemed at Newmarket Hotel, St Kilda East. Prize must be redeemed on four individual occasions.
Image credit: Griffin Simm for The Urban List
Editor's note: This article is proudly sponsored by Newmarket Hotel and endorsed by The Urban List. Thank you for supporting the sponsors who make The Urban List possible. Click here for more information on our editorial policy.