When it comes to Melbourne, one thing's for sure – this city certainly likes to keep things interesting. After almost cooking us alive during last week's heatwave, Melbourne is back to its normal self, serving up a mix of events involving shopping, fabulous food, and music galore.
Want to know more? Read on for what's happening this week in Melbourne…
Monday 20th January
First it was Gap. Next it was Zara. Top Shop and Topman soon followed. Now the next international fast fashion retailer is here – credit cards at the ready, Uniqlo is here! Okay, okay, so it's only a pop-up shop for now (the full, four level store opens at the new Emporium building later this year) but the fact we can finally get our hands on some Uniqlo goodness has us thrilled to bits. Mixing fast fashion with cutting edge design, the Japanese clothing giant will be offering a range of styles at the pop-up, including the Novak Djokovic replica Australian Open menswear, AIRism basics, jeans, shorts, and tees. Get in quick!
Uniqlo Melbourne Pop-Up | 171 Swanston Street in Melbourne
Now open until 31st March | For more information, click here
Tuesday 21st January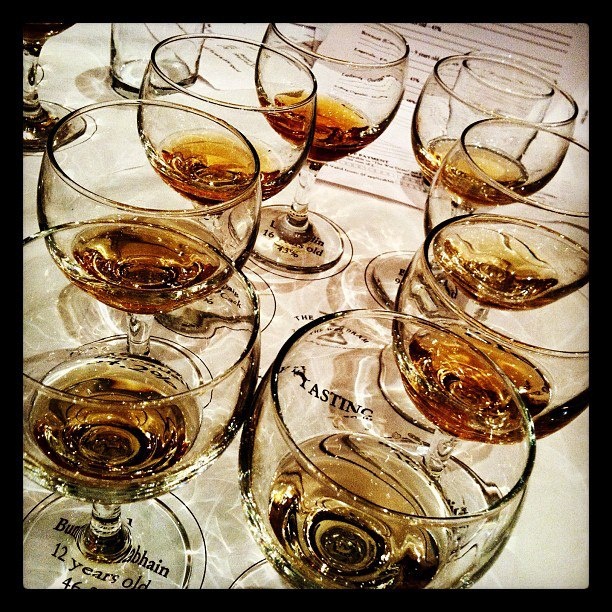 Image Credit: Pinterest
There's nothing better than kicking back after a long day at work, whisky in hand, and watching a great movie – am I right? The fine folk at Whisky & Alement agree, and this Tuesday they're hosting a movie night with the similarly fine folk at the Kino Cinemas. Tickets include a screening of 'The Monuments Men', four whisky tastings, a rundown on how each whisky relates to the flick, plus a bottle of water to cleanse the palette – all for $50! Book your tickets here.
Whisky & Alement movie night | 5:30pm – late
The Kino Cinemas | Downstairs, 45 Collins Street in Melbourne
For more information, click here
**TUL Note: This event has now been moved to Tuesday 18th March. To be added to the waiting list please email your name, phone number and a requested number of tickets to info@whiskyandale.com.au**
Wednesday 22nd January
With a host of top Italian wines at their fingertips, The Tasting Table – one of Melbourne's best independent wine shops – will be hosting a Sicilian wine tasting this Wednesday evening. Join the team at the Armadale based business, and sample eight unique wines from the famed Sicilian wine region, including both reds and whites. You'll also be treated to a range of mouth-watering cheeses and meats, all matched to the samples wines. Delicious!
The Tasting Table 'Sicilian Wine Evening' | 7:00pm – 9:00pm
1219 High Street in Armadale | For more information, click here
Image Credit: Delallo
Have you ever wondered how to make your favourite pasta? For the record, it doesn't involve you buying a pack of Latina pasta – it involves a series of traditional methods, which the pros at Al Dente Cooking will take you through at their fresh pasta workshop. Held at Yering Farm Wines, the class includes lessons on how to make traditional lasagne (potentially better than your mum's…ssshhh), cannelloni, fettuccine, and spinach & ricotta ravioli. After all your hard work, you'll get to tuck into your pasta masterpieces along with a bottle of vino. Tickets are now on sale for the next workshop, so get your friends together and get booking!
Al Dente Cooking 'Fresh Pasta Workshop' | 10:00am – 2:00pm
Yering Farm Wines | St Huberts Road in Yering
Tickets are now on sale for the 1st February class | Book here
Thursday 23rd January
Indulge in the finest French inspired cuisine at tonight's Voila dinner at Three Bags Full. French chefs Fab and Nico will be taking over the Abbotsford café's kitchen, serving up six fabulously French courses for only $79. Places are limited and considering how good Fab and Nico's food is, we wouldn't be surprised if this one sold out! Book your seats now peeps!
Voila Degustation Dinner | 7:00pm – late
Three Bags Full | 60 Nicholson Street in Abbotsford
To book, please call Tegan on 0429 617 134
Friday 24th January
Image Credit: Pinterest
Melbourne is well and truly in the thick of festival season – the next cab off the rank is the famed Big Day Out. Held at Flemington Racecourse, the music festival is like a rite of passage – it's one of those things that you HAVE to do at least once in your life. With this year's line-up including Pearl Jam, Arcade Fire, Snoop Dogg/Lion, Major Lazer, and Steve Angello, you would be a fool not to snap up a ticket. Go on, start your long weekend early.
Big Day Out | 11:00am – 11:00pm
Flemington Racecourse | 448 Epsom Road in Flemington
Purchase tickets here
If you prefer a more chilled atmosphere, then the Zoo Twilights concert series is for you. Starting tonight, Melbourne Zoo will play host to some of Australia's best musicians including Katie Noonan, Josh Pyke, and Something for Kate. Some nights have already sold out, so don't delay and book your tickets now!
The Melbourne Zoo Twilights | Melbourne Zoo, Elliott Avenue in Parkville?
January 24th – March 8th 2014 | For tickets please visit the website
Saturday 25th January
Opening today, Place Holder is the newest addition to Melbourne's teeming coffee scene. The Fitzroy venue is the perfect example of a temporary location (whatever you do, don't call it a pop-up!) with its clever design and use of the Neometro space at Nine Smith Street. But design aside, there is excellent coffee on offer (a passion of founders Sam King and Sonum Sherpa) with beans being sourced from Market Lane, Small Batch and Seven Seeds. Place Holder will be in Fitzroy until the end of the year before moving on to another location.
Place Holder | 9 Smith Street in Fitzroy
For more information, click here
Image Credit: Glenane Photography
Head down to Princes Pier this Saturday for Piers Festival, a celebration of Melbourne's migrant history. There'll be a heap of activity including music, art, dance, fireworks, and of course, food! Piers Festival is free and the perfect day out for the whole family.
Piers Festival | 12:00pm – 9:30pm
Princes Pier, Beach Street in Port Melbourne | For more info, click here
Sunday 26th January
In case you hadn't noticed, this Sunday is Australia Day! Celebrate with family and friends by hosting a traditional BBQ in the park – we've rounded up all the best spots here.
Not digging the BBQ idea? Stay tuned for our epic guide to what's happening around town on Australia Day for plenty more celebratory ideas.