Trends are cool. They bring new and exciting styles of pants, hair styles, food and all kinds of other front stuff to the fore that we would have never ventured into if they weren't so ah, trendy?
Some trends though, leave us scratching our heads thinking "really?" Six of them in particular though really took the (gender reveal) cake though. Here they are in all their glory, the six things we can't believe are seriously trending right now.
#1 Furry Shoes
Yes, Gucci have some incredible designs that we would spend our life savings on (rather than such frivolities as per purchasing a house), but these furry shoes had us really scratching our heads. I mean, look at them. There are so many questions. What if it was raining? What if you stood in a puddle? What if you were doing milky foot while you wore them? While we're sure Alexa Chung would wear the shit out of these, for us mere mortals the thought of stepping out to Woolies in these seems a bit… far-fetched?
#2 Eating Corn Off A Drill
I mean…do we even need to explain this one? Let's not forget that eating food off a moving, functioning power tool is probably never really worth your while. Unless… No. There's no unless – don't do it kids. This chick even got her hair ripped out in the process – yikes! That's a 'no' from us then.
#3 Raindrop Cakes
A cake that disappears if you don't eat it within 30 minutes and kind of lacks flavour seems like a bit of a waste of time. The best part of the raindrop cake is its quirk factor (it looks like a breast implant). We're a little confused how a flavourless, pretty much invisible cake has taken the world by storm. But we aren't complaining, because this cake is seriously so fun to eat and makes for one hell of a story.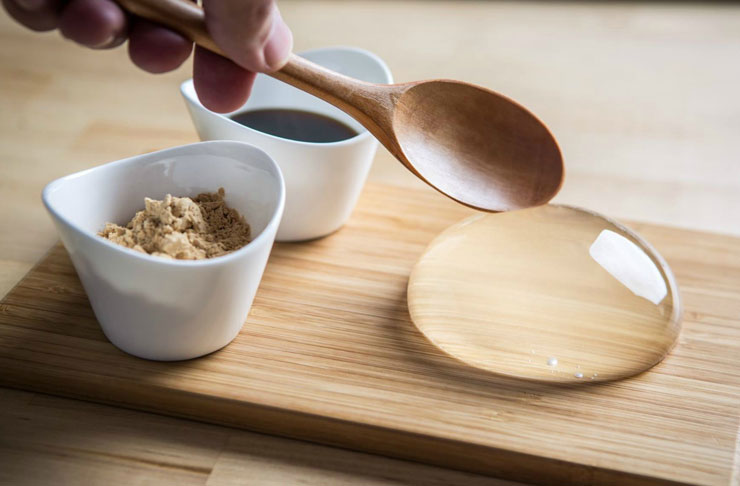 #4 Gender Reveal Cakes
So many cakes, so little time. Gender reveal everything has kind of been a trend; we've seen gender reveal flares, gender reveal guns, balloons, nuts, piñatas… the list goes on. And on. But the weirdest ones we've seen are the cakes. They come in all shapes and sizes and have the 'gender' spilling out of all sorts of places. Is it ever too early to start imposing gender roles on your child? Joking.
#5 Butt And Boob Growing Cream
As a rule, just because you saw Kylie Jenner do something, you probably shouldn't take it as a good idea. Or even inspo. Especially when said thing is a cream that will, like, totally, grow your boobs and your butt – because that's not how bodies work. Kylie has said she's used this stuff a few times, but we're not convinced. A little birdy tells us a lot more than just a cream goes into maintaining her curves.
#6 Blackout Tattoos
Blackout Tattoos are kind of awesome, but the actual process of sitting still for long enough to cover a significant portion of our bodies in entirely black space is, to be honest, terrifying. I mean, I can already imagine there being a problem with our blackout tattoos shade of black not matching our entirely black outfit.
Image credit: Today and Pinterest