Want to find Brisbane's new adults-only arcade and cocktail bar? Make a beeline for The Valley. Obvs…
B.Lucky & Sons is the latest project from the guys behind Holey Moley and Strike Bowling. Having just opened their doors in Melbourne to absolute fanfare, the Brisbane version is set to be just as wild. B.Lucky in Melbourne looks like a cross between Osaka, Hong Kong and...you know what, we have no freaking idea. The whole place is kind of nuts, so we expect huge things from their Brisbane digs.
Set to open on September 27 in the TCB building on Brunswick St, it's one part cocktail bar, one part video game arcade, one part pawn shop. The idea is simple: you come in here late at night, play a bunch of games, win some sweet prizes, then kick-on with pizza and cocktails at the bar.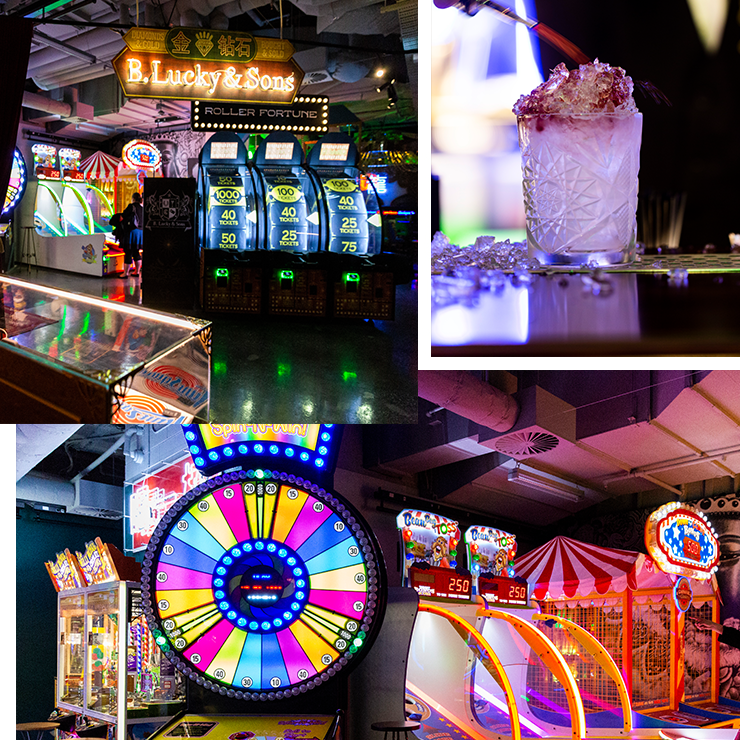 But let's start with the games. B.Lucky is crammed with a good mix of old-school classics and new neon titles. You've got Point Blank shooters, basketball hoop games, Mario Kart racing and Walking Dead zombie adventures. There's claw machines where you can catch giant stuffed Pokemon (or thick rolls of tickets), plus a weird game where you manipulate a small metal loop over a revolving bowling pin (that one feels kind of sexual...might just be us).
And if you're thinking these tickets buy you some crappy bouncy balls or a keychain, think again. B.Lucky has some of the weirdest and wildest prizes we've ever seen. You can cash in your hard-won tokens for Botox injections, diamond necklaces, rare vinyl LPs, guitars, retro Super Nintendo consoles and other stuff Mr Magorium probably stocked in his Wonder Emporium.
After the gaming, it's time for dranks. Head through to the cocktail lounge, where the guys are slinging boozy bubble cup cocktails (try the Passion Crackle), classic mixes like Old Fashioned, Sidecars and Mai Tais, or a range of local wines.
The food is equally bonkers. We hesitate to use 'East meets West', but what else do you call a venue that chucks chips n' gravy pizza and spring rolls on the same menu? Personally, the Pot Cluck pizza is a winner, and we bet it will go well with a side of prawn crackers.
You know what? You can't read about B.Lucky. It's just not gonna cut it. Head on down to TCB and see for yourself.
The details
What: B. Lucky & Sons
Where: TCB Building, 315 Brunswick St, Fortitude Valley
When: Opens 27 September
Image credit: Sammy Green for The Urban List