EOFY is just around the corner and you know what that means: it's been six whole months of new openings! Be smart this year and use your return to check out everything you might have missed this year, because before you know it it'll be next year and you'll be a whole year behind:
Hobby Lane
Mitchelton
The brainchild of Peter Shaw, breakfast at Hobby Lane is the carrot coaxing us out of the inner-city tangle, and Christ are we grateful. Our weekday favourite is the mushroom toastie with Swiss flats, halloumi and romesco, and when it comes to weekend breakfast we can't see past the eggs Benedict menu. Chase it up with a Butterbing affogato to get real decadent.
Three Blue Ducks
W Hotel, CBD
Taking up residency of the third floor of the luxurious W Hotel, the announcement of Three Blue Ducks' launch into the Brisbane market has been welcomed with open arms! Retaining all the charm of their OG location at The Farm in Byron Bay, expect the same focus on organic, locally sourced, freaking delicious produce—minus the 2 hour drive south of the border!
Fifty Fifty Coffee Co.
Roma Street Station
Transit centre coffee usually enjoys the unenviable status of being 'resorted to', punctuating a moment of pure desperation, but Fifty Fifty Coffee Co. is here to change all that. Tucked in Roma Street station, this neat little café wouldn't look out of place in the hippest boroughs, and gets you where you need to go with Single O brews and baked goods from Alphabet Café and Butterbing.
Walter's Steakhouse
CBD
Since Restaurant Two peaced out, there's nothing finer to take up residence in their former digs than a T-bona fide steakhouse like Walter's. Cutting the slick figure of a New York steakhouse and bar, this swankstaurant is a vision of mahogany and red leather booths. As for the menu it's a carnivores-only zone, with all steaks cut and dry-aged in-house by Chef and real MVP Adam Herbert. Round it out with some fresh salads and potatoes then finish off with a slice of pie for the home-run of power lunches.
Special Rub
Coorparoo
Smoking all their succulent meats with only the finest Australian ironbark, this brand-new BBQ joint is playing for keeps. Special Rub categorically shuns all varieties of gas or electric smokers for their ribs and pulled pork, which results in just the purest, most delicious slow-cooked meats in town. Get yourself brisket, a rack of ribs, fried chicken or a burger with some house made sauces and cracking sides then wash it all down with a brew.
Short Order
Newstead
The latest venture from the crew running Jocelyn's Provisions, Short Order is the savoury counterbalance to Jocelyn's pastry confections. For this café and deli operation convenience is key, and the ability to grab a quick and quality breakfast or lunch to go is what makes Short Order such a saving grace. The coffee's pretty banging as well, and goes down a treat with a side order of some Jocelyn's sweetness from the counter.
Blute's Bar
Fortitude Valley
Blute's Bar is bringing classic pubbery back to the Valley under the four pillars of booze, food, music, and sports. If you're wary of anywhere purporting to be a quadruple threat for fear of them being spread too thin (you've been burned before), rest easy because Blute's entire chomp situation is being completely handled by Lucky Egg next door. Yup, those crispy chicken burgers, tasty wings, and karaage cups that make us froth are all available at Blute's along with Young Henry's on tap and all the live sport you can ogle.
Penny Coffee Co.
Dutton Park
Bent on bringing the masters of food and coffee under one roof, Penny Coffee Co. is so far making good on their promise. Their all-day menu is concise and well-executed, with all the breakfast staples represented with flair, from avo toast and granola to corn fritters and hotcakes. As for that banging coffee we mentioned, Penny Coffee has your caffeination on lock with rotating blends from local roasters as well as a library of Assembly's finest teas.
Macho Macho!
Ashgrove
Spicing up the grove has always seemed like a tall order until Macho Macho's pink neon beacon rolled in. Billed as a café-cum-bistro, Macho is good for everything from breakfast and lunch to dinner and drinks. Their menu dials up the cool to dizzying levels and doesn't lock into any one cuisine. We bloody love the dukkah crusted eggplant and the halloumi sticks in the eve, and the full month Brunch Burger on a morning after.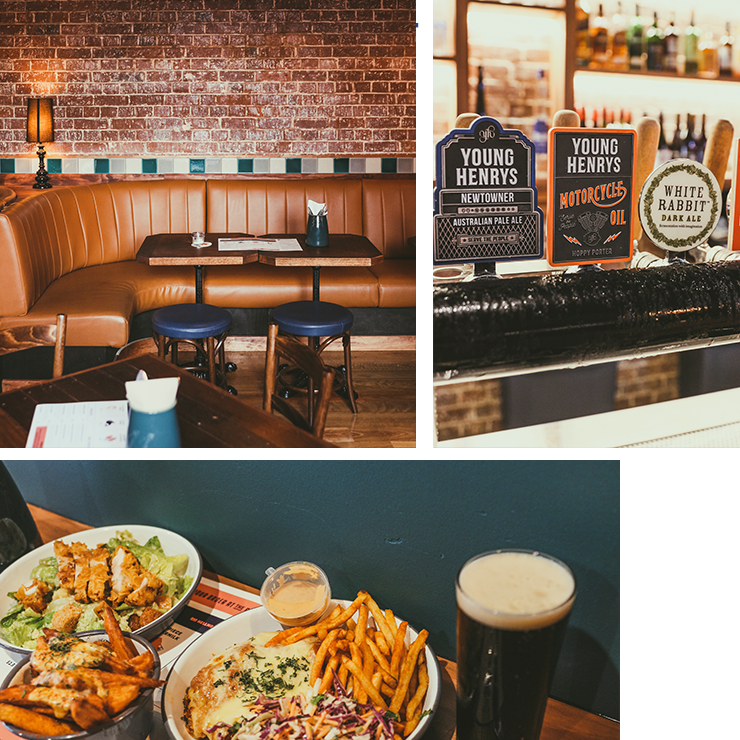 Dicki's Café
New Farm
With French toast, waffles, nurture bowls, and a breakfast burrito on the menu, Dicki's treads that delicate obscurity between breakfast and lunch. This of course makes them perfect for bruncheon, especially now that winter is here and getting out of bed before midday is a punish. With a vegan credo, Dicki's have nailed the task of ever-so-subtly sprucing up classic breakfast fare to get down with plant-based living. And the coffee situation is pretty special too.
Bordertown
CBD
'Not another burger joint' – said no one, ever. The freshest grill on the scene has breezed in fresh from Noosa and taken aim at the lunchtime takeaway trade (need I remind you that the last time a Noosa burg blew into town we were gifted with the power and glory of Betty's, so that precedent is plum). Bordertown's Tex-Mex focus means offerings of tasty burgers and authentic tacos, as well as some pretty snappin' sides like the wings and cauliflower popcorn.
Isles Lane
CBD
This verdant micro-pub is a veritable oasis in the CBD. Marrying together the best parts of a pub and a bistro, the mood at Isles Lane is super laid back and casual, but with slamming stuff to eat, drink and share at any time of the day. Think everything from full English breakfasts and lambs fry to whole roasted chickens and lobster rolls. Don't even get me started on all the cocktails and local beers on tap. Whenever you're ready for sesh, so are they.
Little Black Pug
Mount Gravatt
Little Black Pug is the ultimate dog-owners haunt, serving up breakfasts and treats in abundance. The all-day brekky covers all the bases and a few we didn't know existed (give us that cheesy polenta stack with truffle oil, stat), and caters to veggos, vegans, and the gluten intolerant—ain't that sweet of them?
Image credit: Grace Elizabeth Images for The Urban List