We have to admit, we've got it pretty sweet. Coffee spots on every corner, crazy-good restaurants, and more food festivals than you can snap your chopsticks at — there's always great food to scoff somewhere! But, sometimes, it's good to have a change of scenery, amiright? And right now — let's be frank here — the weather ain't exactly compelling us to cross the threshold of our front doors on our quest for gastronomical enlightenment. We need a little sunshine, a spot of vitamin D, and some shopping wouldn't hurt either.
So when we heard about Brisbane's annual James Street Food and Wine Trail, held on James Street in super-hip New Farm, we figured we could do with a long weekend in the Sunshine State! A three-day long festival of cooking classes, one-of-a-kind degustation dinners, outdoor picnics (they do have the weather for it), pop-up stalls and locally sourced markets, you'll be hard pressed not to over indulge.
So you don't miss any of the good stuff, here's our go-to list of stalls, attractions, and events you need to hit up at this year's trail: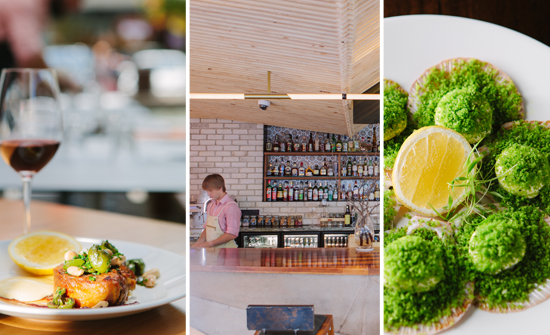 Thursday 31st July
Harveys Wine Dinner | Get your lips around a cracking selection of Craggy Range Wines all paired with a sensational five-course degustation, created exclusively for the night, courtesy of the main man himself, Mr PJ Mcmillan. Expect incredible flavours and presentation from this James Street institution.
Where: Harveys
When: 6:30pm | $130pp
Chow House Sitting Duck Feast | Chow House are throwing a three-course degustation dinner, designed exclusively for the launch of the James Street Food and Wine Trail, that revolves around those billed beauties — the humble duck. Executive chef Timmy Kemp has gone above and beyond in her gastronomical wizardry to bring you a stunning menu of tea smoked duck breast and duck roulade, among the many delightfully duck-themed dishes. With her roots firmly planted in Thailand and her classical French training, Kemp knows a thing or two when it comes to cooking ducks! An incredible dining experience, not to be missed.
When: 5:30pm | $58pp
Friday 1st August
Modern Australian Cooking Class | For all you foodies wanting to roll up your sleeves and get your hands dirty, here's your chance! Join the very knowledgeable folk at the James Street Cooking School for an educational evening that revolves around (you guessed it) food! Not only will you get to try your hand recreating some delish dishes, you'll get to eat your spoils too! Oh, and did we mention that your meal will be matched with wine and beer? Yum!
When: From 6:30pm, reservations essential
Saturday 2nd August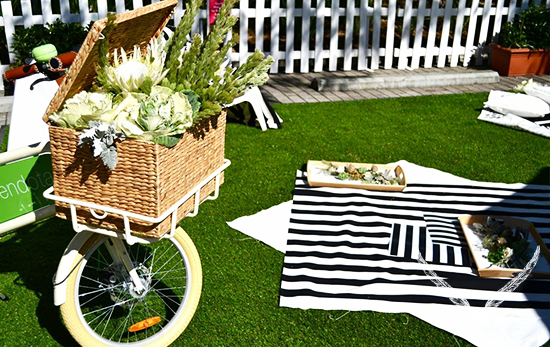 The Urban Picnic | It's back! We've teamed up with James Street to bring a sweet chill out space in the middle of all the crazy. When your feet become weary and you're walking around aimlessly in a food coma, steal a spot under an umbrella and settle in on a picnic blanket, in the heart of all the Food and Wine Trail action. We'll have sweet tunes courtesy of a live jazz band, and grab a snack from any of the stalls; we'll have sweet treats from Jocelyn's Provisions mini-bar and char-grilled delights from Gerard's Charcoal Grill. They'll be plenty to whet your whistle so you won't have to move a muscle!
When: 10am-4pm
Market Zone | Everyone LOVES a market, but these 'aint no ordinary stalls selling their musty wares. Find all your faves from James Street and Standard Market Co., while you sample, purchase and meet the producers of local grown heroes like James Street's very own honey producer, Bee One Third, James Street Cooking School's iced teas and lemonades, and fresh oysters from The Fresh Fish Co. to name but a few!
Where: James Street markets
Bucci Aperol Spritz Lounge | They had us at Aperol Spritz. Take a pit stop at the Italian inspired Aperol Spritz lounge at Bucci, for a refreshing Aperol Spritz (or two)! Relax in a deck lounge and enjoy some chilled beats, drink in hand, arancini in gob!
Where: Bucci
When: 11am-late
At Sixes and Sevens Negroni Bar | If ever there was a perfect place to laze around soaking up the atmosphere of the Food and Wine Trail, the new James Lane Gardens by At Sixes and Sevens is your go. Sip on expertly made Negroni cocktails, graze on an antipasti of olives and a selection of cheeses and watch as the afternoon drifts away.
Where: James Lane
When 10am-late
ILVE pop-up kitchens | Find these little pop-up kitchens dotted all around the precinct, and watch on as chefs and restaurateurs from your favourite James Street Restaurants whip up delicious dishes and cheap eats. This year at the Food and Wine Trail you can learn how to make some of your favourite snacks, from arancini with Bucci's Shaun Malone (seriously yum!), or how to make the perfect dumplings with Chow House's Timmy Kemp.
Where: Various locations
Editor's tip: Rumour has it that Prime Speciality Meats will be grilling up a storm over the Food and Wine Trail weekend. Keep your eyes peeled for their gourmet sausages!

Sunday 3rd August
Secret Laneway Business Presents: Lickidy Chick | If you like fried chicken — and seriously who doesn't? — then you're going to want to get down to Lickidy Chicks pop-up kitchen. Take your tastebuds on journey and salivate over juicy fried chicken, freshly cooked using recipes from around the world.
Where: Gerard's Lane
When: 11am- sold out
For the full James Street Food & Wine Trail Itinerary CLICK HERE
TUL Note: Today's List Love post is proudly sponsored by James Street Initiative and endorsed by The Urban List. Our sponsored posts will never be a secret — the List Love seal will be stamped on any sponsored material you see on the site. Thank you for supporting the sponsors who make The Urban List possible.
Photgraphy cradits: Daniel Maddock, James Street Initiative, thetarttart.com, A House in The Hills, Home Fluffy Home, The Two Bite Club