Just when we thought we were finally getting our heads around this whole glass skin trend (confession: we're totally not, by the way), we're now in the midst of another—glass hair. Which of course begs two questions: what exactly is glass hair and how do we actually achieve this other-wordly shine?
Surprisingly, the concept is pretty easy to understand: glass hair is not really about that mega-watt shine (yes, the name is slightly misleading), it defines a sharp, blunt cut, which is styled to perfection, with very polished vibes. A-list stars and Hollwood socialites alike such as Bella Hadid, Jourdan Dunn, the Kardashian-Jenner clan, Lucy Hale, Olivia Culpo—even our home-grown gal, Margot Robbie—have all been captured trading in their long locks for a short, sharp and shiny do.
Unfortunately, most of us aren't blessed with hair like silk and that, 'I woke up like this' look of a weekday morning, not even the genetically blessed Hadids can claim that one, either. This new hair trend requires some need to know tips and tricks (read: bulk hydrating products and some serious patience andstyling skills) to achieve exxy-looking hair at home.
Here's everything you'll need in your beauty arsenal to achieve that glass hair look outside of the salon.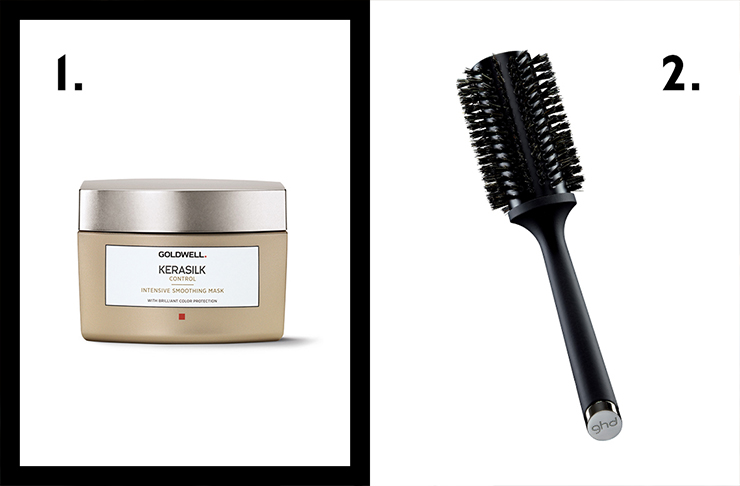 Wash Your Hair The Right Way
It all begins with how we treat our hair in the shower. Think of this step as the primer before you apply your foundation. It's important to use an intense smoothing treatment so that the hair follicles are super hydrated and prepped, making it more manageable when it comes to further styling. Goldwell Kerasilk Control Intensive Smoothing Mask works to smooth the hair for long lasting manageability, control and that much needed shine.
It's true, washing your hair with ice cold water does increase shine but who actually wants to do that?! Wash your hair with a temperature you're comfortable with then try finishing with a quick rinse of cold water—this helps tame those dreaded flyaways, also helping to deliver more oxygen and natural oils to your hair.
Use The Correct Brush
If you're wanting to achieve hair that reflects any light that comes its way, believe it or not, the brush you use does make a huge difference. Try using a boar bristle brush, this type of brush is ideal for this hair look as it gently massages the scalp, boosting blood circulation causing natural oils to be released from the root to the tip, vital for achieving that glassy look! The GHD Natural Bristle Radial Brush is made with natural boar bristles to combat static and grip the hair for better control, smoothing out any fizz.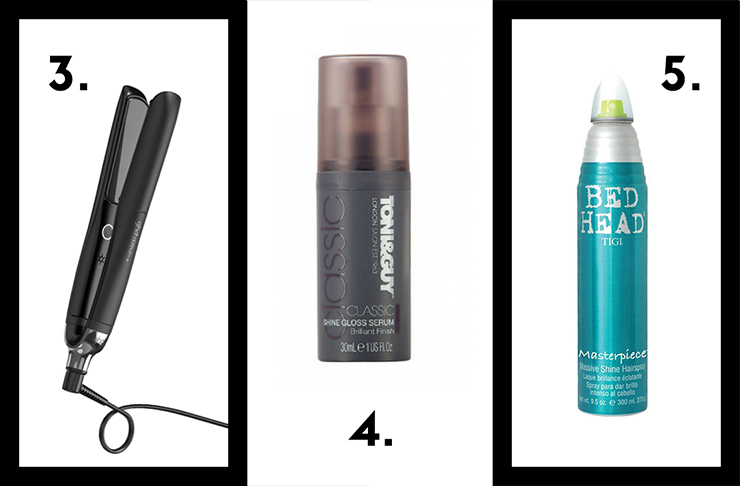 Straighten Your Hair In Sections
In order to fully pull off this look, the most important tip of all, make sure your hair is perfectly straight. To help achieve this brush through your hair with the boar bristle brush, ensuring there are no knots, section off your hair and begin straightening every inch of your hair. The GHD Platinum+ features groundbreaking innovation that predicts your hair's needs. The technology allows more effective control of heat, giving ultimate results and stronger, healthier hair. Perfect for gaining that shiny, sleek, glass looking hair.
Add A Nourishing Product
To perfect your Instagram-worthy glass hair, add the Toni & Guy Classic Gloss Serum for shiny hair that you'll find yourself running your hands through all day long. This serum works to smooth, de-frizz and tame flyaways. Simply work one or two pumps of product into the hair, avoiding the roots for desired shine.
Set With A Strong Hairspray
If we've put all this effort into our hair looking as reflective as glass, we don't want all that hard work going anywhere. This calls for a hella strong hairspray that doesn't take the desired shine away! The TIGI Bed Head Master Piece hairspray has a strong hold that creates massive shine and body. To make things even easier this hairspray is humidity resistant and guards against dryness.
Want more? We've rounded up the best cult pharmacy beauty buys.
Design Credit: Sarah Law and Image Credit: Unsplash