Brisbane has been through a dumpling revolution in the past year, with specialist restaurants popping up all over the city. No longer are these traditional morsels just a prelude to bigger and better things — they are now the main event. So now, with chopsticks poised, it's time to talk through the making of dumplings so that you can DIY these little bundles of yum at home.
Making Introductions
The shape of a dumpling can sometimes be the easiest way to identify its origin, and even its filling.
Traditional Chinese dumplings will generally come three ways. Shu-mai are open faced dim sum style, often filled with pork; har-gow are bonnet shaped dumpling covered with translucent skin generally used for seafood; and jiaozi, a crimped edged crescent shaped dumpling with thicker skin, are most commonly filled with pork mince and vegetables.
(The team at Happy Little Dumplings make life easy for yum-cha newbies and provide illustrations to show you what you're in for.)
Where to Find Them
Bamboo Basket help us out again by dividing their menu up by cooking style so you can confidently mix and match a selection of their finest dumplings.
Gyoza Bar Ann steers clear of steam baskets and stick to their speciality, serving up traditional Japanese style pan-fried dumplings on a sizzling hotplate.
Landmark, Brisbane's yum cha favourite in the iconic Sunnybank plaza, serve up traditional dumplings from steam baskets. Not only are the dumplings on offer here both high quality and reliably delicious, but anyplace that delivers the food to your table on a trolley is A-OK by us.
Cooking Style
Dumplings can be pan-fried, deep-fried, steamed, baked or boiled and each technique will offer a different texture. Are you after a bit of crunch around your mince-filled jiaozi or do you want a silken surround to your seafood har-gow? How you choose to cook your dumplings will effect the final flavour and mouth feel, and different fillings suit different cooking techniques.
Favoured fillings
As we've learned, there are traditional fillings for the different shapes and styles of dumplings. Pork and seafood feature heavily, but spicing and flavouring are a matter of taste.
The Brunswick Social offers the classic pork, but also prawn and enoki mushroom, prawn and coriander or pork and chive.
Harajuku Gyoza keep it simple with poached or grilled pork, poached or grilled chicken, poached or grilled duck, and whole prawn or vegetable.
Time to wrap
Dumpling dough is made up on different ratios of flour, water and salt depending on what texture you're after. However, wonton wrappers are available to purchase from any Asian supermarket so there's no need to make your own. If you need a hand with your dumpling wrapping technique, line up outside New Shanghai and watch the experts at work before tucking into their delicious handiwork.
To get you started, here's a recipe my friend picked up while travelling in Taiwan.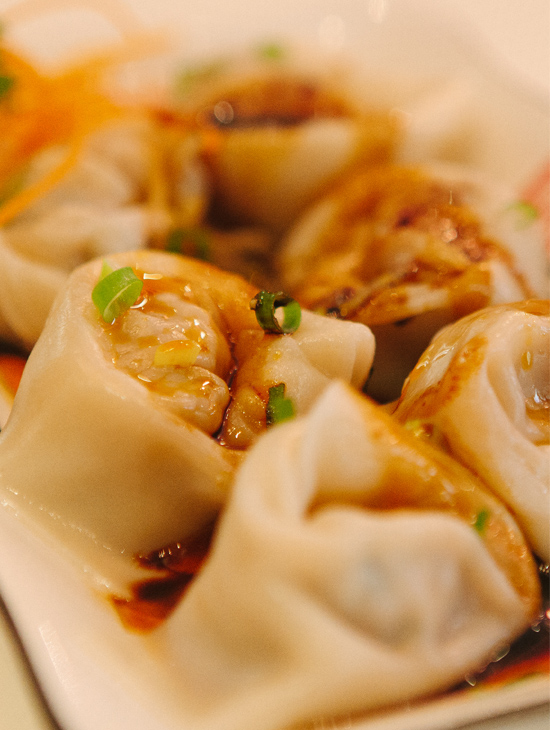 Jane's pork and prawn dumpling recipe
600g pork mince
300g prawns
600g chinese chives or white cabbage
1 tbsp rice wine
1 tbsp sesame oil
2 tbsp soy sauce
1 tsp ginger
1 tsp white pepper
Salt to taste
Chop the vegetables finely and mix with salt. Set aside for 20 minutes until all liquid is extracted from the cabbage and drain well.
Mix with the rest of the ingredients and then set aside for a further 30 minutes.
Spoon a teaspoonful of filling into the centre of each wrapper. Fold the edge of the wrapper over and crimp together with your fingers so that the filling is completely enclosed.
Steaming | Place a circle of baking paper across the base of your bamboo steamer and place the dumpling in side-by-side. Put the bamboo steamer over the top of a wok with some boiling water in the bottom. Steam at a high heat for 10 minutes, ensuring the water does not boil dry.
Frying | Place the dumplings in a pan side-by-side, not leaving any space in-between. Mix one teaspoon of flour with one cup of water and pour into the pan. Turn onto a high heat. Put the lid on the pan and cook until the water has evaporated. Serve the dumplings upside down.
Image credit: Rasa Maylasia, Daniel Maddock