Ever since Brisbane's Howard Smith Wharves precinct was billed a few ago now, we've been (not so) patiently waiting for this game-changing space to take shape.
And now, only a few months away from launching, sneak peeks of the space are starting to trickle in—and holy hell, is she a stunner!?
A key element to this ground-breaking construction is the state-of-the-art public spaces, thanks to the impeccable job done in retaining nearly all of the existing heritage wharves while completely converting the area into a one-of-a-kind dining, shopping and culture destination. And wouldn't you know, we just got the first look.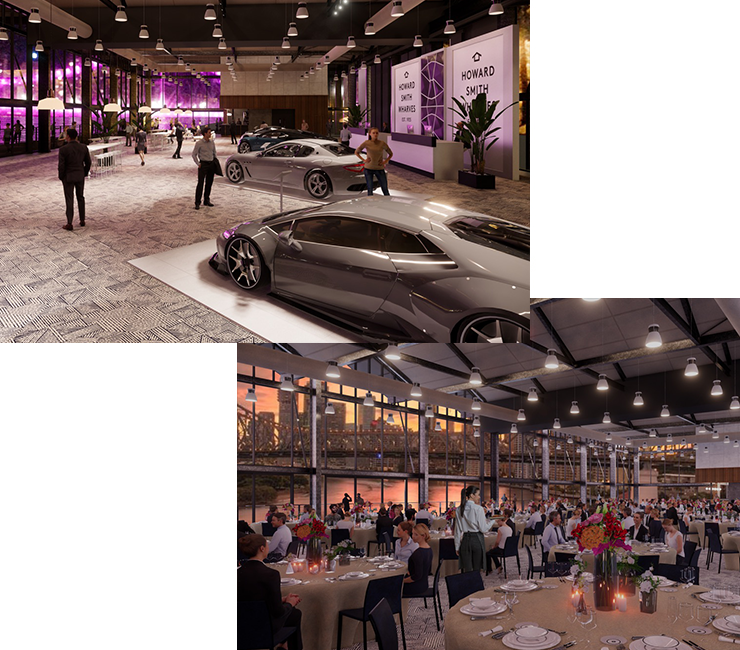 Please give a warm welcome to the oh-so-gorgeous Howard Hall. (We expect you'll be making yourself acquainted very soon.)
Designed by the award-winning architecture and interiors company that is Woods Bagot, the 1,100m2 event space is some of the hottest prime real estate in the country right now. Absolute riverfront, pristine views of the Story Bridge and the CBD skyline—it's a total show-stopper!
Set to accommodate anything from private events, pop-ups, gigs and festivals (plus everything in between) Howard Hall is exactly the type of architecture Brisbane needs to spearhead the rejuvenation as a true global city. Add some of the finest local and international dining talent to the mix and you can bet your life you'll be hanging your hat here come summertime.
All up, the Howard Smith Wharves precinct will take up over 3.5 hectares of premium riverside, so you can see how this has really piqued our interest.
Howard Hall is set to open this November, with construction already underway. Exciting much!?
Stay tuned for more details as they come in, but if you're the impatient type, keep tabs on developments right here.
Image credit: provided