Editor's note, Little Valley is now closed permanently.
When we first heard that the legends responsible for Rick Shores in Burleigh we're opening yet another restaurant, it's safe to say we were all waiting eagerly for the doors to open.
These guys rarely, if ever, miss the mark, and (spoiler) their new —very chic, I might add—Chinese restaurant, Little Valley has not disappointed.
Tucked away down Warner Lane (with the front façade facing out on Warner St, opposite The Brightside), Little Valley is the grown up, late night food haven Brisbane so desperately needs more of.
The paired back décor—we're talking white washed brick walls, raw wood parquet floors, and dark minimalist furniture—defines LV's vibe. (This is not the place to knock back XXXX and burgs, and all the better for it).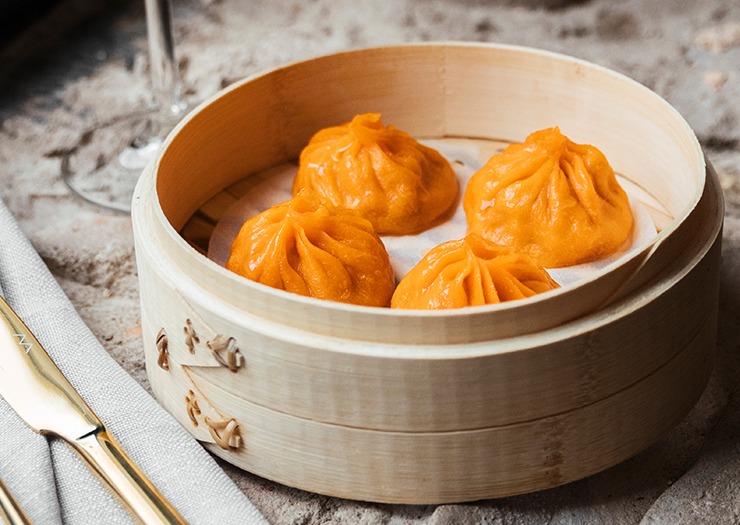 With floor-to-ceiling windows in the main restaurant overlooking the heart of the Valley, the space is light and airy. Upstairs on the mezzanine level you'll find a handful of high tables and chairs, perfect for drop-ins (or draanks). There you'll also find their alfresco bar area a.k.a where you'll find us this summer.
Delectable décor aside, we're here for the food. So, let's talk. It's worth noting that heading up the pans in the kitchen is none other than Jake Pregnell (he created Rick Shore's infamous bug roll. 'Nuff said) and heading up the smooth running of the venue is Maui Manu. Basically, you're in very good hands.
Part dim sum menu (for all you grazers out there) part share-style mains, Little Valley has been influenced greatly by the breadth of Chinese cuisine. From chilli xiao long bao—spicy as in tingly, not spicy as in blow-your-head-off hot—to lobster and chive har gow, shitake and water chestnut dumplings and char sui pork and kimchi buns, we're dubbing LV as the perfect spot for dumplings in town. There, we've said it.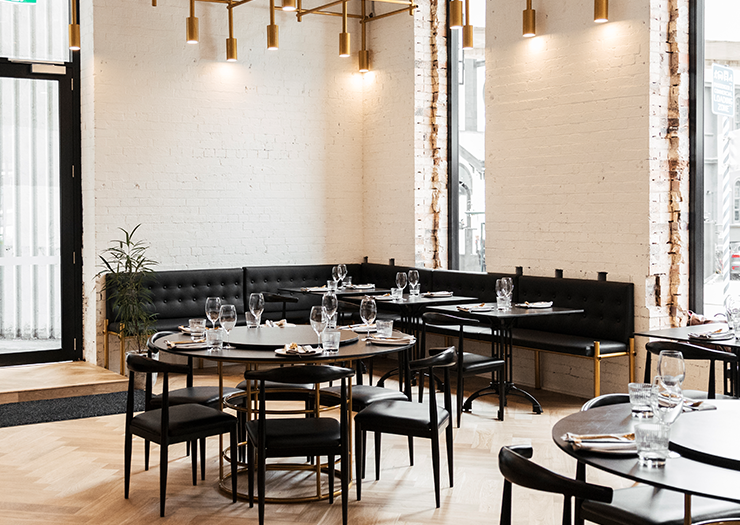 It would be a crime not to mention the half twice-cooked duck with fermented plums, but you'll fall hard for the rib eye on the bone. Vegos, you're also catered for with a twist on a classic: kung pao mushrooms with macadamia and spring onion. Fresh yet hearty—no, we don't know how they manage it, either.
The drinks list (particularly the wine) is a who's who of boutique wines both locally and abroad, while their cocktails have been meticulously created to compliment the abundance of flavour on that fork of yours.
Lastly, if you're not ordering at least one of their house-made Hong Kong tarts with wattle seed (just a little bit fancy, no?) then you're not doing it right.
Grown up, but still embodying that chill Brissy vibe we're accustomed to (lbh, we're not about the pomp and fuss up here), Little Valley is a breath of fresh air in a city still hung up on American cheap eats. Cheers, boys. You've bloody crushed it!
Image credit: Grace Elizabeth Images for The Urban List