Truth bomb: life's pretty exhausting. You get up, go to work, go to the gym (err, sure), make dinner, try to not fall asleep while watching re-runs of Billions, look at Instagram for an hour, rinse, repeat. When did it all get too much?
Amid the incessant noise that is life and the old 9-5, there is additional mind clutter; everywhere you go we're being told to 'tech-tox', 'decompress', 'drink a litre of kombucha', 'meditate', 'go vegan/paleo/keto etc etc', all in the name of our health and wellbeing.
Where the hell do you even start?
Sometimes, all you really need is to straight up chill the eff out, get rid of all that unnecessary chatter (read: STEP AWAY FROM THE IPHONE!) and indulge in a bit of 'you' time. Seriously.
If you're on the market for more zen-like vibes, City Cave needs to be your first port of call; not just because they are hands down one of the best places in Brisbane for floating (for those of you that missed the floating memo, it's essentially sensory deprivation tanks (no sound, no lights) filled with Epsom salts that enable you to literally float on the surface), but because they've come up with a treatment that specifically targets your wellbeing and stress levels. 'Flauna' might just be the key to a more relaxed self.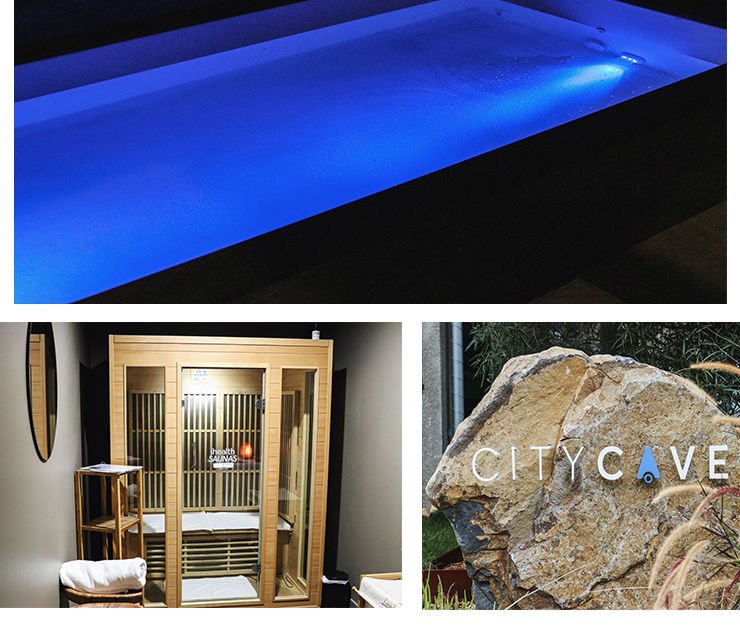 So, WTF exactly is Flauna? Glad you asked.
Combining the full body detoxing delight that is infrared sauna with the numerous (seemingly endless, actually) health benefits of floating, the team at City Cave comprised a treatment that combined the two separate experiential treatments back-to-back.
Why? Well, here's the deal.
Floating, among many things, reduces cortisol levels (aka reduces stress), aids in the reduction of anxiety, reduces lactic acid build up (perfect for you gym bunnies), improves oxygen circulation, regulates your sleeping patterns… I could go on.
Combine this with the benefits of infrared sauna—it detoxifies the body, increases blood circulation and revs your metabolism, boosts your blood circulation AND aids weight loss—and you've got yourself one hell of a detoxifying, relaxing, you-time hour of power.
Carving out a specific time to focus on your overall health and wellbeing (because leg day in the gym doesn't have quite the same effect…) is essential in our 24-hour, 'always on' world. Meet the team at City Cave (who I have on good authority love a cheeky weekly Flauna) and you'll see what we mean—stress-free goals right there.
Do yourself a favour and take back an hour or so of your life. Book yourself a Flauna treatment right here.
Image credit: Yaseera Moosa and Grace Elizabeth Images for The Urban List