Okay, lovebirds. This cold weather calls for some serious loved-up cuddle time (gross). And what's more loved-up, cuddly and gross than a romantic couple's getaway? Nothing, that's what.
Ladies, convince your man to take you on a long weekend jaunt for some quality time down south. You've got serious Noah and Allie from the Notebook re-enacting to do (we're sensing you're rolling your eyes, gentleman. Get over it). Remember, the essential ingredient for all romance is indulgence, and Victoria is all about the luxe vibes when it's cold outside.
We've got you sorted with 10 insanely beautiful and romantic winter escapes (if you're sick of all the tropical vibes we rock up here in sunny QLD...).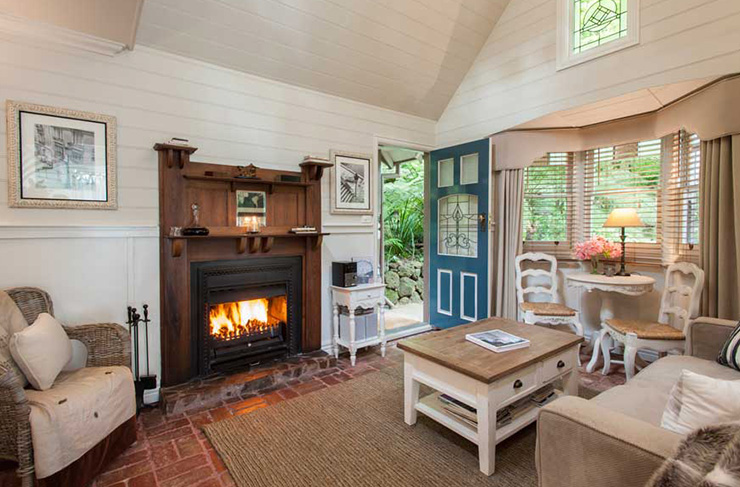 Photography: Visit Dandenong Ranges
Twilight Cottage
Olinda
We'll kick off with this charming little cottage. Nestled in Olinda, just seven minutes' walk from Dandenong Ranges Botanic Garden, Twilight Cottage screams romance. The cottage has a giant spa in the corner, a crackling fire, plus BBQ facilities and free WIFI (although we encourage you to switch your phones off bc romance). The owners even pop on jazz music before you get there. Enjoy a bed and breakfast, or BYO ingredients to cook up a storm. The decor is pretty twee, but that's what you want for Dandenongs couple escapes, right?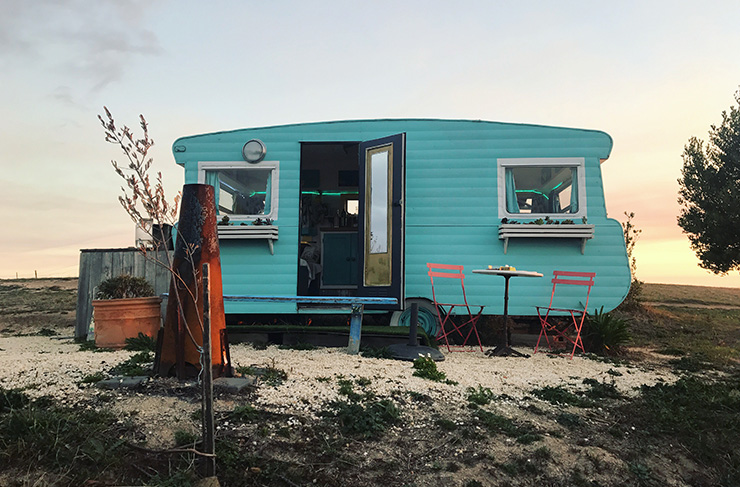 Photography: Allira Sher
Wild Valley
Budgeree
This one's a definite favourite of ours. Wild Valley is an insanely beautiful 'glamping' destination that includes a collection of vintage caravans, set on a ridge with panoramic views over Budgeree. Personally, we recommend staying in the 70s French Van. This bad boy is equipped with a retro-inspired French interior and French antiques. Get snuggly by the outdoor fire or cuddle up with your lover on the Queen bed. Guests are encouraged to roam the 120 acres of lush fields and say hi to the Alpacas as well. Luxe glamper-vans and Alpacas? What more could you want?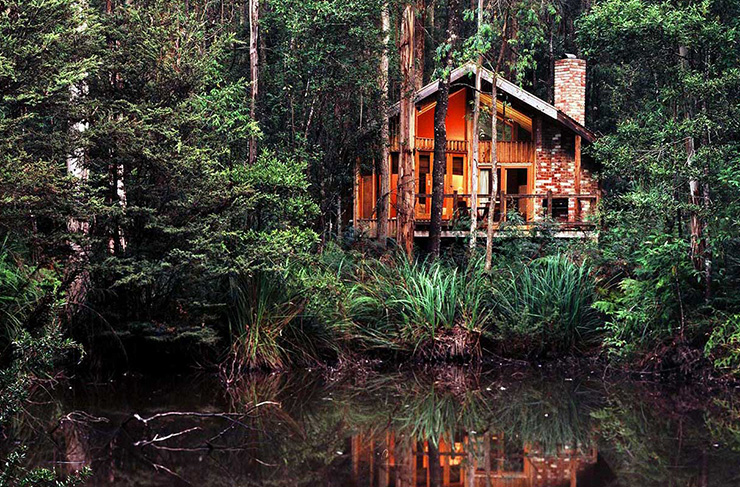 Photography: Woodlands Rainforest Retreat
Woodlands Rainforest Retreat
Yarra Valley
If you're looking for ultimate seclusion and indulgent luxury, this is the one. Just look at it! The Woodlands Retreat is deep in the heart of Black Spur rainforest. There are several self-contained cottages available, each one decked out with a sunken spa overlooking the gully and hidden in its own separate nook of the rainforest. Feast your lovey-dovey eyes on beautiful views of fern gullies and a private bush lake, with nothing but the sound of the babbling Hermitage Creek. It's almost cliche how good this place is.
Japanese Zen Retreat
Crossover
The Japanese Zen Retreat is definitely one to chuck on the bucket list. It's a cute lakeside Ryokan that's been designed to reflect the styles of Japan's Kyoto Palace You'll find it at the base of a gully in Crossover. Built over a tranquil pond, surrounded by rustling trees and croaking frogs, you'll really get the chance to enjoy each other's company. Bring a couple of blankets and sit on the veranda, or treat yo' self to a stone-covered bubble bath. If you're looking to get a little more active, go for a bush walk through the rainforests and discover one of Victoria's oldest wooden trestle bridges. What's even better? The price. Yep, you and bae can have all of this for just $250 per night. Noice.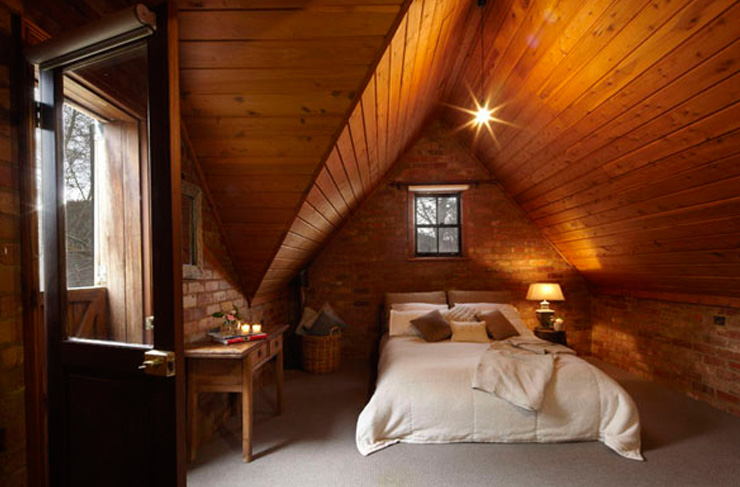 Photography: Maplewood
Maplewood Cottage
Macedon Ranges
Maplewood is one of our favourite weekend getaways. It's on the main strip in the beautiful Macedon Ranges, set on half an acre of peaceful woodland. The rustic cottage has an upstairs loft bedroom, one main bathroom and a self-contained kitchen and lounge area. Surrounded by tall trees and laced in rich charm and tranquillity, this place is the ultimate romantic escape. Get cosy by the wood fire with a glass of red and a good cheese plate. If you get peckish, Mt Macedon Hotel is like 30m down the road.
Clifton At Hepburn
Daylesford
This one's been described as a "spectacular getaway of uncommon design and unparalleled luxury", but not by us. We just call it "a damn good getaway". The Clifton property is mostly glass, framing panoramic views of an old pine forest and bushland. Sip on a glass of champers in your very own private spa, warm up by the French-imported fireplace, and fall asleep watching the glittering of a million stars. You'll be in heaven. Brb, calling my boyfriend…Keep in mind, this place gets busy. You usually have to book at least a month in advance.
Hotel Windsor
Melbourne City
If you're looking to do something special in the city Hotel Windsor is your best bet. The 5-star hotel is one of Australia's most iconic romantic destinations, hosting hundreds of weddings per year and bursting with old-world charm. You can get your hands on a traditional room for just $230 per night, or up the ante and grab a Windsor Suite for $519. Take yourselves out for a nice dinner, then head on back to your room for some Netflix and chill.
The Olsen Hotel
South Yarra
A smidge closer to the Melbourne burbs (so perfect if you're not keen to hire a car from the airport), The Olsen is also a goodie if you're looking for a change of scenery for the night. It's down the South Yarra end of Chapel Street, and it's ideal if you want to combine your love for your partner, food and shopping all in one. For an extra romantic night, we recommend staying in one of the spa suites, which overlook the Olsen's unique artistry. Don't forget the rental Lekker bikes and smart cars for cheeky daytrips either.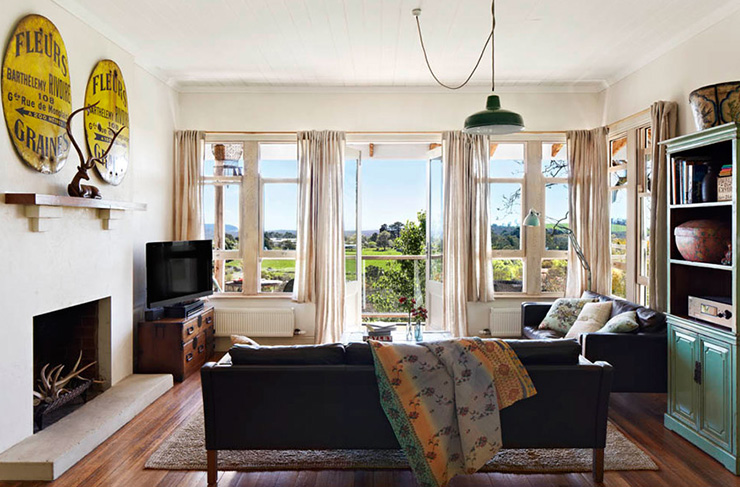 Photography: DayGet
Milk And Honey
Daylesford
Here's a spot where the accommodation is just as good as the name. The Milk and Honey cottage is located in Daylesford, about a 2-hour drive out of Melbourne. Access the property via a gorgeous winding stairway with epic views over the surrounding countryside. Milk and Honey is only a few minutes' walk from the Daylesford shops, and it's perfect if you're after that lazy getaway (with civilisation within arm's reach). Two light-filled bedrooms, an open fireplace, slick bathrooms and a full kitchen complete the picture. An idyllic escape perfect for a romantic retreat. We love.
Hepburn Spa Pavilion Saffron
Daylesford
Another Daylesford gem. The Hepburn Spa Pavilion is right on the edge of Wombat State Forest—a cheeky hideaway from the city. It's a short walk from Hepburn Springs too. You've got two bedrooms, decked out with iconic artwork, a living area with gas log fireplace, and two bathrooms, each with a hydro spa bath. The Pavilion's locay is perfect for bushwalking, visiting wineries or just kicking back on the terrace with a glass of red. Spoiler—the Hepburn Bathhouse & Spa is walking distance from your front door…hint hint.
Want to try glamping instead? Here's our pick of the best glamping in Victoria.
Image credit: Riparide