July has been a big month for Ben Devlin. At 29, he's just been named Young Chef of the Year for his work as Chef de Cuisine at Esquire. He's also managed to squeeze in two Beerkary Bakery events, his side project with partner Yen Trinh that sets out to combine two of our favourite things — beer and baked goods.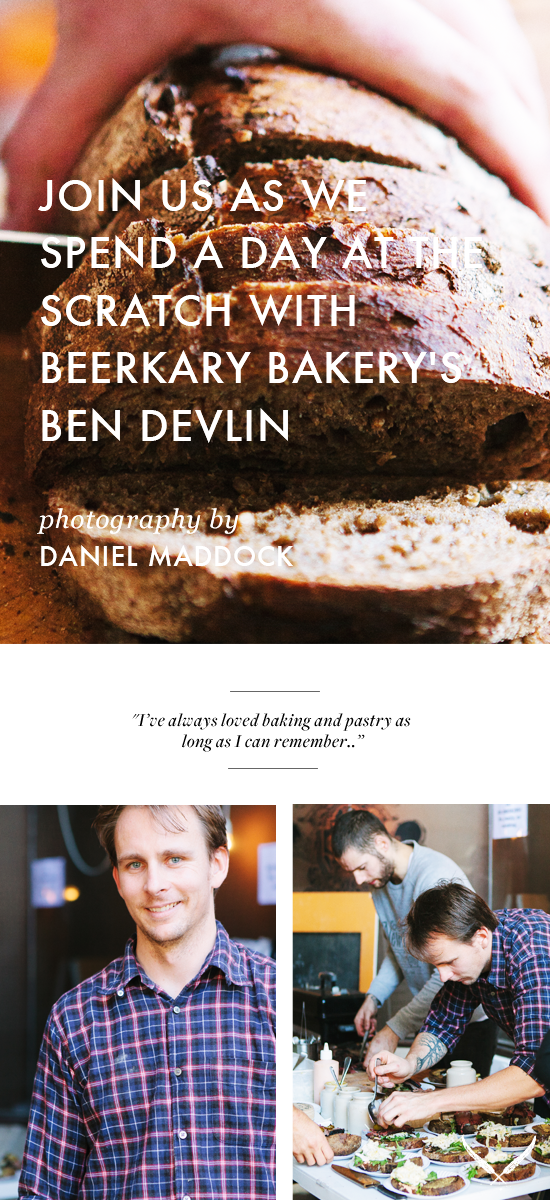 We sat down with Ben to talk yeast, malt and fermentation.
TUL: First of all, congratulations on winning Young Chef of the Year at the Good Food Awards.
Thanks, it's pretty crazy really.
TUL: It must have been extra special winning alongside Ryan [Squires, Executive Chef at Esquire, won Chef of the Year]
It's good for the restaurant — it's one of those things where you feel really good that you won something and then your boss one ups you!
TUL: But obviously we're not here to talk about Esquire. Can you talk me through the idea of Beerkary and how it all came about?
I've always loved baking and pastry as long as I can remember. And going to the bakery is one of those things I can remember from a young age. There was a 24-hour bakery near where I grew up in Byron — when you were young you'd go there after football practice, but also as a teenager when you were going out you'd stop by on your way home at 1am or 2am in the morning.
But really it was about trying to combine two of those things I really like. And you find there is quite a lot of overlap — ingredients obviously like yeast, malt and things like that. Then when you break them down they're both based around fermentation as well so you have similar things that you can think about and similar things you need to take into account to get the result you want.
So we found it quite interesting linking the two up.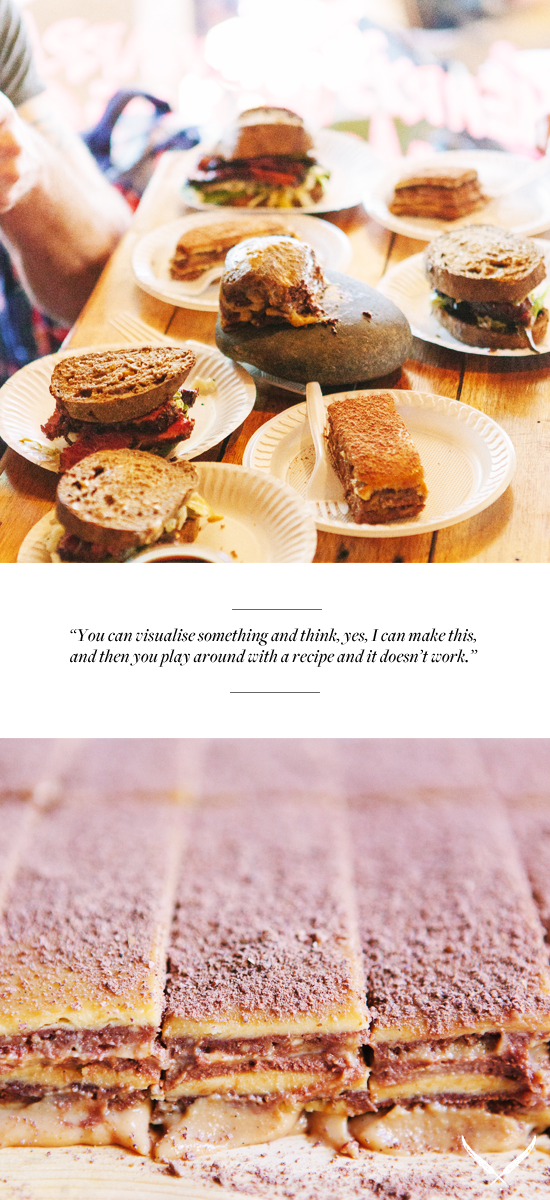 TUL: Do you come from a pastry background? Were you a pastry chef at Noma (four-time winner of best restaurant in the world)?
I worked on pastry as a sous chef there for quite a while, but I worked on a few other sections there as well. I'm not trained as a pastry chef or baker, it's just something I have a lot of interest in.
So for me that's probably one of the biggest things — pushing myself creatively and technically. I've done these things before, but I haven't done a lot of it. Trying to get your skills to the level they need to be at is the hardest thing because you can visualise something and think, yes, I can make this and then you play around with a recipe and it doesn't work. But there's a reason that it didn't work, so you hone your technique a bit and you get better.
TUL: How did the collaboration come about between you and Yen?
Yen is my girlfriend and is an urban designer but where she sees herself is in design thinking. She likes to push people to do what they want to do. She's really good at asking you questions like why are you doing something or why aren't you doing something. Whatever it may be, it kind of pushes you along. She's supported me and pushed me more than anyone I've ever worked with. It's a really good partnership in that sense.
TUL: Beerkary ran a pop-up stall at Weekend of Darkness. How did that go?
It went pretty well. We sold out of everything in an hour and a half. We would have like to have made more, but what we are making is so time consuming so there's only so much you can produce.
TUL: So how do you go about pairing the beers?
We set up a sweet and a savoury to each beer, and we'll try to match to three or four beers. We try the beer or get tasting notes on the beer in advance and then write up our menu.
So from our 4th Beerkary event a couple of weeks ago there was a stout that was quite chocolatey, quite strong but had oatmeal in the mix which made it really velvety and rich. So I made a dark malted stout bread with oat in the mix then added hot smoked beef. The sweet was a chocolate and oat brioche with caramelised milk inside. Again, it was chocolatey and rich, but with something sweet to cut through.
You just have a look at the beers and most have a really distinct flavour that sets them apart, or the hops they use changes the flavour profile so we'll use those ingredients in our baking.
We really like the theming behind it and being able to think a bit deeper about it, but you have to remember it's an event that people want to have fun at. So we'll recommend pairings and try to have a bit of information there but it's up to them if they read it. Some people will just come up and say, 'that looks good, I want to eat it' and walk away happy.
TUL: How do you find time to do it all?
The time is tricky. We find it hard to find the time so only really do them quarterly because it is a bit of a push. It's definitely a challenge, both creatively and logistically. We get a lot of help from our friends and use venues like Wandering Cooks to do the baking.
On a typical Beerkary weekend, I'll finish work at Esquire on Friday night around 2-3am and go to sleep. I'll then be up at 7am to start making my doughs, then be back at Esquire by midday and be there til around midnight, maybe 1am. Then I'll go straight from the restaurant to the bakery and start baking through the night. I'll finish up and go to the bar at 9am to start setting up the event, serve from 10am til around 12-2pm then clean down, pack up, get home and collapse around 4pm. The longest one was when I had 4 hours sleep on the Friday night and then ended up being awake for 36 hours.
It's a lot of fun. As a chef, you sometimes get programmed to be this adrenalin junkie machine, and think, 'I'm going to work as hard as I can, as long as I can. I don't need to sleep, I'm just going to work', which can be really dangerous. But you do what you do because you love it and it's fun. When it stops being fun, that's when you need to rethink it.
TUL: What are your favourite or most popular products?
We do a really nice pork jowl, and the hot smoked beef we're serving at the moment is good. For me, I'm quite keen on the bread but people like the meat. To get the pork and the beef to where it is, takes about two weeks when you think about the curing, the smoking, the pickling.
A lot of love goes into everything we do.
TUL: Are there any pastries you'd like to get more experience with?
I feel like I'm getting better at my croissant doughs and we're on the lookout for things we've never done before. I only realised recently that we've never made eclairs for an event and I was kicking myself about that. They are so easy to make so many and you can play around with the flavours, so I'll probably add them to the next menu.
But I'm really interested in bread at the moment and using different grains and flours. I'm also trying to get more flavour into the breads and balance the flavour of hops, which is tricky. When you add heat they can go bitter, so it's finding the right amount.
TUL: What are your favourite bakeries and beer halls in Brisbane?
For bakeries, I really like Chester Street Kitchen, The Baker's Arms, Chouquette, and Flour & Chocolate.
Beer-wise, I like The Scratch, Bosc, Tippler's Tap, and Green Beacon. There are so many places now, it's hard to keep up.
TUL: What's your next event?
We are looking to do Beer InCider Festival in September. We're working with a brewery in Melbourne who are going to launch a new beer at the event so we'll be matching flavour notes to that.
TUL: And what's your long term plan for Beerkary?
I've always had a plan that I'd like to have a restaurant and a bakery in a similar space — with a combined kitchen. And an ice cream shop on the end. Those are the three things I enjoy most. But that's not something I'm going through right now, just something I'd like one day.
Find out more about upcoming events at facebook.com/Beerkary