NOTE – Strip bars are not where you take clients for post-work drinks on a Friday. If the drinks end at 2.46am and you need somewhere to escape lockout that's fine, but don't begin the night in front of the podium. Double note – if you're crafty you'll retain the receipts for the accounts team, as they can most likely claim some of the expense as entertainment.
Ok, now that that's out of the way, deciding where to take a client (and the company card) for drinks on a Friday can be a little tricky. There are a number of factors to contend with, and key considerations to take on board.
Let's start with the factors (or external forces) we're up against…
1. Crowds. Admittedly some of the city bars can turn into a pigswill come 5pm.
2. The Heat. We are coming into summer and sweat patches are not impressive to those you hope to grow a professional relationship with.
3. Noise. because, unlike when having Friday drinks with friends, you do need to pay proper consideration to what's being discussed, as smiling and nodding won't really cut it, and could end with you agreeing to new contracts much to your own detriment.
Which brings us next to our key considerations…
1. Space. You need somewhere with a smooth feel, one that says 'We should do/continue to do business, because I know what's slick and cool. And this is it'.
2. Beverage list. Many options are required. You can't be faced with the prospect of taking them to a spot that only serves cocktails, only to find they haven't touched spirits since their bucks party in 1999.
3. Vibe. It needs to be 'happening', but not too much so, or too crowded with those celebrating the end of the working week and looking to mingle. Think 'classy, yet fun'.
And so, with the above all taken on board we present you with our list…
The Lark
Good for those nestled in the inner west, The Lark ticks all our boxes and then some. What's more, should a little hunger set in, their bar snacks, notably the baked camembert with sourdough soldiers, answer the call. Soldier dipping is a shared activity and promotes cohesion.
Sure, in the later hours it can get a little raucous, but between 5 and 8pm you'll find it ever so pleasant, and we love the expansive wine list. It's is a sure way to show that, outside of the office, you're versed in Sauvignon Blancs from the Loire Valley and Tempranillos from Rioja.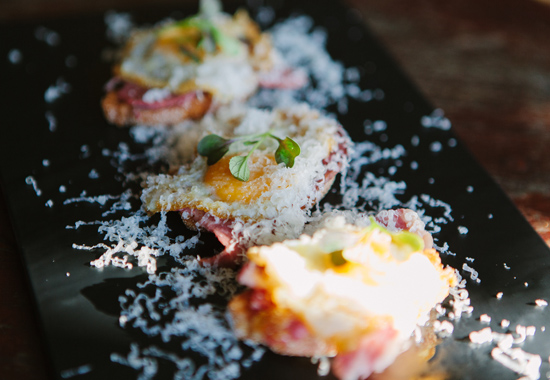 Those with offices on the south side will appreciate a spot for client drinks out of the city centre. And cocktails in West End don't come better than the marvelous creations from Lychee Lounge. You really can't go wrong with the Lychee Lounge signature martini, celebrating lychees in all their vodka-infused glory. And, should you choose to partake of the menu—and we highly suggest that you do—the manchego croquettes and the wagyu and quail egg en croute will fill the void between drinks and dinner nicely.
If they're from out of town, take them here. One of the best city views, a smartly dressed crowd enjoying a tipple, pre-dinner seating, many refreshing options, and a lovely charcuterie (pronounce it schar-kewt-er-ee) plate with duck parfait. And who don't like parfait!?
One for the city slickers, it sits atop The Euro and Urbane and is a chic spot for a cooling ale and talk. It brings a curated crowd of CBD workers seeking creative cocktails and looking to escape the 'meat markets' that the other watering holes nearby quickly transform into.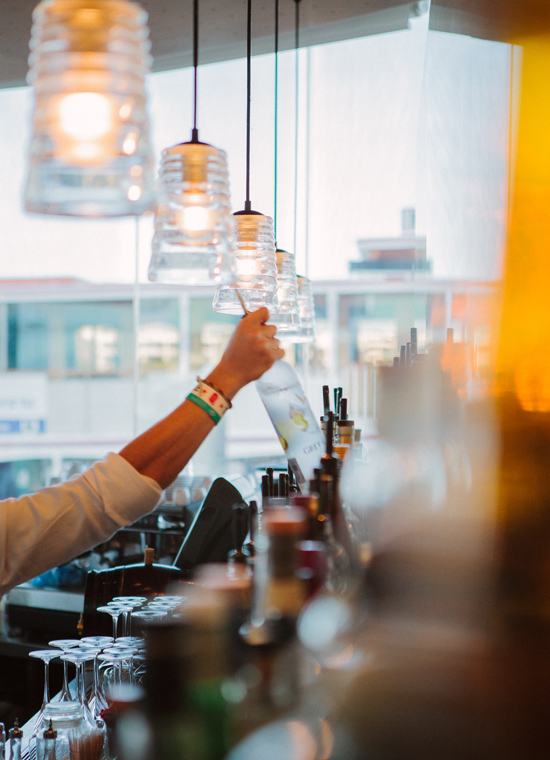 Refreshing river breezes, a stellar view of the bridge, and great seating makes it our pick of where to go on Eagle Street. This venue is bolstered by their array of beverages, including cocktails for sharing. You could always then move on to Il Centro and sit down to a plate of their sandcrab lasagne. It's a work expense after all…
With so many offices around Wooloongabba, we'd be silly for not suggesting the bar that sits atop one of our favourite dining locales. A carefully selected list of wines sourced from all over and available by the glass (or bottle), beers for the lads, Camparis for the cool connoisseurs, all combine for good times. Plus, it's a cool space.
We think this takes the cake if looking for an edgy space. Nestled up in Burnett Lane, their philosophy surrounding drinks is "not that you drink a lot, but that you drink well". We like, and is a great maxim to adopt when with clients. They have craft beers, a wine list featuring both the established and new, and serious cocktails with some old classics, others more modern.
Discreet. Classically furnished. A wine list as long as your arm. The Fix Wine Bar at Port Office in the CBD is a no-brainer when it comes to choosing an all-round pleasing environment to wine and dine your clients. Their tapas menu has over 14 dishes to choose from, and the cocktails are sure to have even the most hesitant business partner loosening up, and signing on the dotted line.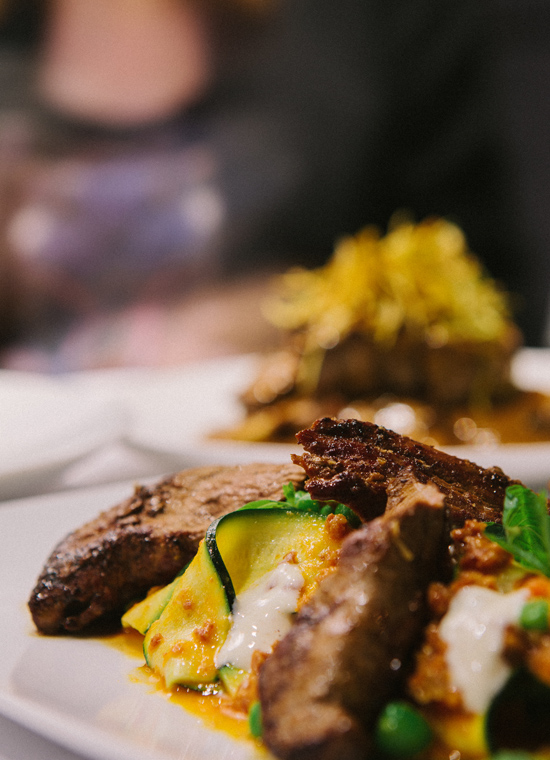 A peaceful reprieve from the hustle of The Valley, The Balfour Kitchen, the public arm of the Spicer's Balfour Hotel, tucked off Brunswick Street, is a calm and inviting space to talk shop, while enjoying a wine on the deck of this stately Queenslander. Ideal for out-of-towners, this restaurant, enjoyed on a summer's evening, really showcases the best of our sunshine state. A cheese platter plus a glass of chilled white on a balmy night makes for happy clients, trust us.
Where are you taken clients to drinks on a Friday and found it a great choice? Let us know in the comments below!
Image credit: Daniel Maddock