There are three types of people in the world: those who drink dishwater coffee, those who drink good coffee, and shifty weirdos who you should keep an eye on at all times.
Dishwater coffee drinkers are the ones standing bleary-eyed in line at cafes and carts across the city at seven in the morning. Characterised by a pale pallor, an irritable twitch, and a singular focus, the coffee folk queue for the brew, that more often that not resembles dishwater that accidentally brushed up against a bean.
Then we have our good coffee drinkers. Usually dressed in a $100 striped shirt or some sort of thrifted plaid, the 'ritual' of coffee involves taking three snaps for the Insta-machine and then spending two hours on Etsy looking up hand-crafted, artisanal coffee beakers. The type to choose craft beer over Tooheys, Doughnut Time over Krispy Kreme, this clued-on bunch have been forgoing the espresso machine in favour of a different kind of brew.
Alternative brewing methods such as the pour over, French press, Aeropress, and cold drip, are by no means new in the world of coffee, but their popularity (mostly championed by the plaid wearing bunch) is definitely on the rise. Considered a more pure, cleaner way of brewing coffee, the key to the alternative brew is in the beans and method.
The antithesis to the instant coffee, the beans are often sourced with great consideration, chosen with things like origin, roast date and tasting notes in mind. The result? A clean, delicate cup of coffee that will make you shudder at all the times you asked for a vanilla low-fat latte at Starbucks. Here are eight of the best coffee spots in Brisbane where you can make that happen:
The Tiller
Newmarket
Run by the kind of people who you could imagine travelling to the far corners of the earth for the 'perfect' beans, The Tiller offer a couple of different brews. As if you don't have enough choices in your life already, you can choose from around four different types of beans and three different brewing methods (chemex, aeropress, and cold drip). If all this coffee business confuses you, the guys that run The Tiller are some of the most knowledgable and friendly folk around.
Irving Place
CBD
The mature brother to Gramercy, Irving Place in the Wintergarden offers a batch brew that has been brewed using the Fetco system. Freshly brewed and ready to go, this option is even quicker than waiting for Mr. Bearded Barista to whip you up a latte. With constantly changing good quality beans to keep your taste buds interested, Irving is great inner-city choice.
The Single Guys
Kenmore
This antler-adorned cafe in Kenmore looks unassuming from the outside but is a coffee lovers delight on the inside. Pimping themselves out as the providers of speciality coffee, The Single Guys use single origin beans and do their own roasting at a shared facility. Providing the coffee for a number of big cafe names across Brisbane, why not head straight to the origin. Without even mentioning the tasty breakfast menu, their chemex filter brew is worth the schlep to Kenmore.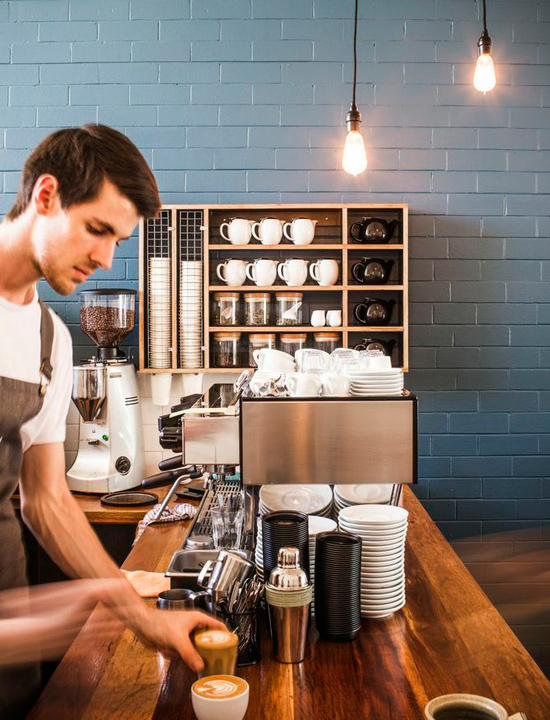 John Mills Himself
CBD
John Mills Himself is another quick and easy CBD option to get your coffee fix. Rotating the offerings weekly, they use a Hario V60 filter to make in house hot brews. With the hell-fire that is Brisbane summer coming up, John Mills Himself offers bottled V60 and cold drip also.
Reverends
Fortitude Valley
If your love of coffee is approaching fanaticism, then this unpretentious cafe in Fortitude Valley is your mecca. Very popular amongst the coffee worshiping crowd, Reverends serves up both filter and espresso coffee. With the exposed brick, delicate ceramics, and a killer food menu to boot, Reverends is your best pick in the valley.
Dandelions and Driftwood
Hendra
Dandelions and Driftwood doesn't just dish out babychinos and chai lattes but fully brings the big game in the filtered coffee department. Aiming to empower the customer in the 'artistic alchemy' of brewing coffee, this is not the life-giving brew you chug down on your way to work because with brewing techniques straight out of a mad-scientists lab (Chemex, Syphon, Aeropress, Yama Cold Drip, Trifecta), this is coffee to relish and savour.
Bunker
Milton
Owned by the same coffee loving gentleman as John Mills Himself, Bunker in Milton is another great spot for enjoying a V60 filtered coffee. Always full of working professionals on weekdays, this filter is perfect for a grab and go.
Campos
James St
The Grandaddy of serious coffee providers in Brisbane, Campos even have a dedicated cupping room for tasting coffee. As a flagship store for the Campos brand, this James St cafe takes up a quiet place down a back alley street. For those that wish to have a filter coffee experience without having to grow a beard/ride there on a fixie, Campos leaves the snobbery behind and just goes for a good, solid brew.
Image credit: Daniel Maddock