Alba Bar & Deli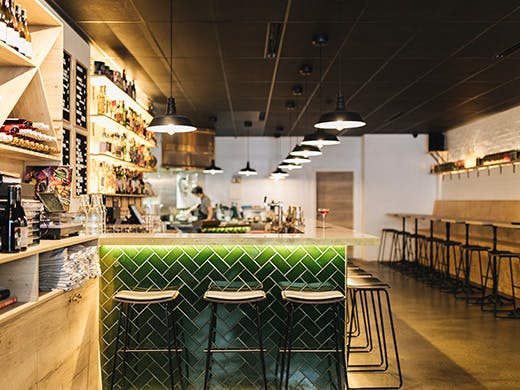 The Verdict
Mix a little San Sebastian tapas with New York 90s hip hop and you get this place. Alba. The first solo venture from long-tome hospitality pro Jamie Fleming (you might know him as the chef behind Maker in Fish Lane, and Sydney's Lobo Plantation. He also finished fourth in Masterchef in 2014).
Alba doesn't much around. Fleming knows that people quickly tire of gimmicks, so he's going for simple and delicious instead: house-made Spanish 'bocadillo' sandwiches, little bite-sized pintxos, cheesy croquettes with three different kinds of jamon.
The bar is open from midday to midnight, but the full menu only kicks in after 4pm. Before that, just pull up a chair at the dark green front bar and munch on one of the rotating sandwiches, baked fresh with crusty sourdough. The guys will mix you up an olive oil Martini while you're at it.
In a world of pretentious concept bars, Alba hits just the right note. Snug, tasty and effortlessly cool. Serious first date material.
Image credit: Grace Smith
---