The creme de la creme of art collections is back for another bangin' show in Sydney and FYI, this one's a biggie. This year the you'll find over 300 works from over 70 international artists for the 21st edition of the Biennale of Sydney 2018 which will all be showcased in a three-month exhibition.
Expect the works in the Biennale's Superstition: Equilibrium and Engagement to explore a tonne of urgent and thought-provoking issues from around the world in a range of ways and trust us, you'll want to have your cameras handy.
Here's everything worth checking out at the 2018 Sydney Biennale!
Sydney Opera House
Oliver Beer With 'Composition for Tuning An Architectural Space'
Oliver Beer is giving us Sydney-siders a glimpse into a composition made from a series of performances where a usually unseen space within the Opera House will be transformed through a live vocal performance. That's right, you can head on in and witness architecture through sound. We know, mind blowing.
Rayyane Tabet with Dear Mr. Utzon
The 21st Biennale of Sydney also showcases Tabet's work which focuses on two different locations, Beirut and Sydney where Tabet uses a collection of found objects that looks at renowned architect Jorn Utzon's design for the Opera House compared to his ambitious plan to construct an underground theatre at Jeita Grotto, a set of limestone caves in Lebanon.
Cockatoo Island
Ai Weiwei with 'Law of the Journey'
Ai Weiwei could well and truly be one of China's most famous artists so Sydney, we're pretty lucky to have his work gracing the 21st Biennale of Sydney. Especially since his work exists in the realm between art and activism. Weiwei's work on Cockatoo Island features a 60-metre-long boat packed with hundreds of anonymous refugee figures made from the same rubber used to manufacture vessels that carry refugees across the Aegean Sea from Turkey to Greece. The inflatable boat brings attention to the monumental scale of the humanitarian crisis.
Yasmin Smith with 'Drowned River Valley'
Yasmin Smith's piece focuses on the local presence of salt in water and by local, we mean right here in Sydney. This major work looks at the salty waters of Sydney Harbour and the less saline waters of Parramatta River and in turn, the result is a ceramic installation featuring cast mangrove branches finished in a hand-made wood ash glaze.
Art Gallery of NSW
Marlene Gilson
No surprise, the 2018 Biennale is also featuring the incredible paintings created by Gilson, a Wathaurung elder who over turns the colonial grasp on Australia's collective history by representing the involvement of Aboriginal people in historical events such as the 1854 Eureka Stockade.
Kate Newby with 'I'm Actually Weirdly Exciting'
Aiming to promote heightened perceptual awareness for her audience, Newby presents a new site-specific installation, a sculptural wind chime. Here you'll find a series of stick-like objects strung together and suspended from the ceiling.
Semiconductor with 'Where Shape Comes From'
Brace yourselves, this one's a goodie (so pay attention). This piece investigates the way science interprets the natural world in a pretty damn interesting way. Combining the language of science with playful animations of atomic structures, the video forces its audience to rethink their experience of the physical world.
ARTSPACE
Tiffany Chung with 'Vietnam Exodus Project'
By far one of the most daunting works from the Biennale collection, this project showcases a large-scale embroided tectide, reconstructing an exodus history with boat trajectories, escape routes and migration patterns of refugees from Vietnam between 1975-96.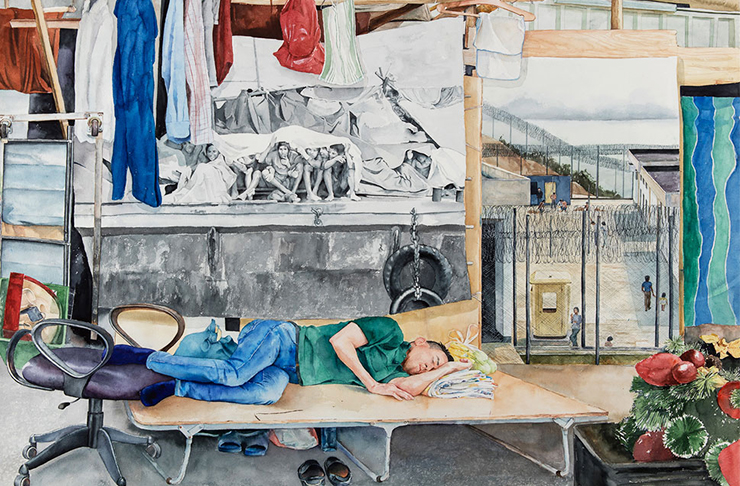 Geng Xue with 'Poetry of Michelangelo'
This 2018, you'll also come across the single-channel video work by Geng Xue who explores the relationship between artists and their work. The video shows the artist shaping a male figure with clay and once the figure is completed, Geng breathes air into its mouth, essentially bringing the work to life.
Carriageworks
Chen Shaoxiong with 'The Views'
Yep, the 21st Biennale of Sydney returns to Carriageworks for the fourth time and you'll absolutely want to check out 'The Views'. Looking at the way information and images are controlled, Chen Shaoxiong focuses on the way this regulation of media is used to maintain hegemonic structures. Here you'll come across a four-channel video installation where the mundanity of life is displayed.
Marco Fusinato with 'Constellations'
'Constellations' explores the physicality of sound. Expect to grab a baseball bat and hit a freestanding wall. And yes, that's the actual installation.
Museum Of Contemporary Art
Brook Andrew with 'What's Left Behind'
Interdisciplinary Australian artist Brook Andrews will also have his epic work showcased at the 21st Biennale of Sydney. A new commission of five sculptures will be displayed, each representing one of the five elements of the universe according to the philosophy of Wuxing (that everything in this world is comprised of five elements; earth, fire, water, ice and metal).
Ciara Phillips with 'Workshop'
You'll be right in the midst of the generation of new artworks here so don't expect to find a finished product. Ciara Phillips aims to develop new pieces (mostly printmaking) through sharing ideas during the artistic process.
Jacob Kirkegaard with 'Through The Wall'
For Through the Wall, 2013, Kirkegaard travelled to Palestine and Israel to record the sounds of the Israeli West Bank Barrier (the Apartheid Wall) using vibration sensors and acoustic microphones to collect reverberations from either side of the structure. Inside this gallery you'll get to walk around a replica of the wall with built-in speakers that radiate a composition of ambient recordings.
4A Centre For Contemporary Asian Art
Akira Takayama with 'Our Songs— Sydney Kabuki Project'
Created in collaboration with award-winning filmmaker Hikaru Fujii, this work at the 21st Biennale of Sydney is a documentary archive of personal histories and brings together individual voices that make up the cultural fabric of good old Sydney town. In other words, Takayama invited and then recorded residents of Sydney to perform a song passed down from their family at Sydney Town Hall.
Jun Yang with 'Becoming European Or How I Grew Up with Wiener Schnitzel'
This piece captures the artist's interpretation and experience of migration to Europe as a youngin' and is presented as a lecture performance and video.