Let's be honest, lighter locks and summer go together like Bonnie and Clyde. But with Donald Trump's yellow comb-over etched in our minds, going blonde is something we approach with caution. If executed badly, this decision can destroy not only your locks but also your summer—ouch!
Going blonde is not something the team at Hair Cartel take lightly (pun intended). So, with this in mind, we called on the salon's colour director slash master of all things hair, Kaszandra Carroll, to get her top tips on going blonde this summer.
#1 Find The Right Shade
Don't just copy someone else's hair colour (or style, for that matter) just because it looks good on 'em. When it comes to hair, one size does NOT fit all. Have a chat with your stylist and choose something that will complement your skin tone and style.
Kas's advice? Your perfect shade of blonde is dependent on your base shade, what suits your skin tone and the colours you love to wear.
Brunettes going lighter for the first time should consider freehand balayage or ombre on the mid-lengths to ends and then work up to more lightening from there. Kas suggests dark blondes work with golden tones, otherwise ash can sometimes make a darker blonde murky. Red haired folk could try scalp bleaching for a clean platinum blonde.
#2 Patience Is A (Hair) Virtue
As the saying goes, good things—and good hair—take time! If you're a jet black goddess, you won't be a blonde bombshell overnight (Kim K being an exception with plenty of time and plenty of cash). Going from dark to light will involve several appointments and a fair bit of patience.
Kas warns if you try to hurry the process things might go pear-shaped and you'll end up with severe damage. Taking things slowly might mean you have to live with a colour that is "in between" what you're hoping to achieve for a few weeks. But, as mentioned, good things take time and we promise it will all be worth it in the end.
#3 Leave It To The Pros
While it can be tempting to take the at-home route, trying to go blonde on your own is a big no no. Things can (read: will most likely) get ugly. Think breakage and unwanted brassy tones—it's a no from us. We're warning you now: your at-home job will most likely result in a trip to a salon to fix things up!
Go to a professional who has your best interests at heart. Set up a consultation at your salon and ask ALL the questions. At Bondi's Hair Cartel, every appointment kicks off with a consultation to chat about your hair goals and ends with their take home "Care Factor" card to help you keep it looking salon fresh and fabulous.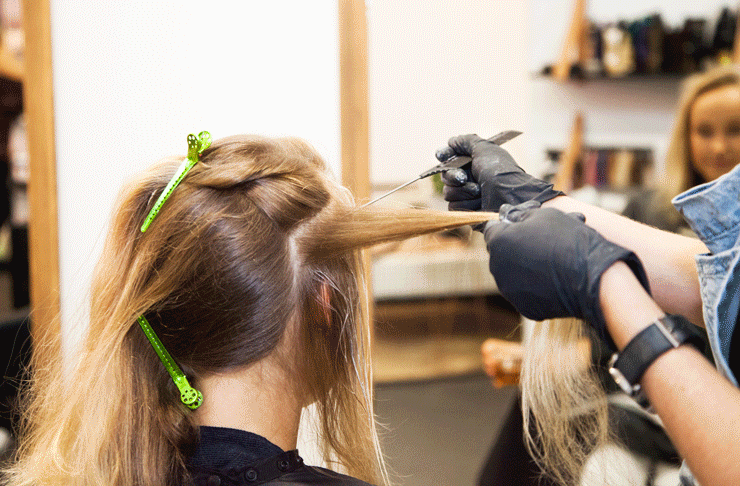 #4 Treat Yo Locks With Care
A few golden rules for staying, err, golden? Kas advises against shampooing daily and, when using heat tools or basking in the sun, make sure you use protectors. Use products tailored for blonde hair such as the Oribe Blonde range. The shampoo has toning properties that will keep your hair bright and healthy.
Keep your blonde locks hydrated with a weekly moisturising treatment to restore and nourish the hair. We love the Oribe Gold Lust Transformative Masque that restores on the outside and Olaplex Bond Multiplier to repair from the inside.
Kas says your can further keep your hair in tip-top condition by having regular trims. Even if you are on a mission to grow your hair it is important to have regular cuts—otherwise the split ends move up the hair causing more breakage!
#5 Blondes DO Have More Fun
Precautions aside, blondes DO have more fun— just ask Elle Woods. In our humble opinion, everyone should go blonde at least once in their life (it's like an unwritten rule). Now armed with your newfound blonde knowledge, this summer is the perfect time to bite the bullet and get amongst blonde tresses of your very own.
Editor's note: This article is proudly sponsored by Hair Cartel and endorsed by The Urban List. Thank you for supporting the sponsors who make The Urban List possible. Click here for more information on our editorial policy.
Image credit: Federica Portentoso