The launch of a Melbourne favourite in Sydney at the end of last year meant more than just sashimi pizzas in the Big Smoke. SASH, one of Australia's most popular Japanese-fusion restaurants brought with it a funky new space inspired by Japan's izakaya bars and a menu speckled with South American flair as well.
You'll find this 160-seat gem on Wentworth Avenue, plotted between a precinct of culinary Surry Hills heavyweights like Butter, Bar H and Chin Chin, so whether you're on the scout for an epic date night, catch-up spot with your mates or post-work feed, SASH has you sorted.
The Vibe
Walking into SASH is like walking into a laneway decked out in LED lights and street art (by Shannon Creese). The music here is constantly pumping and to match the high-energy tunes, you've also got insane eats and cocktails being churned out aplenty. The venue has been designed by the award-winning Melissa Collison which means tall ceilings, concrete, brick archways and New York-style mood lights reminiscent of the 1960s.
The Food
Should you hit SASH during the day, there's a sling of quick feeds to get around including spicy tuna poke bowls and a wagyu truffle bowl pumped with sushi rice, red cabbage, slaw, pickled ginger, cucumber and avocado. If you're a bento fiend, you can also go hard on their light bento, miso hungry bento (for the hungrier humans) or the veggo box. There's also the option to risk it all (in the best way possible) with the "Trust Me" express menu, a combo of the chef's favourite restaurant feeds.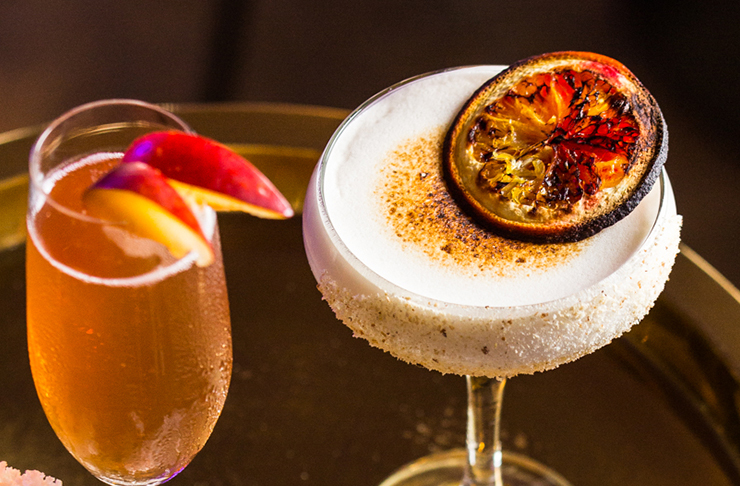 The Drinks
For all things playful, the open bar-kitchen is the heart of the restaurant and once you dig into the drinks menu, it's not hard to see why. Your first port-of-call should absolutely be the Japanese-inspired "Geisha Girl" cocktail, a sweet mix of cranberry, plum wine, yuzu, sake and lemon juice. There's also a white chocolate passionfruit martini worth getting around and the decadent "Yuzu Cheesecake" loaded with sake, yuzu, lemon, green tea and egg white. As for the tipple collection, it's made up of bold, local wines, magnums of sake and Japanese beers.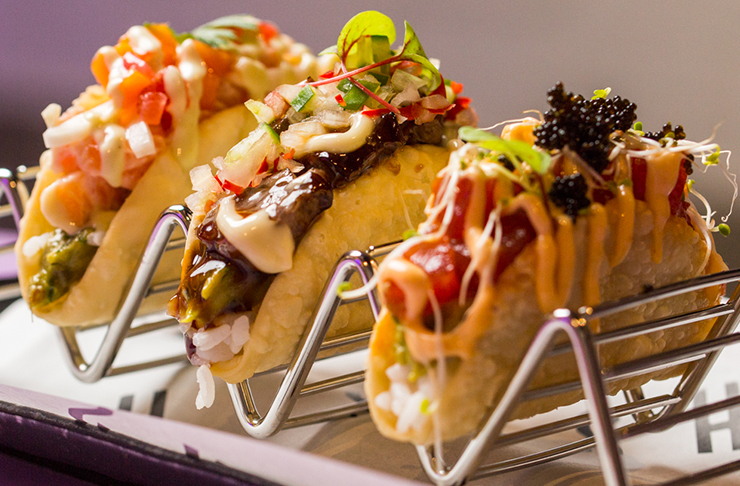 More Food
When you hit the dinner line-up, there are few parts you should let slide. Although you'll find all the fresh staples (like sushi and oysters), it's the more "experimental" eats here that are really worth your time. For starters, make room for the wagyu truffle tacos made with jalapeno salsa, the lobster mac and cheese hot dog with torched parmesan and the yuzu chicken nuggets bao packed with all the spring onions, cucumber pickles ad yuzu aioli.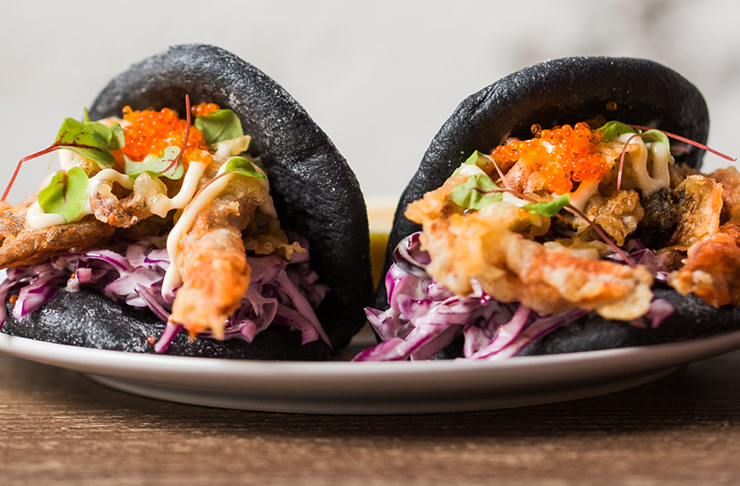 On the select pizza menu, it's hard to go past the blue cheese sashimi spread. Topped with seared tuna, seared salmon, mozzarella, blue vein cheese, wasabi mayo and sriracha, this one is hard to share around.
And in true SASH form, the "Happy Endings" dessert menu means you'll definitely need to hit the Godzilla dessert taco, a delicious wrap of fried puff pastry taco, yuzu custard and oreo crumbs. The matcha fried doughnut balls are also a gift from the foodie gods filled with matcha custard and served under warm dulce de leche dipping sauce.
Have you checked out Mary's Underground yet?
Image credit: SASH.