Nothing gets us fired up at TUL HQ quite like good food. As you may already have guessed, we have a soft spot when it comes to filling our bellies, so writing about our picks of the best restaurants in Brisbane comes easy. Even if we do pay a premium on our gym memberships!
Finding great food in our fair city isn't difficult these days, but sometimes we want something more than just a good feed. Don't get me wrong, as long as the food tastes great, I don't mind if the inside is little more than four walls and a kitchen, but sometimes the best things do come in pretty packages!
Housed in the very stylish Hotel Urban Brisbane in Spring Hill, you would be forgiven for assuming that Gazebo Restaurant & Bar wouldn't need to try too hard, given its welcoming surrounds. Proof that good architecture is a great selling point, Gazebo Restaurant & Bar is sleek and modern, but totally pulls off that 'we-don't-need-to-try-too-hard' vibe. But their menu more than proves that they do.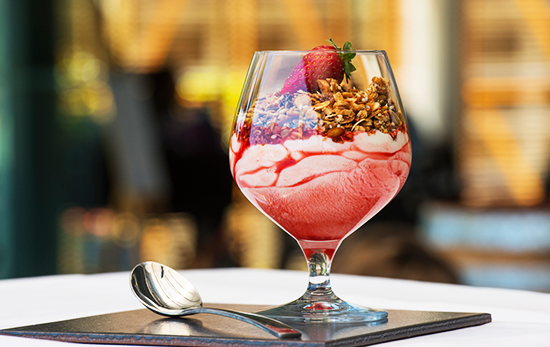 Surrounded by some seriously cool new bars and cafes in the area, Gazebo Restaurant and Bar has a menu that rivals the very best restaurants in Brisbane, focusing on classic dishes with a fresh twist. Don't expect standard 'hotel-type' cuisine here; the dishes are modern and, most importantly, delish!
When choosing from the menu, prepare for a bad case of FOMO. Gazebo's pumpkin gnocchi and the duck leg with truffled mash were both standouts.
If you're a slave to the sugary stuff, then Gazebo Restaurant and Bar's desserts will definitely hit the sweet spot. The Chocolate Smore—that's a home made 'smore' of brownie pieces, peanuts, ganache, and toasted marshmallow—is so damn delish it's criminal, while the deconstructed Lemon Meringue is perfect for our hot summer days.
But, Gazebo Restaurant & Bar's jewel in the crown has to be its breezy alfresco terrace. With a backdrop of lush greenery and the city beyond, nothing beats sitting on the terrace with a cold drink, great food and good company.
Image Credits: Hotel Urban Brisbane
TUL Note: Today's List Love post is proudly sponsored by Hotel Urban Brisbane and endorsed by The Urban List. Our sponsored posts will never be a secret - the List Love seal will be stamped on any sponsored material you see on the site. Thank you for supporting the sponsors who make The Urban List possible.