In case you've been living in a bunker, eating cans of baked beans and watching reruns of Full House on VHS (no judgement here), you'll have noticed that the 80s came back*. In fact, if you're living in a bunker, maybe you think it's still the 80s. In which case come out of there! The water's fine, and very familiar.
It's good to see the 80s back. We can get down with fluoro everything, un-ironic, iridescent round sunnies, and even hypercolour. But there's a particular piece of clothing that has long been labelled the most unflattering piece of clothing ever, and we wonder, is there a way to make it play nice and look good on the bodies of most ladies? Or is this one of those styles that you'll let pass you by while you wait for the next, better style?
We're talking about culottes people. High-waisted, wide-legged, mid-calf culottes. They're everywhere. We see them in the city with pointy stilettos and peplum tops, at the markets with little cropped tees and sandals, walking down any given fashion street with a snug mock turtle neck and ballet flats.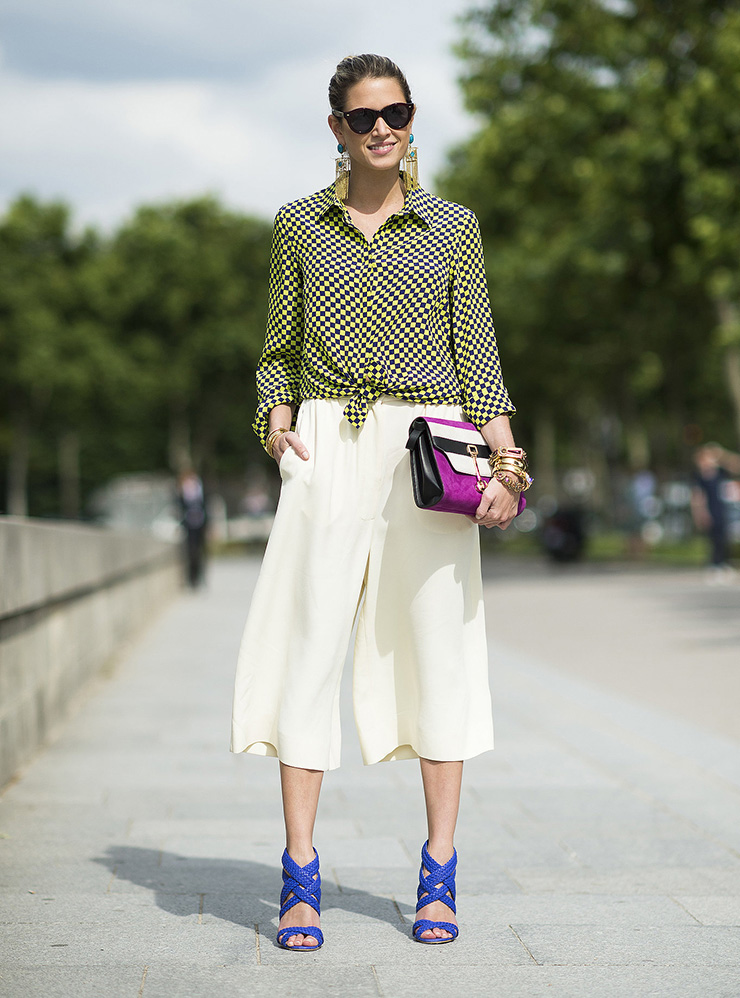 Image credit: Le 21ème by Adam Katz Sinding
They're quite a departure from the skin-tight silhouette we've come to rely on. The skinny jean in all its incarnations has been around for a really long time. These days it's distressed to within an inch of its life, often more hole than fabric.
When a silhouette changes so drastically, in this case from the suck-you-in goodness of skinny jeans to the loose, cuts-you-off-at-the-calf trickiness of culottes, it can send you into a spiral of style confusion. Is a whole new wardrobe in order? How do you live when the world has taken on a new shape?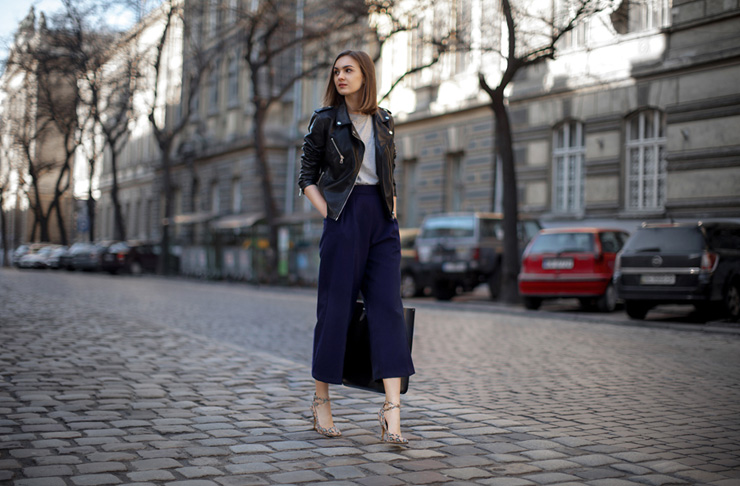 Image credit: Fashion Agony
Assuming good style is at least one part courage, we think culottes deserve a go.
Our research shows that anything from oversized jumpers, plenty of layers, and even coordinating tunic tops, look pretty fab with culottes, but for those of us who don't like to get lost in their clothes, we have some guidelines.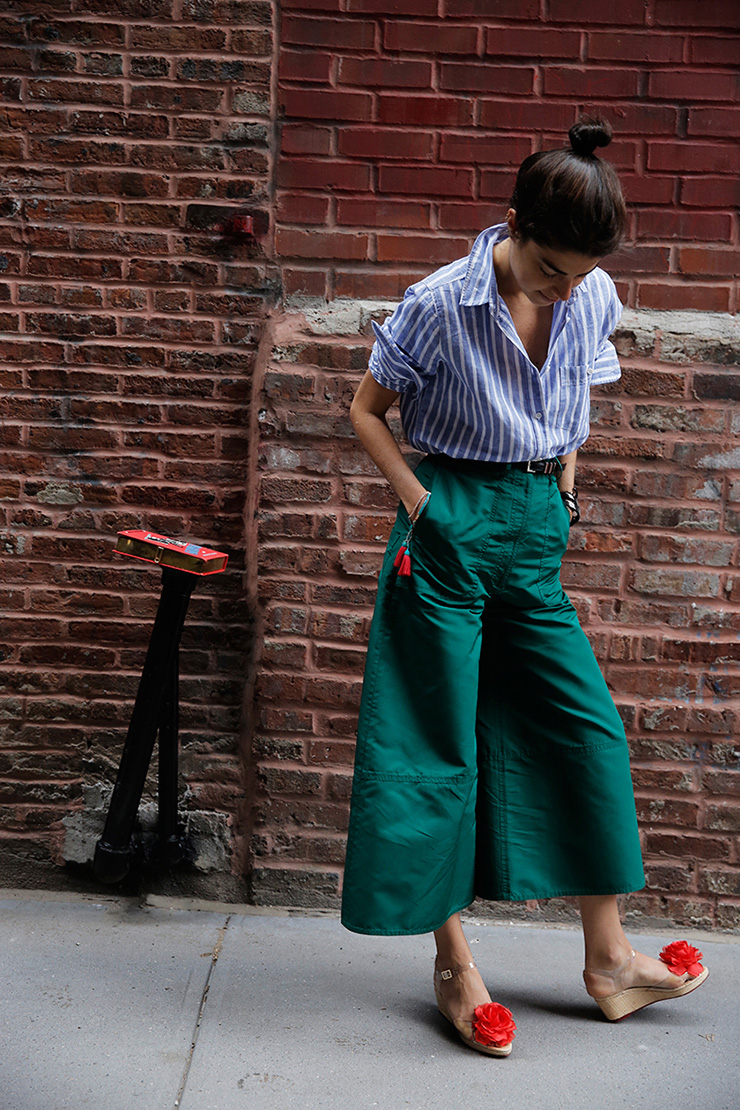 Image credit: Man Repeller
The nipped in waist of culottes cries out for an at least half tucked-in top, a bare midriff or if it's an oversized tee, rolled up sleeves to show off your guns, and a knot tied at your ribs. Unless you have the legs of a grasshopper, a bit of height always helps. Try a nude heel to lengthen your leg, or a chunky heeled, strappy sandal for stability, or if you're in a sassy mood, a pointy, pony hair leopard print heel.
Of course, if you're the girl outside the café rocking culottes with dirty white Converse, a Run DMC jumper and a nose ring, who are we to tell you what to do? You look fabulous, and you know it. Work, girl. YASSS.
*Note: The 90s also came back, but that's for another day.
Want more fashion how tos? Here's how to build a five piece wardrobe.
---
Image credit (top): The Reformation