Some people are gonna reach for the vom emoji at the mere mention of "non-alcoholic gin". Surely that's like a meat-free Bolognese, right? Or a Cruise-free Mission Impossible? Well there's actually a growing movement for non-alcoholic spirits, and gin is leading the charge. After all, you can still get those floral botanicals in there without the booze. And these guys won't leave you crying on the stairs at 2am throwing shoes at people who love you.
If you're going dry this month, or stuck as DD again, consider this your crash course in non-alcoholic gin.
Brunswick Aces
Local boys Brunswick Aces are leading the charge with non-alcoholic botanicals. It's brewed right here in Melbourne, from locally grown ingredients, and there's a couple of blends to choose from: Spades and Hearts. Hearts is closer to your classic gin notes: a spicy mix of juniper, wattleseed, cloves, star anise, ginger, sage and pink grapefruit. Spades has more of a citrus kick, forgoing juniper all together in favour of lime, grapefruit, cardamom, parsley and lemon myrtle. Both are delicious, poured over ice or mixed with a good-quality tonic. Love that bottle branding too.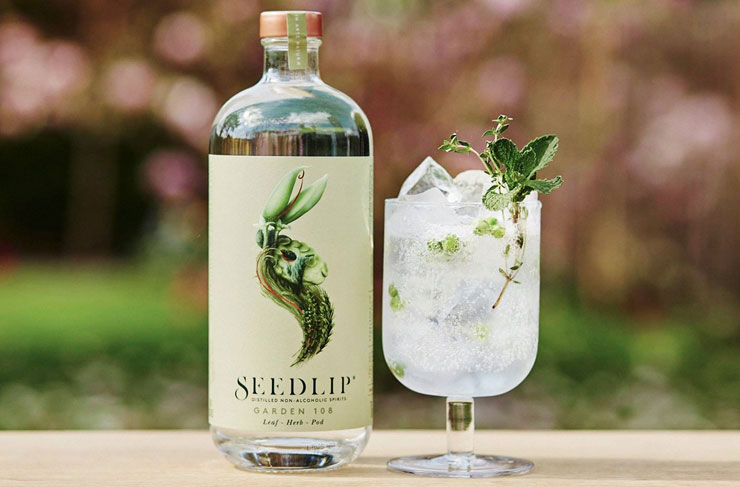 Photography: Inside Hook
Seedlip
Seedlip are probably the biggest name in non-alcoholic drinks. They've been churning them out from their London HQ since December 2015. Seedlip Spice is a pretty close match to regular gin (although the leading flavours are all spice and cardamom, rather than juniper). Seedlip are pretty clear on their positioning anyway—they've always said they do a botanical drink, not an actual gin. Honestly, the semantics don't matter when you're drinking it. Goes down VERY smooth, even if you miss that boozy gin buzz. Serve with tonic water, ice and a twist of red grapefruit.
Herbie Virgin
Herbie is a Danish Distillery, based out of North Jutland in Denmark. They're known for a killer gin range, but last year they also unleashed Herbie Virgin—their first ever non-alcoholic gin. Don't expect to drink this clean and get the same mouthfeel as proper gin, but it comes pretty damn close to the real thing in mixes. It was even a finalist in the World Beverage Innovation Awards in 2017. Herbie is pretty hard to get hold of here in Aus, but try your luck at some local Danish specialty bars like Denmark House.
Teetotal G&T
Teetotal isn't quite in the same league as the gins above, as it's a pre-mix. But as non-alcoholic pre-mixes go, it's pretty damn good. UK company The Temperance Spirit Company makes a range of 'adult-style soft drinks' (including a pretty solid Cuba Libre), and this is their take on a classic G&T. They're apparently selling 500,000 bottles of this stuff every year. As far as tasting notes go, the juniper definitely creeps up on you, but don't expect the subtlety and botanical variety of Seedlip or Brunswick Aces. A good one for the novice gin drinker who's after something gentle and generic. You can pick these up online by the 4-pack here.
Want the real deal? Here's a bunch of Aussie boutique gins you need to try ASAP.
Image credit: Brunswick Aces