Burgers and beers are kind of a match made in heaven.
And by kind of we mean they definitely are. Thankfully, we aren't the only ones who think this, and the clever cookies over at Bavarian Bier Café have made this match even better by taking this match to the next level with a set of matching burgers and beers courtesy of the Crafty Bavarian Brewing Co., perfect for an epic gathering with your crew. We'll drink to that!
Obviously decisions can be hard, so we took one for the team and did the hard yards sampling each of the combos to make sure you pick the perfect pair for you and your mates. You're welcome—someone's gotta do it!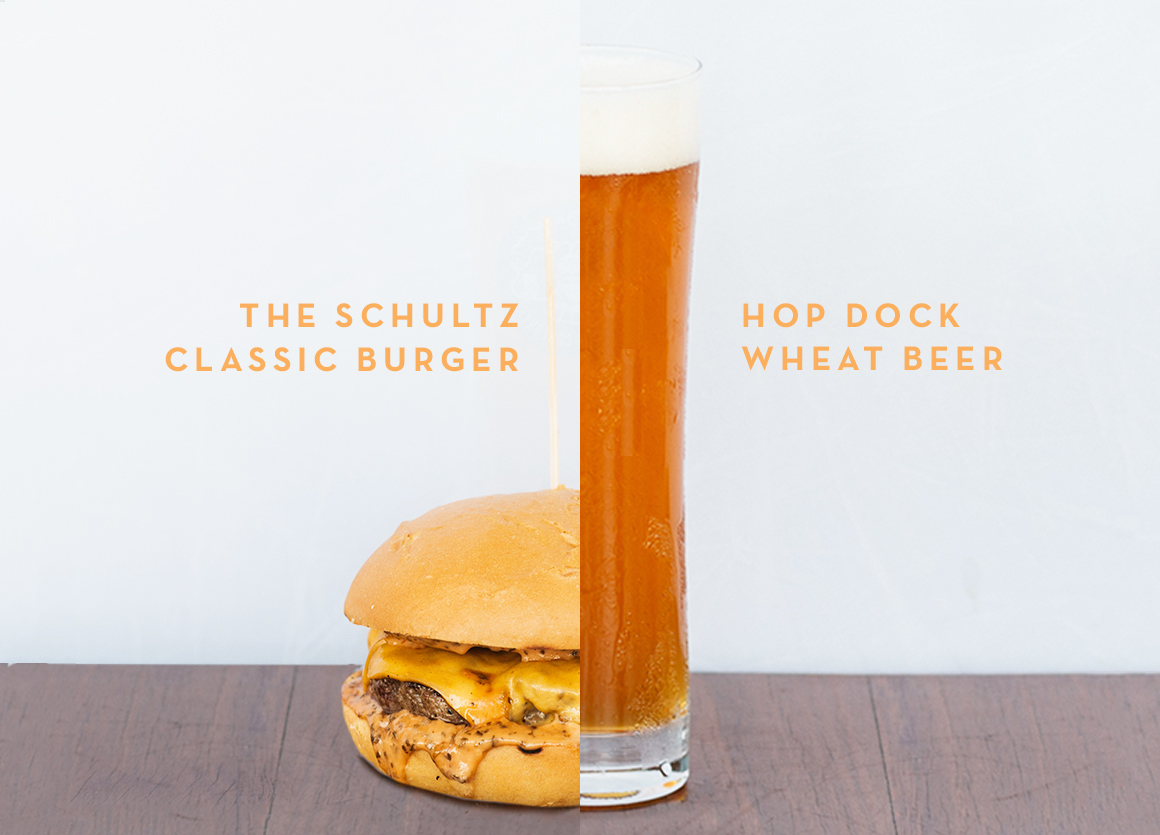 Day 1 | The Schultz Classic Burger + Hop Dock
With an empty stomach, and a thirst that needed to be quenched we decided to kick the Bavarian Burger challenge off with a classic, the Schulz Classic to be specific. Our mouths were literally watering when we saw the plate making its way over to us across the room: a smashed beef patty, soft slider bun, American cheese, pickles (of course!), ketchup, mustard and onions united to create the perfect cacophony of flavours. The beer counterpart to this stunner of a burger is the Hop Dock Wheat Beer. The alluring amber ale is slightly cloudy and delivers a mild, satisfying sip with an aroma of toffee and bananas. Together, the pair taste like heaven. Of course, we eat the whole thing and polish of the beer. If you're looking for a classic burger combined with a classic best enjoyed with the company of your crew, traditional Bavarian beer then this is the perfect match for you.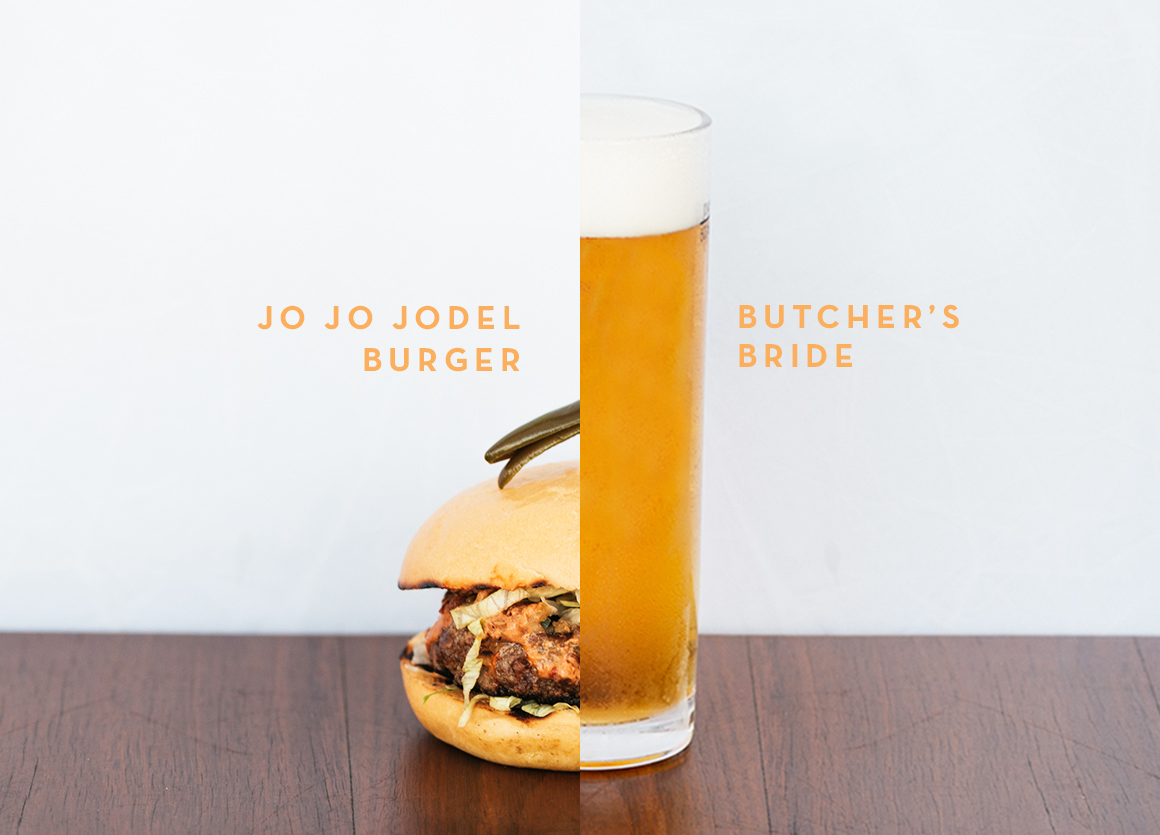 Day 2 | Jo Jo Jodel Burger + Butcher's Bride
On Day 2 we arrive slightly fuller, and less confident in our ability to smash another mega-burger. Our doubts are quelled when the Jo Jo Jodel Burger is placed in front of us. Pickled jalapenos, tomato salsa, crisp iceberg lettuce and chipotle sauce make the perfect team with the grilled beef patty—and we can't wait to eat it. The Butcher's Bride pale ale pairs perfectly with the spicy tastes of the Jo Jo Jodel, it's distinctly non-Bavarian notes make the perfect accompaniment to this spice filled burger. It's bold notes are nothing like the Aussie Pale Ale's you've tried before, and just between us, we definitely slung back more than one of these.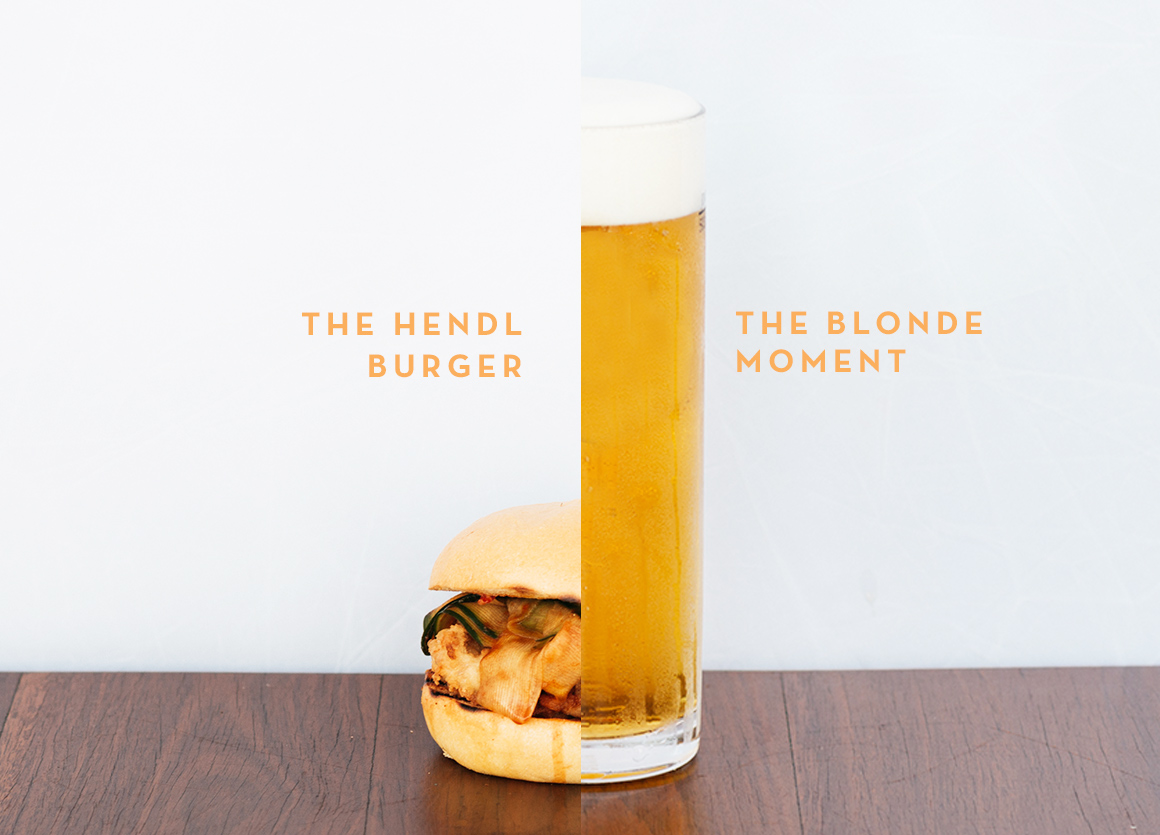 Day 3 | The Hendl Burger + The Blonde Moment
With the promise of GFC (German Fried Chicken) and a litre of The Blonde Moment, we sauntered into Day 3 with a skip in our step that only fried chicken will give you. The crispy fried chicken breast didn't disappoint (equal parts crispy and moist, always a winner), neither did the habanero pickle butter and cucumber Kimchi sitting pretty between the potato roll. Now that's a burger! The Blonde Moment is made with a specialty Bavarian Malt to give it a pretty colour and deliciously good. With notes of caramel and tropical and floral fruits, we couldn't think of a better match to the Hendl Burger.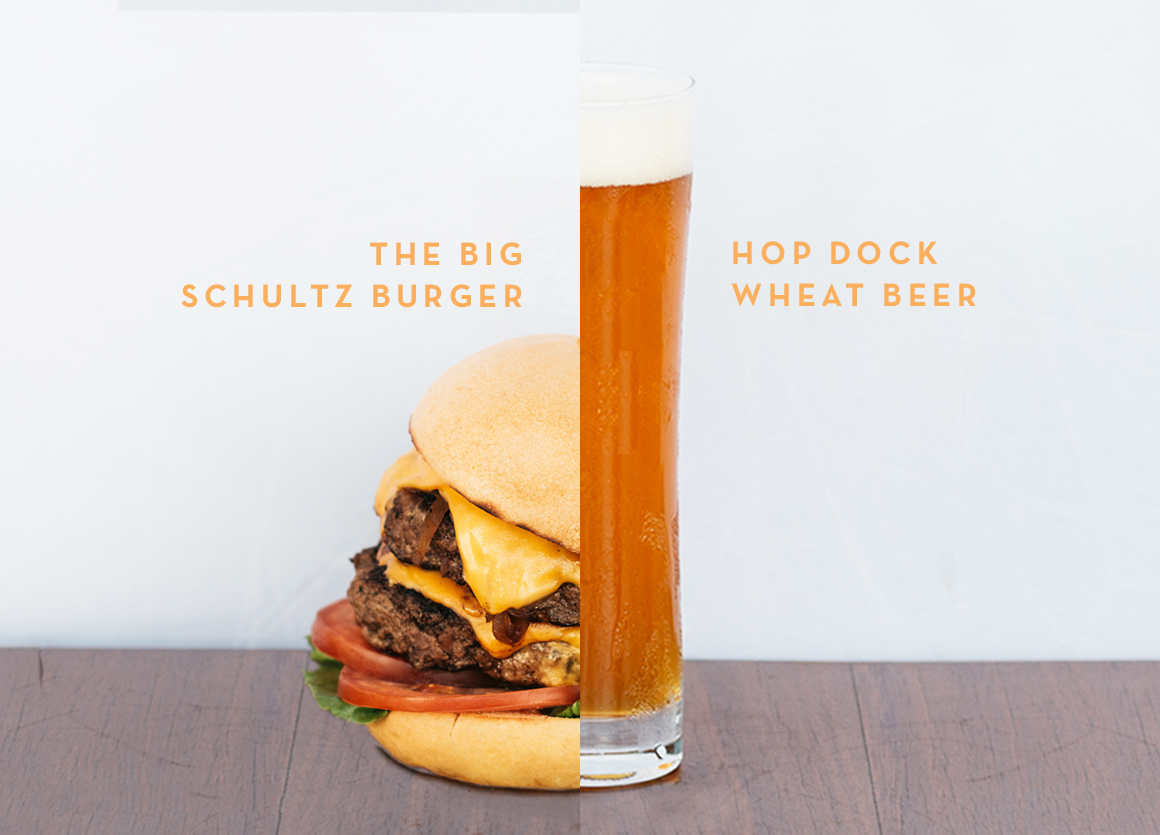 Day 4 | The Big Schultz Burger + Hop Dock Wheat Beer
The Big Schultz Burger is kind of like the Bavarian Alps—it's freakin' huge and it could potential be the end of us in the challenge. Day 4 is all about the double beef patty and double cheese, plus the pickles and perfect combo of the much smaller Schulz brother. After smashing the mammoth burger (we did it!) we're really appreciative of the Hop Dock's spritzyness (think champagne, but in a beer) and smooth flavours that provide the perfect antidote to the punch of flavour the Big Schultz Burger delivers.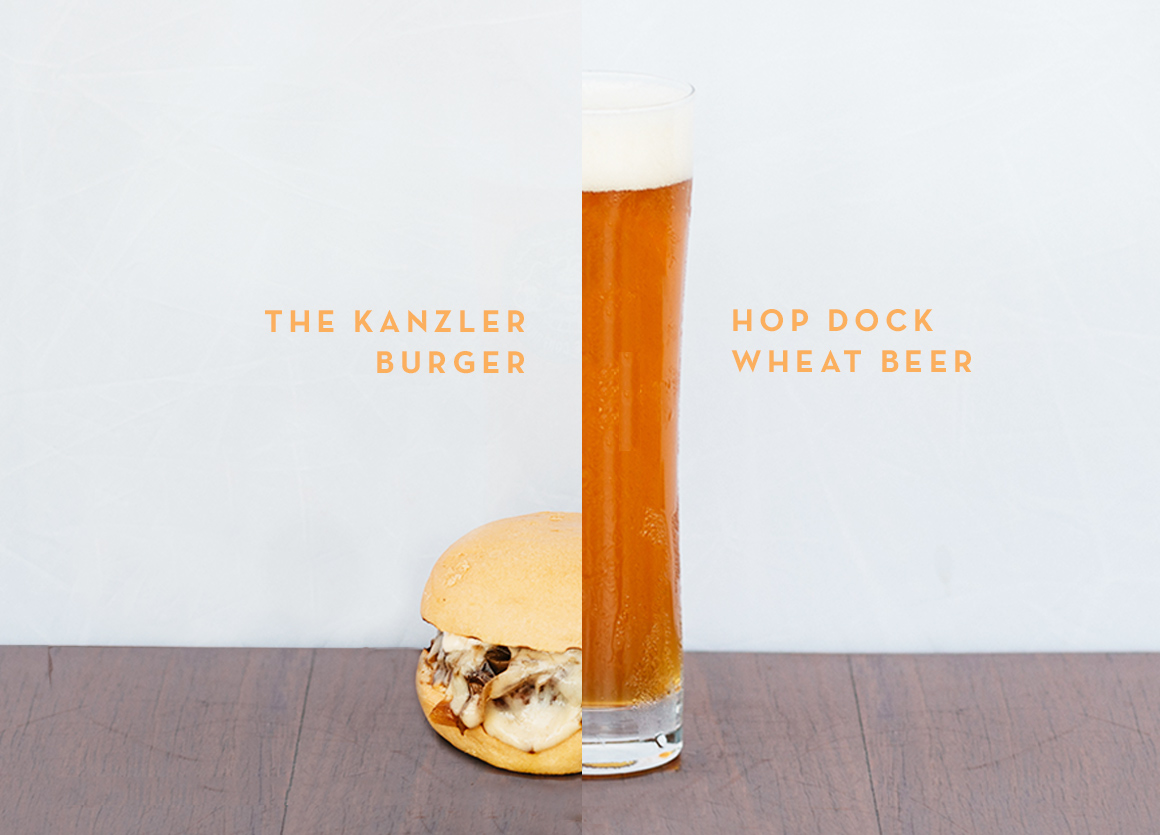 Day 5 | The Kanzler Burger + Hop Dock Wheat Beer
Feeling pretty proud of ourselves after totally killing it on Day 4, we can't wait to get into Day 6 where our next challenger awaits: The Kanzler. Our opponent looks every bit the strong competitor: brioche bun, grilled haus blend burger patty, caramelised onion, Japanese mayo, oodles of melted Swiss cheese, horseradish and the seriously epic rib roast jus. Such epicness can only be paired with a beer that can hold its own, and that is, of course, the Hop Dock wheat beer. We have to say this is our favourite combo so far, and with the confidence from yesterday under our wings we well and truly fly through this challenge.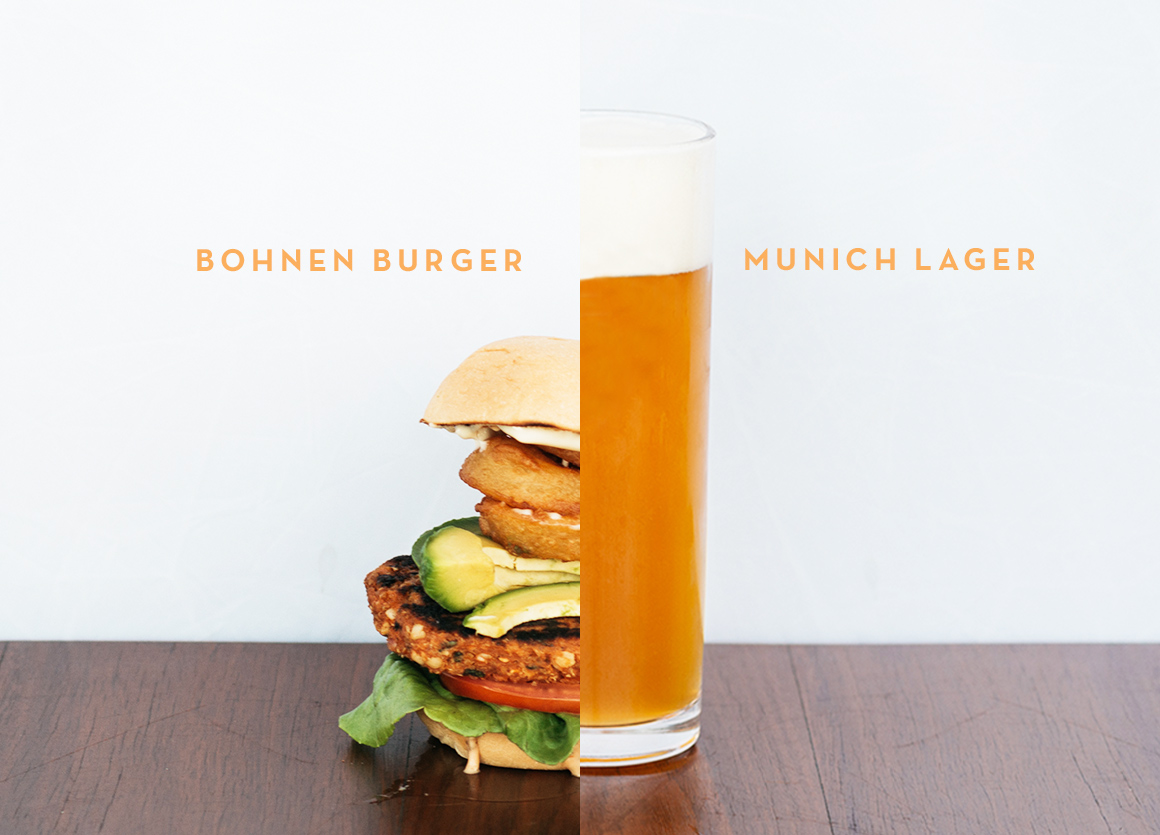 Day 6 | Bohnen Burger + Munich Lager
Is it really the end already? We're totally killing it so far. That's probably because the burgers are too easy to eat—damn you tasty Bavarian flavours! We've decided to save Day 6 for a bit of a detox— that's the Bohnen, who's on a mission to prove vego burgers can be just as tasty as their meatier counterparts. The Bohnen delivers the freshness with it's combo of black bean, sweet potato, avocado, crispy onion and chipotle. It's safe to say this lil' guy managed to convince us that vego burgers are actually amazing, and that's no easy task. The munich larger is epic too: cloudy, straw-golden hues and bitter-sweet, crisp, firm flavours provide the perfect backdrop for the Bohnen's fresh palette.
The Verdict
We did it! We absolutely nailed the Bavarian Burger challenge—who knew eating burgers would be so fun? We can't pick a favourite, it's just not fair, and to be honest, they're all just as epic as each other.
If you think you're up for the challenge, put on your stretchiest pants and head on down to The Bavarian Bier Café— let the games begin! We reckon these epic pairings are best enjoyed with friends. Could this be the perfect spot for your next catch up?
Editor's Note: This article is proudly sponsored by Bavarian Bier Cafe and endorsed by Metropolist. Thank you for supporting the sponsors who make Metropolist possible. Click here for more information on our editorial policy.