When we first caught glimpse of this adorable new Greek-inspired eatery pop up on a friend's Instagram, we immediately stalked Taverna's feed and could sense it was bucket-list material a mile away.
More so when we learnt who was behind it.
Taverna is a long-time-in-the-making project from the same passionate team who brought us Osteria, the Casuarina icon we know and love today, and prior to that, Spice Den. Mark and Lia Wilson, together with Lee Middendorf, have again pooled their skills to bring a nek-level dining experience to the sleepy seaside township of Kingscliff.
For close to a decade, they had their eyes on a characterful little cottage on the south side of town; across the road from a majestic Moreton Bay Fig and the squeaky-soft sands of North Coast NSW. When the opportunity finally arose they swiftly snapped it up, transforming the venue into a charming eatery that could've been plucked straight from the dreamy Cycladic Islands. Lia is of Greek heritage, and it was on the postcard-perfect island of Santorini she and Mark were engaged and later married. Greek culture and the country's philosophy for simple and healthy food is engrained in these guys, so you could say Taverna is a dream come true for the tight-knit team.
Now before you mutter "too far" and reverse out of the page, hear us out. For those residing on the southern end of the Coast, sometimes we forget it takes the equivalent time to drive to Broadbeach as it does the 20 or so minute drive via the M1 highway to Kingscliff. Not to mention less soul-draining time lost waiting at traffic lights. For those coming from further north, we can promise you, it's worth the trip.
We visited Taverna on a still, balmy mid-summer evening, where NSW daylight saving allowed us to dine under dappled golden light and gaze across to the ocean well past 7:30pm. (I tell ya Gold Coast, we are seriously being robbed of this extra post-work leisure time!)
The space, for a start, is beautiful—bright and filled with natural light. Whitewash is splashed throughout, together with a cute turquoise trim; there's framed glimpses of Greek life on the walls, minimalist table settings, warm touches of wood, rustic brick floors underfoot, all complete with cooling sea breezes. It's the little details that also make us smile; crisp white tablecloths, which have almost all but disappeared from today's casual fine dining, to custom-made ceramic table wear by the lovely Leia of Grit Ceramics (who conveniently has a workshop adjacent to sister restaurant, Osteria).
If we haven't made it clear enough—Taverna is dripping with ambiance. The inviting kind that feels effortless and leaves you wishing this gem were in your neighbourhood.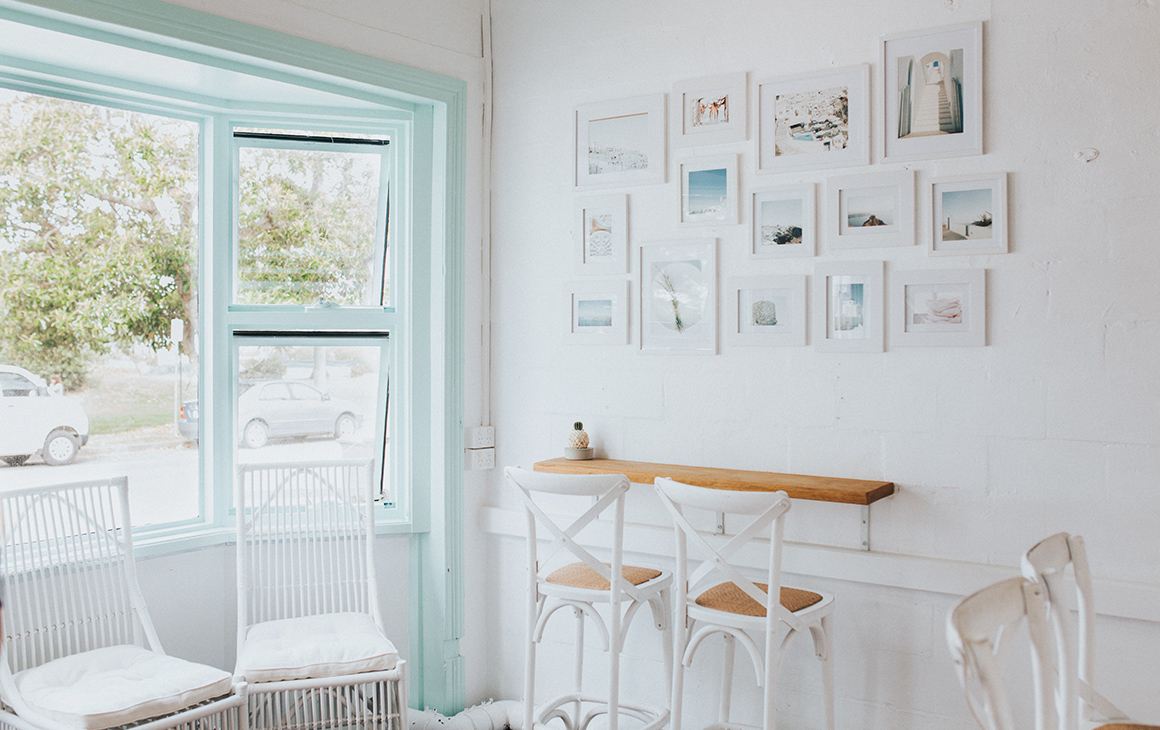 And don't get us started on the food… Taverna's sophisticated dishes are a contemporary take on the classics. Think: vegan Moussaka, fried local squid with seaweed crisps and a pink peppercorn mayo, and the simple saganaki-like dish that totally blew our minds: the Byron Bay haloumi, lightly fried, drizzled with bush honey, and paired with rosemary sprigs and a lemon cheek. Who'd want to be vegan if it meant never eating cheese again? Not us!
Co-owner and chef Lia is not only blessed with the smooth olive skin of her dear nana, AKA yiayia Maria, but also her gran's passion for simple, wholesome ingredients. Not surprisingly, Lia's fave dish on the menu is the charred octopus; made fancy here atop a bed of fava bean whip, a colourful arrangement of sweet pickled vegetables, and dill plucked fresh from Taverna's kitchen garden. Lia tells us her spritely 80-year-old yiayia—who immigrated from mainland Greece to country South Australia as a non-English speaking 10-year-old in the 40s—still hangs off the side of boats in Streaky Bay, SA to this day, pulling in octopus and cuttlefish for dinner. What a legend, the ol' duck.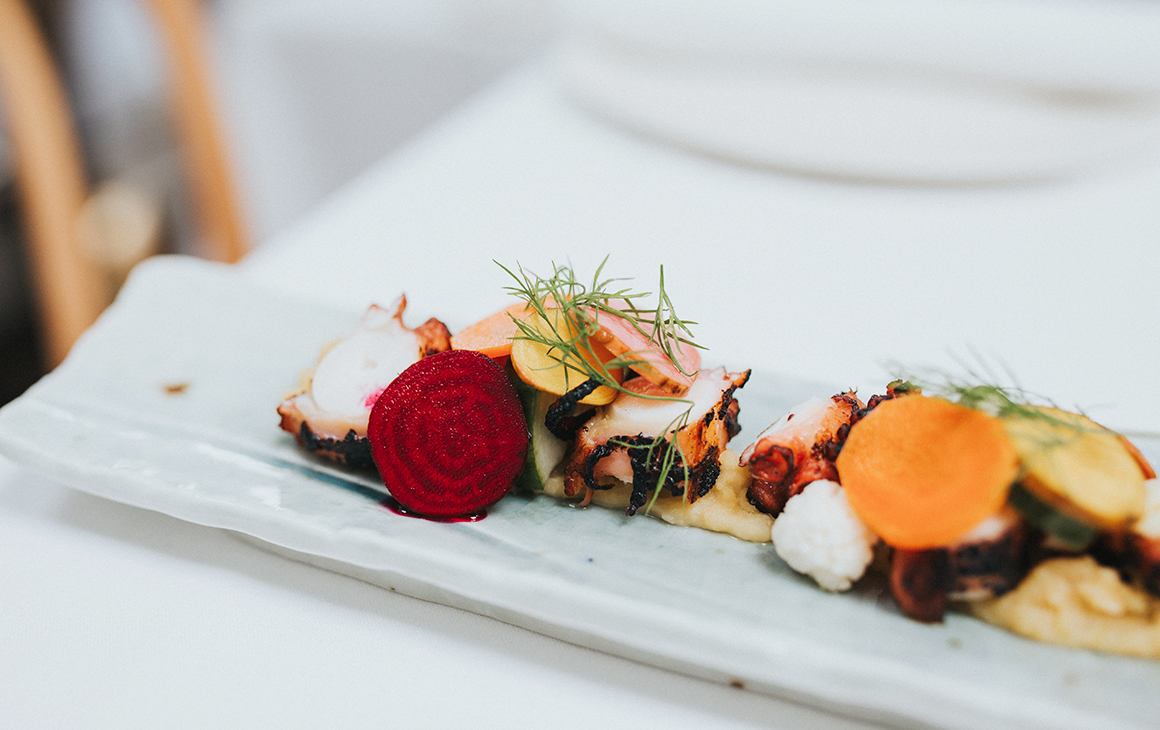 Did you know the Mediterranean diet is widely renowned as the world's healthiest?
With that top of mind, we next tucked guilt-free into a plate of confit ocean trout, adorned with a crispy skin and heavenly bursts of goat's cheese, on a fresh apple and mint salad. Or the grilled white fish with capers and beautifully balanced with fennel and citrus tones of wild orange. There were side plates of local beet salad with carrot hummus, and charred brocollini with lemon yoghurt and almonds. And when you're the designated driver, what do you drink? That ink gin… the one which recently went viral thanks to our very own Margot Robbie, sourced from just up the road at Husk's Tumbulgum distillery, naturally.
Being the greedy guts that we are, we weren't finished yet. Also opting for the signature 48-hour-cooked melt-off-the-bone lamb; delightfully tender and soaked in jus, and paired perfectly with a side of roast pumpkin and beetroot tzatziki. When in Greece, right? At this point, we finally conceded to our bulging food babies and regrettably declined dessert. The best we could manage were #foodenvy eyes at the burnt honey brulee with figs and a macadamia and saffron biscotti being served to our neighbours. Mmmm.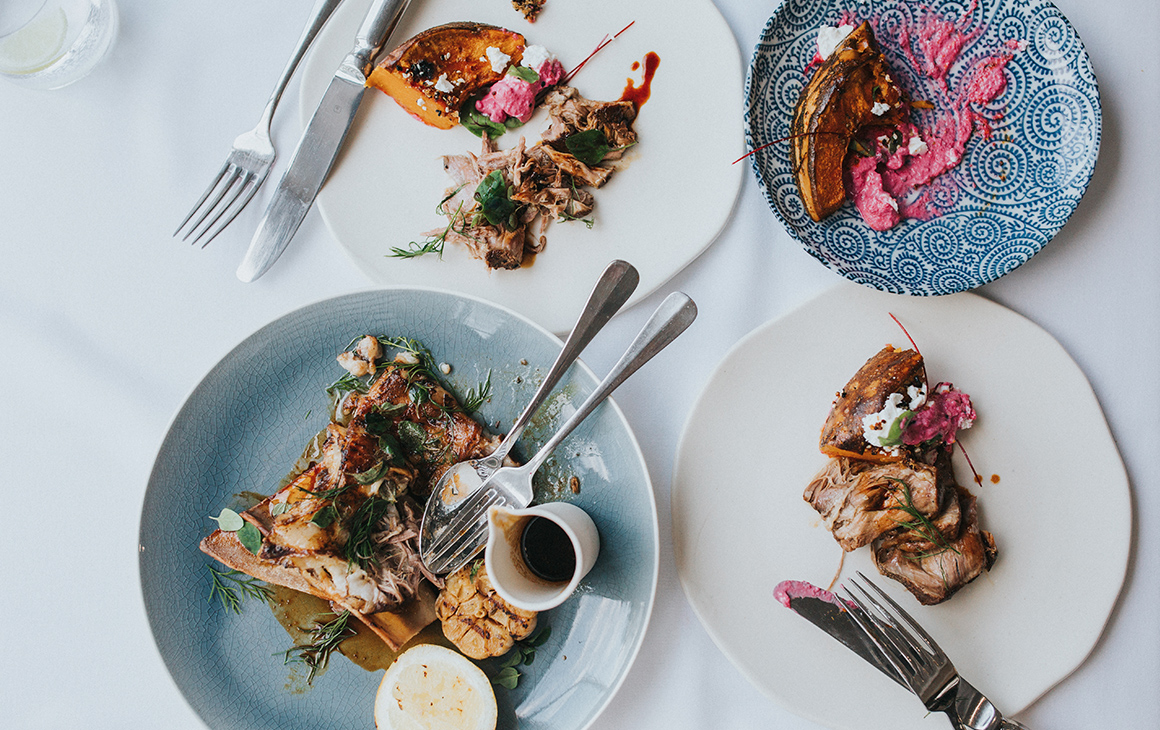 Yeah, we get it, gluten free or sustainably and locally-sourced produce might feel like over-saturated terms these days. Though it's an ethos that runs in the blood of this hospitality crew, and it goes without saying that it's 100 per cent reflected in Taverna's menu. They're blessed with one of the country's most abundant growing regions on their doorstep and farmers on speed dial, so you can be assured they're working with nothing but the best. We're already making plans to return for their insanely good value $39 chef's banquet. Held every Sunday night, the menu is at the whim of head chef Ben Jones, to ensure produce is rotated and remains fresh.
Hopefully by now you're convinced Taverna is a damn fine destination for that next spesh date night or weekend luncheon, yes? Hell, yes! Well, you'll need to plan ahead if you wanna snag one of the high-demand window tables. Pure dining bliss.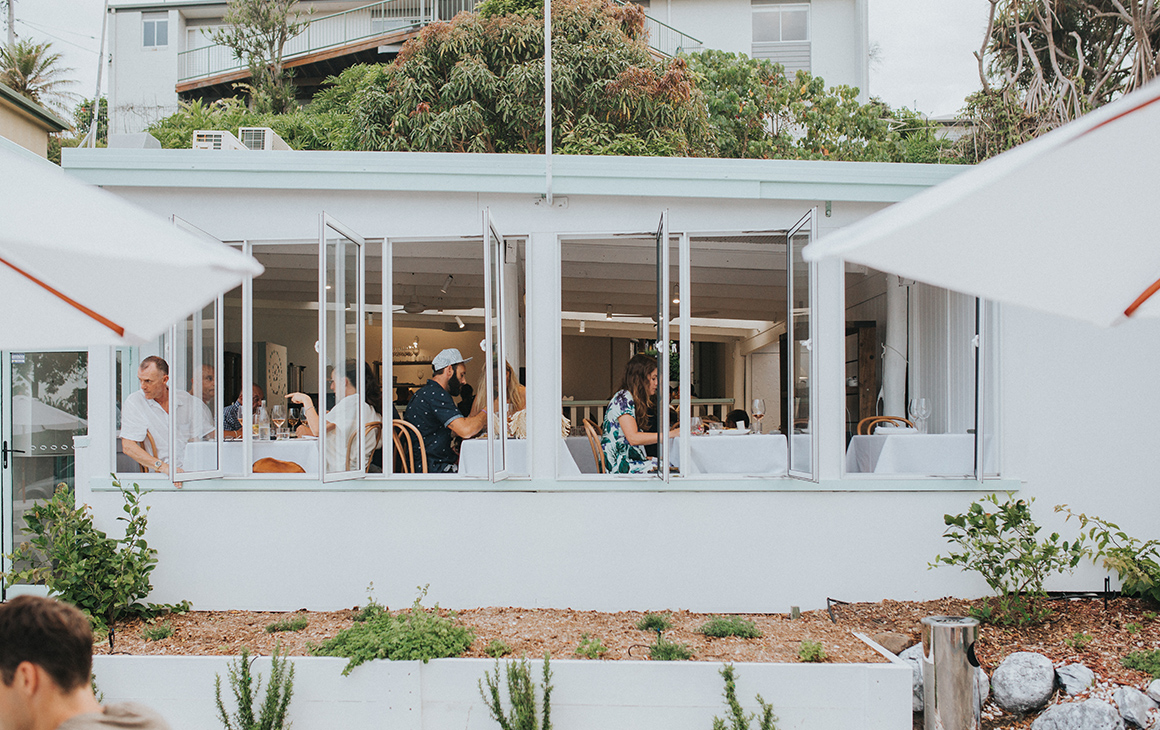 There's no question Taverna has neatly filled a hole in the Tweed's wider market. With a reasonably-priced menu—given the five-star meal quality and seamless, friendly service—it's wedged comfortably between pub bistros and takeaways, to the other end of the scale, that being high-end restaurants your wallet can only handle once a year, at best.
So it's little wonder Kingy residents simply adore this place already and have filled every seat since opening day a few weeks back. Before departing, we got totes jelly watching a nicely dressed couple cycle in on their cruiser bikes, she swapping her thongs for wedge heels, before both trotting merrily inside to their new local.
For the rest of us, drive, grab an Uber (beware you may need to taxi back), just don't miss checking out one of the most impressive restaurants to descend on the region in a long time.
Where: 22 Marine Parade, Kingscliff, NSW
When: Open 5pm 'til late Thursdays and Fridays; plus 12pm 'til late Saturdays and Sundays
Photo Credit: Hayley Williamson for Metropolist