Is it just us or is North Beach really going off at the moment? We've always loved that b-e-a-utiful beach, but we seem to be heading north every second weekend at the moment thanks to the plethora of foodie hot spots that have opened their doors, not to mention the amazing shopping, surfing and all round relaxation!
Here are 10 reasons why you need to go to North Beach this weekend.
96 Degrees
North Beach's newest addition to the cafe scene, 96 Degrees specialises in the art (or science) of making the perfect coffee. If there's one reason to visit North Beach right this instant, it's to try out their nitrogen infused coffee—this stuff id delish. A place that knows how to spoil their customers, the team here are known to pull out a pretty decent Saturday special—fresh Indian Ocean crayfish sandwich and a coffee for $13 anyone?
Becalmed Float
If not for the sheer novelty of it, book in for a float sesh at Becalmed Float and get even saltier after your morning swim at the beach. With beautiful raw wooden interiors, Becalmed Float is definitely one of the most aesthetically pleasing venues of its kind and they'll have you feeling relaxed before you even step foot into the pod. Sensory deprivation has been around since the 50s and its many benefits—including stress and pain management, muscle healing and enhanced creativity—have made it an increasingly popular past time. So if you're yet to get on the bandwagon, there's no time like the present! We reckon you'll be addicted after one visit.
Sara Fox
With brands including Fella, Zulu & Zephyr, Bec & Bridge and Bassike, the team at Sara Fox are master fashion buyers and this place is a serious destination for those who like to keep their wardrobe up to date. Look no further than their beautifully curated Instagram for some inspiration before you head to North Beach to give your credit card a workout.
North Beach Deli
With its laid-back but super stylish fit-out, ocean views, amazing breakfast, lunch, AND dinner, plus a deli of homemade produce—from chutney's, flavoured salts, preserves and more—North Beach Deli is your one-stop shop for just about everything! These guys are serious about their food, and it shows. From waffles and breakfast bagels in the morning to espresso martinis and wood-fired pizzas at night, it's no wonder this spot has become a favourite local haunt.
Yelo
Technically in Trigg, Yelo is an all-time favourite among the North Beach locals, so we really couldn't leave it off the list. If you haven't been yet, it's time to go and see what all the fuss is about. Their simple but satisfying menu is full of easy grab-n-go staples, from salmon bagels and chicken flatbread with banana chutney to bircher muesli and peanut butter bars, it's definitely worth a visit.
Hyperluxe Activewear
It's become the national uniform and appropriate to wear long after your workout is over—yep, the activewear trend has taken over the world and we're on board! But if you're going to be sporting your activewear all day long you might as well do it right—and one of the best places to get your uniform is Hyperluxe Activewear in North Beach. They have a knack for buying the best of absolutely everything, from amazing swimwear and lingerie to the best lifestyle threads.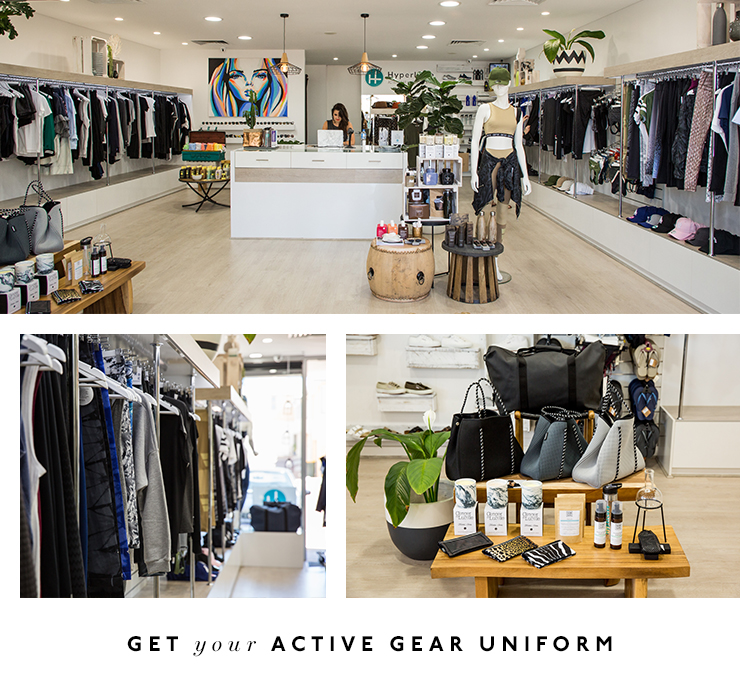 Tropico
The brekky hot spot that will get even the most stubborn south-siders out of their local neighbourhood for a morning, Tropico serves Modern Australian cuisine and is probably one of the most Instagrammed cafes in Perth. With its relaxed Californian vibe, you'll most definitely feel like you're on vay-cay, especially with such an indulgent menu of crowd-pleasers at your fingertips—from banana bread with spiced banana meringue, mango and Nutella breakfast cronuts and a mean eggs benedict, you really can't go wrong with a visit to Tropico.
Clarke's Of North Beach
With a ridiculous number of culinary awards under their belt, Clarke's Of North Beach is the place to go when you want to treat yourself to something a little out of the ordinary. A destination in itself, punters travel from all over Perth to see what all the fuss is about. This is as fine dining as it gets, with upmarket Modern Australian Cuisine that you most certainly could not replicate at home.
Tom's Italian
Overlooking Tom's surf break in North Beach, you can scope out the swell from the comfort of the elevated terrace while carbing up on their homemade gnocchi, pasta dishes and pizza. In true Italian style, the team here are serious about their coffe, sourcing their beans from St. Ali, a Columbian and Brazilian blend roasted in Melbourne. With no obligation to order food while you drink, you could always trade in your coffee for a Negroni or an Aperol Spritz instead.
School Of Surf
For those in the south that are subject to the flat-as-a-tack waters of Leighton and Port, the northern beaches provide more reliable waves for those of you wanting to try your hand at surfing. Also technically in Trigg but oh so close to our fave North Beach haunts, School of Surf will provide you with a board, wetsuit and a friendly instructor who will have you standing up on your board in no time. Book in for a few lessons and you'll have the perfect excuse to try out all the food that North Beach has to offer!
Want more coastal goodness? Check out these amazing cafes in City Beach.
Image credit: Kat Wray | Design credit: Gabriella Bjorklund