It's no lie that Little Flowers has saved me on a number of occasions. Forgot a friend's birthday and only remembered when it popped up on Facebook? No worries. Winning over the future mother-in-law with some surprise blooms? Yep, I've done it. Sent a delivery to myself pretending I'm wildly popular? I haven't done this, but am seriously considering it.
What started out as a small business delivering the cutest flowers in town (none of that naff, overpriced stuff), the guys at Little Flowers really have blossomed (see what I did there?) into a fully-grown flower delivery service in Sydney. I chat to Sarah Regan and Chris Berents, Little Flowers' founders, to find out a bit more about how they got started and how they're totally killing the flower delivery game. Oh, and we also talk food because we're The Urban List.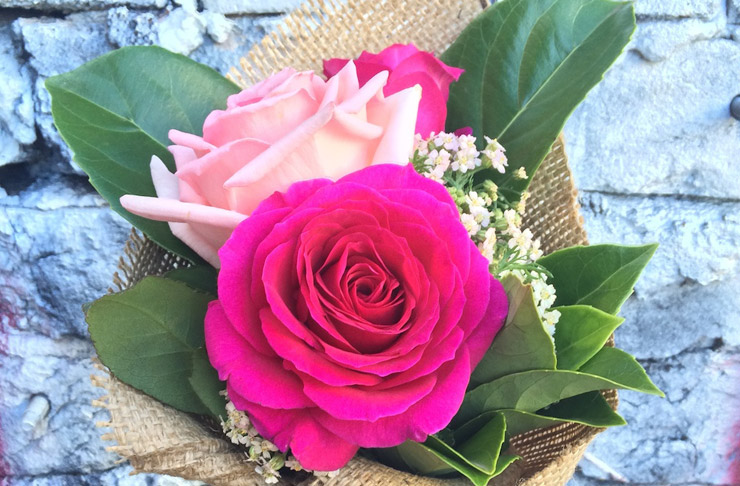 Tell us a little bit about Little Flowers.
Sarah: Little Flowers was started because we noticed that, while receiving flowers was pretty damn awesome, sending them was often outrageously, off-puttingly expensive.
We knew that the joy of getting flowers wasn't dependent on the size of the bunch, it was more about the gesture, so we thought there had to be a better way. It became our mission to make flower-giving more accessible. To enable people to send flowers for any reason, big or small, and to put lots of smiles on faces in the process.
After 12 years in advertising, why did you decide to make the move to flowers?
Sarah: So many reasons. I think what we all loved about advertising was coming up with new ideas and seeing them come to fruition. The down side of course was that they didn't always come to fruition. And certainly for me, there was a really strong desire to have a job that was emotionally rewarding and made the world a better place. I know that sounds corny, but I always found myself striving for that in my old career, and the need was rarely fulfilled.
With Little Flowers though, I knew there was the potential to create something really special while having a lot of fun. On a practical level, we could see that there was a gap in the market between traditional florist bouquets and shop bought flowers. And what's more, I loved flowers. I think at the end of the day we had to do it because we were all so excited about the possibilities and we couldn't die wondering.
What makes you different from other florists in Sydney?
Sarah: We have a different model to other florists. Simplicity is the big thing. We have just one style of flowers each day, based on the seasons and what's looking great at the market. Our bunches are a bit smaller than traditional bouquets, and you can send them for $30, including delivery.
Describe an average day in the world of Little Flowers.
Sarah: We're up and at the market before dawn, to compete for a parking space and nab the best flowers we can find. Then it's back to home base where we share the flowers of the day on social media, and get started on the flower prep, bunching and orders for the day. There's a lot to do, but we have a great team so it's a pretty well oiled machine. The first half of the day can get pretty hectic, but as the orders start going out with our lovely couriers, things at LFHQ relax and there's generally some fun to be had. Dogs, cupcakes, rollerskates, fancy dress, balloons... It can get pretty weird and wonderful in here, so in some ways there is no average day!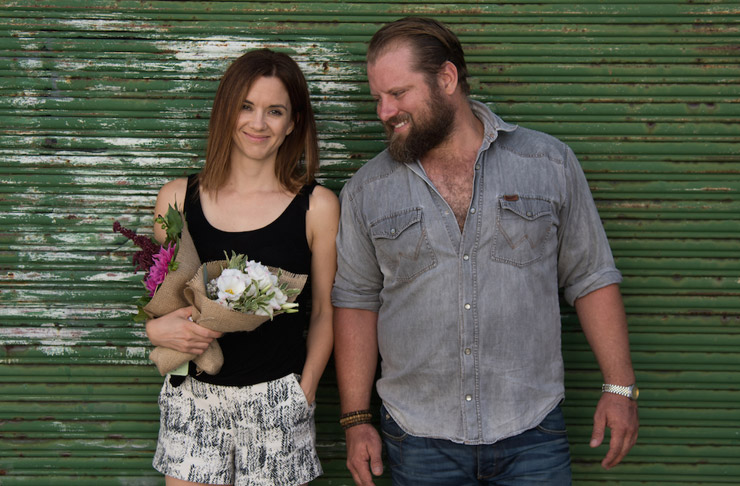 About how many flower orders do you get a day?
Sarah: At the beginning, it was just a few a day to friends and family. Now we've grown, on busy days, it can be in the hundreds. It's incredible to have seen the business grow so quickly.
Which flowers are your personal favourites?
Sarah: It's too hard to choose! I love Carnival Ranunculus—they make me happy. Chris loves Dahlias. In honesty though, I love them all. I actually get really excited when Sophie (Rothwell), our senior florist, gets back from the market. She does the majority of our buying and has really excellent taste. She constantly re-invents and comes up with beautiful new combinations. She's a gun.
What are your tips for keeping our flowers looking as good as possible for as long as possible?
Sarah: A squeaky clean vase, fresh water and the dulcet tones of Lionel Richie usually do the trick.
When your hands aren't full of flowers, where can we find you eating?
Sarah: Velvet Garage café. It's at the front of our studio and does really great food. The Scram Tilly and lamb sandwich are our top tips.
And drinking?
Sarah: We're currently on the hunt for the best Pina Colada in Sydney. So anywhere that does a good cocktail is on our list. And, in summer, the Watsons Bay Boutique Hotel. It's a favourite haunt for business meetings. The boys insist on doing somersaults, I insist on a cold Sav Blanc, and we generally have our dog Tess in tow.
Finally, what's next for Little Flowers?
Sarah: Well we like to keep our cards close to our chest, but we're exploring ways to make LF bigger and better throughout 2015 and beyond. Watch this space…
To order Little Flowers for a friend (or yourself), head to their website.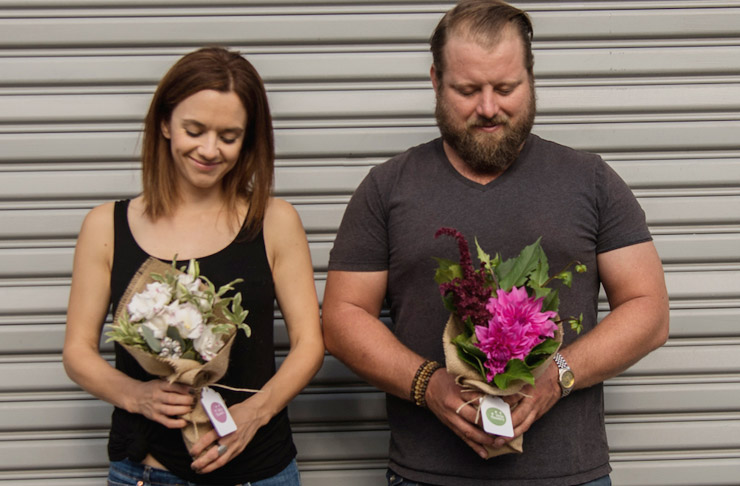 For more interviews with creative types, check out our 2 minutes with Elise Pioch of Maison Balzac and Elle Ferguson from They All Hate Us.
Image credit: Little Flowers