We're pretty down with the whole Athleisurewear movement that's happening right now. I mean, who wouldn't want to wear super comfy clothes like ALL the time and not be judged for it? We chat to Noa Ries, the founder of Vie Active who was one of the first to start the whole luxe legging look (as worn by Naomi Watts and Sophia Vergara).
With offices in both Sydney and LA, we managed to pin down the very busy Noa Ries to talk Vie Active, staying healthy (especially when travelling so often), and where her favourite Sydney eats are.
How did Vie Active get started?
As a former personal trainer, marathon runner, triathlete and rather fitness-obsessed mother, I spend a lot of time in my activewear! About three years ago, I had an epiphany. It was 4PM, I was still in my lycra activewear, hadn't had time for a shower and felt fairly unpresentable. I thought to herself, there has to be another way; a way that I could do intense workouts and easily transition into an active day, while still feeling stylish and put together. At that critical point Vie Active was born.
Vie Active was founded in Bondi Beach in February 2012 and launched May 2013 after over a year of intensive research and product development.
And what does the name mean?
Bryan, my husband and co-founder is half French. "Vie" means life in French and Vie Active means "Active life". When we launched Vie Active, we wanted to inspire and empower people to realize the benefits of living an active life.
What makes Vie Active gear different to other brands?
As a former personal trainer, I am obsessed with finding the balance between high-performance and style. If you look at the overall activewear marketplace, most brands do one or the other really well. Our key point of differentiation is that we do both really well.
We also have an incredible relationship with our community (both customer and retail partners), which is something we are very proud of.
Lastly we have an incredible team—a phenomenal mix of wildly talented people who all not only passionately believe in what we are doing, but also have amazing backgrounds and experience both in the fashion and activewear spaces.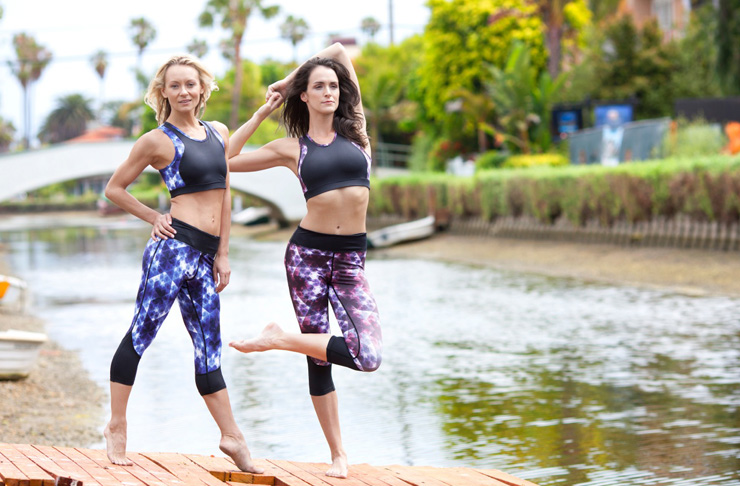 I'm kind of obsessed with your Rockell leopard tights at the moment (can't get enough animal print in my life). But tell us, which are your favourite pieces from your range?
My favourite without a doubt is our Rockell tights. They are the best fit and I wear them in every print. I also love our Lori bra because of the zipper front. There's nothing worse than wrestling with a sweaty sports bra (it feels like a straight jacket!) trying to get it off after your workout!)
What does a typical day look like for you?
I usually start the day with a morning workout (I'm an early bird, so I like 6am workouts). I check my emails and respond to the ones from NY. I race home for breakfast with my kids, I make myself a green protein smoothie and then either drop off my eldest at preschool or head straight to the office. I like to spend about an hour first thing in the day checking my emails, clearing my inbox and sorting out my to-do list for the day. The rest of the day is filled with meetings (sales, design, marketing, management), calls and emails. I'm usually home by about 6pm for dinner with the kids and then once they are in bed I am back online for work and calls with Australia. Around 9.30pm, I try to switch off my computer and read a book before bed around 1030pm.
With offices in LA and Sydney, how do you stay healthy when you're travelling?
I start every day with green powder mixed with water and probiotics. I am convinced that it helps keep me healthy given that I live with two small germ machines (a 4 year old and a 21 month old) and don't get very much sleep.
Where in Sydney do you go for a healthy meal?
I love Bondi Wholefoods and About Life.
What workout are you really into at the moment?
I'm currently obsessed with boxing, dance cardio and HIIT workouts
What are your five favourite beauty products right now?
Georgio Armani CC cream

YSL touché éclat

Kevin Aucoin mascara

Cosmedix cleanser

Kiehls midnight recovery concentrate
Describe your ideal day off.
A long bike ride with my kids and Bryan to the farmers market to stock up on some yummy fresh produce, a nap (for everyone!) and then cook a healthy dinner which we eat outside with a glass of wine.
Everyone has a soft spot… What's yours?
After two kids, my hips and thighs are definitely a lot softer than I would love them to be!
Finally, what's on the horizon for Vie Active?
I'm really looking forward to scaling our business, increasing our online community, expanding our product line.
Image credit: Vie Activewear