Ahhh Sydney – once the home to a bunch of bread-stealing convicts, it is now home to 4.5 million caffeine addicted, green juice-loving, Lorna Jane-clad people that know the difference between a piccolo latte and a macchiato, and will make damn sure you do too.
It has come to our attention that our other-state-mates have written up a few adorable reasons why they think they're better. Step aside, because we've saved the best until last.
So here we have it, 25 things Sydney does better than Brisbane or Melbourne, all of which are probably why we don't bother correcting foreigners who think Sydney is the Capital of Australia. I mean, really.
1. Let's begin with beaches; take your pick, we have over 100. Whether you're after tourist-filled, flat as a tack or borderline deadly surf, we've got it all.
2. We have an array of islands at our disposal, and one of them is solely dedicated to fuelling our drinking habit.
3. Ferries are a legitimate form of public transport. And they don't leave your hair looking like Bridget Jones post-car trip, we swear.
4. Speaking of public transport, Opal cards to the rescue, everybody! *slow clap*
5. We have amazing artwork, Paris may have the Mona Lisa's knowing smile, but we have two giant matchsticks and a condom sculpture on the way. Oh, sorry – we meant cloud arch…
6. Our government looks after us with lockout laws… Because they're right, nothing good, fun, interesting, memorable or pleasurable happens after 3am. Hooligans!
7. We have Dogue. That's right, only Sydney can offer a boutique dog accessory store, where doggie Chuck Taylors and sandals are listed under 'Puppy Essentials'.
8. Sydney had Messina first. Suck it, everyone else.
9. It doesn't matter if you've been on the best or worst trip of your life, there is nothing quite like flying into Sydney and gazing out the window in awe.
10. Mardi Gras, baby! Have you seen our GAYTMs? Nothin' but pride happening here, ladies and gentlemen. They're out, they're proud, and they're not puttin' on pants for nobody.
11. We have a massive selection of beautiful real estate that we will one day own, hopefully by our 90th birthday.
12. We put on a mean (and expensive) fireworks show every time something slightly interesting goes down at the SCG.
13. Best pub food, ever. Ain't no parmy like a Sydney pub parmy!
14. Our oldest underground public toilet is heritage listed and there are plans to make it into a (hopefully urine-free) café – because Darlinghurst, that's why.
15. Exercise is a little more bearable in Sydney thanks to our scenic running and walking routes. Puffing up a storm is easier when you've got 360° ocean views.
16. We can navigate our way out of anything. Clearly our first town planner was a few fries short of a Happy Meal, or just thought it would be fun to watch us take 10 minutes to circle the block.
17. Our weather is better. If Goldilocks came to Australia, we all know where she'd settle in.
18. We're only a couple of hours drive from some of the most beautiful spots in the country. A quick drive to the Hunter Valley supplies us with all the wine we could need, and a nip down to Mollymook will give you beautiful beaches and the world-famous seafood of Rick Stein at Bannisters.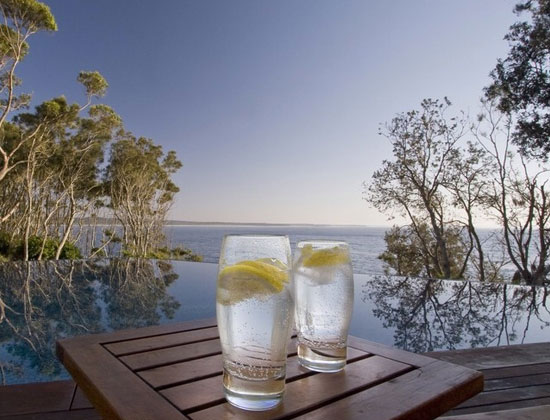 19. We have an abundance of all day breakfast options – because Sydney café owners know we don't get out of bed until we're good and ready.
20. On the hunt for a bargain or just want to flog your stuff? We have countless markets with farm-fresh produce, local fashion and the obligatory Gozleme.
21. You can pay half of your rent to sleep overnight at the zoo and wake up to a fresh, steaming pile of elephant poo.
22. We're ridiculously good looking – no, seriously. Our gene pools are squeaky clean; we leave the crossbreeding to the folks up north… Too far?
23. Cold pressed juices and smoothies are plentiful, because if you're not carrying a green juice, like, where do you even live?
24. Sydney Harbour, everybody. 'Nuff said.
25. We are home to Summer Bay, and by extension Alf Stewart. Hey Melbourne, we're sorry you had to settle for a quiet street as a hangout and we got the whole beach.
Image credits: Newtown Graffiti, Bannisters, Giphy, Reddit, Ummhow.