First things first. Packets of iconic American snack Flamin' Hot Cheetos have been available for purchase from major retailers and convenience stores across Australia since the 12th August. If you didn't already know this slice of tasty news, well, you're welcome. Another fun Flamin' Hot fact is that Eva Longoria is slated to be directing a film about the backstory of the snack. There you go.
To celebrate Flamin' Hot's long-awaited arrival to our shores (there was once a petition to bring the spicy snack out, which earned about 130,000 signatures), a few culinary heroes have jumped in to create one-ff dishes featuring Cheetos. Or, in the case of Belles Hot Chicken and its founder and head chef Morgan McGlone, a full-blown limited edition menu so you can enjoy a Cheetos Flamin' Hot-laced feast.
From today, Belle's Hot Chicken is serving up three fire dishes featuring Cheetos Flamin' Hot's mindblowing spice.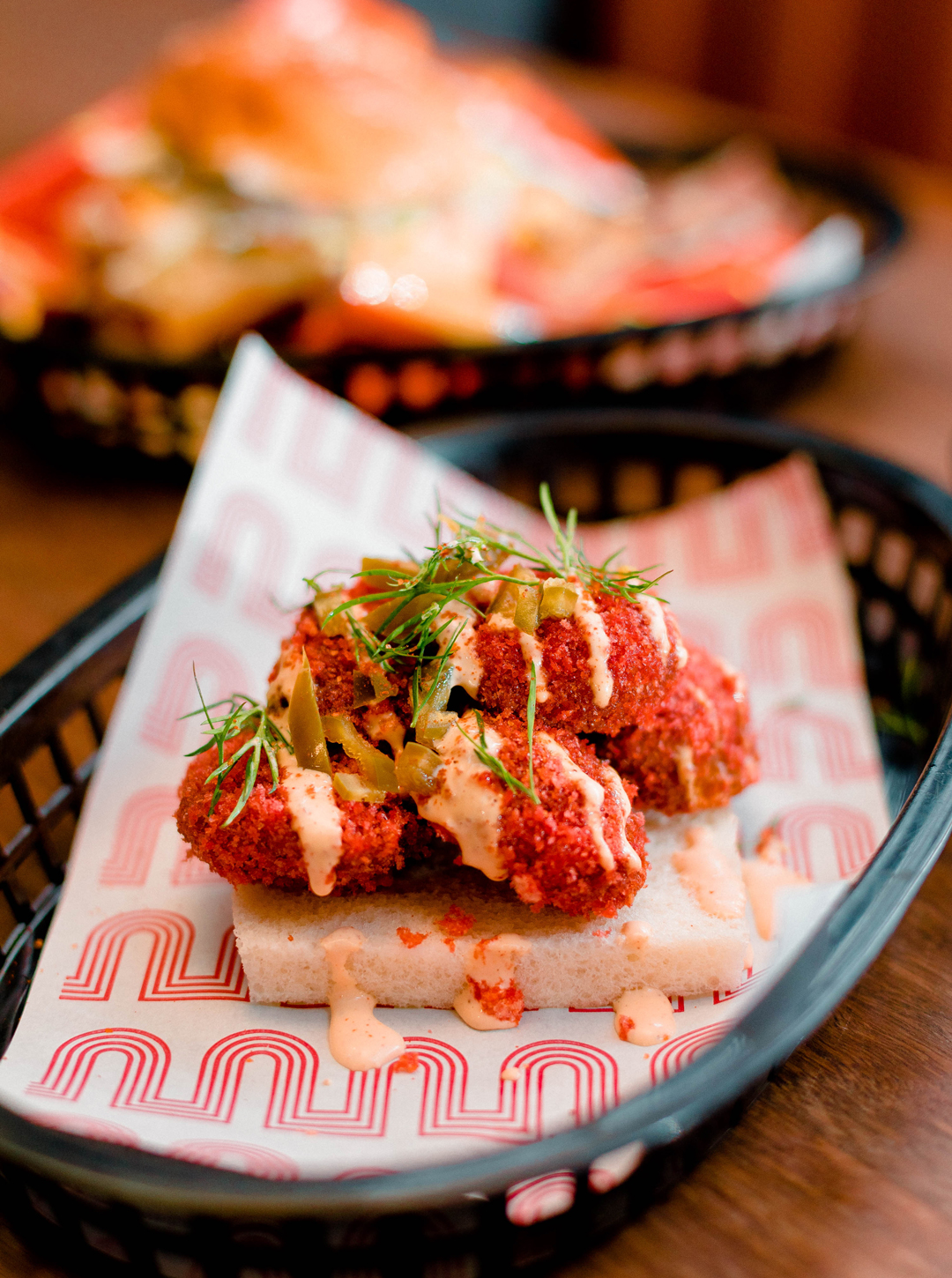 On the menu collab McGlone said, "I wanted the spice from the Cheetos Flamin' Hot to be the hero, so I've created three dishes using unusual ingredients that will be sure to surprise and delight the taste buds."
As for what that entails, we're talking Cheetos Flamin' Hot-crusted cloudy bay clams with Alabama white sauce, pickled chilli and cill, a Cheetos Flamin' Hot-crusted chicken sandwich with jalapeño and red onion slaw and, for Belles' Darling Square location only, Cheetos Flamin' Hot mac and cheese bites with chipotle marinara sauce.
McGlone mastered the art of fried chicken after spending years in Nashville learning the secrets of the Southern spices (so we know this menu is proper). To create Belles, he brought spice secrets back home and paired it with some good, Aussie natural wines, giving us juicy meat with a signature crunch and an organic red to wash it down.
We suggest you cancel your dinner plans and get in quick—Belle's Hot Chicken's Cheetos Flamin' Hot menu is only hanging around for three weeks.
The Details
What: Belles Hot Chicken Cheetos Flamin' Hot Menu
When: Wednesday 28 August - Wednesday 18 September
Where: Belles Hot Chicken Darling Square, Barangaroo and Tramsheds
While you're here, check out all the best spots to slurp ramen in Sydney.
Image credit: Rocket Weijers.