Talented interior architect George Livissianis has lent his indelible pared-back style to some of Sydney's most iconic restaurant and fashion destinations. Think The Apollo, Longrain, Café Paci, and Jac+Jack, to name just a few—and you have basked in George's award-winning interiors.
The ability to create a stunning interior, which is not only on brand but highly functional, is a rare talent indeed considering the demands of both the hospitality and retail spaces.
George Livissianis cut his interior architecture teeth working at the renowned Burley Katon Halliday (BKH) firm, having grounded his skills at UNSW graduating in interior architecture and winning the Herman Miller design prize. Accolades have continued thick and fast for George Livissianis, including the prestigious Belle Coco Republic Interior Design Awards in 2013 for his Jac+Jack Paddington store interior, George was also a finalist in this year's awards.
We caught up with George to talk that key 'magical' ingredient, which any great interior must possess, the future of retail and hospitality design and his extensive scale ruler collection . . .

Longrain in Surry Hills designed by George Livissianis
TUL: Your interior architecture has become synonymous with dining and shopping in Sydney (The Apollo, Longrain and Shortgrain, Café Paci, Jac+Jack), what do you hope people experience from your design?
George Livisiannis: A coolness /calmness/refreshing energy with a unique approach to each venue that reflects the brand/food/people we work for.
TUL: Are there any obvious trends in hospitality design emerging? And what of retail design in the age of online, is there a new focus?
GL: There are trends toward informal dining, a response from restaurants to counter the small bars in their offer and in turn hotels have had to respond to these changes. These shape the direction of the venues but my approach is always to respond to the site, the food and the brand experience—I don't consider what is or isn't on trend.
As for retail design in the age of online—the in-store experience is paramount. You can't replicate it online or reproduce it in any other medium, so it will always exist and hopefully become more important. As we are bombarded with so much online content, the spatial experience in-store becomes almost more important than ever.
TUL: Which design elements create a truly great space?
GL: It's that old saying about the sum of the parts—it really is the combination of everything and it's more than that. A truly great space has some magic that you just can't define—if I had to say one element I would say lighting.
TUL: Previously you have mentioned eclectic inspirations, from design greats like Alvar Aalto and Utzon, to cooking. Can you tell us about an unusual design inspiration that led to something great?
GL: We spray painted the Paddington Jac + Jack ceiling in an ombre from front to back inspired by their collection—maybe not unusual but a great spatial effect that I would like to explore again in future projects.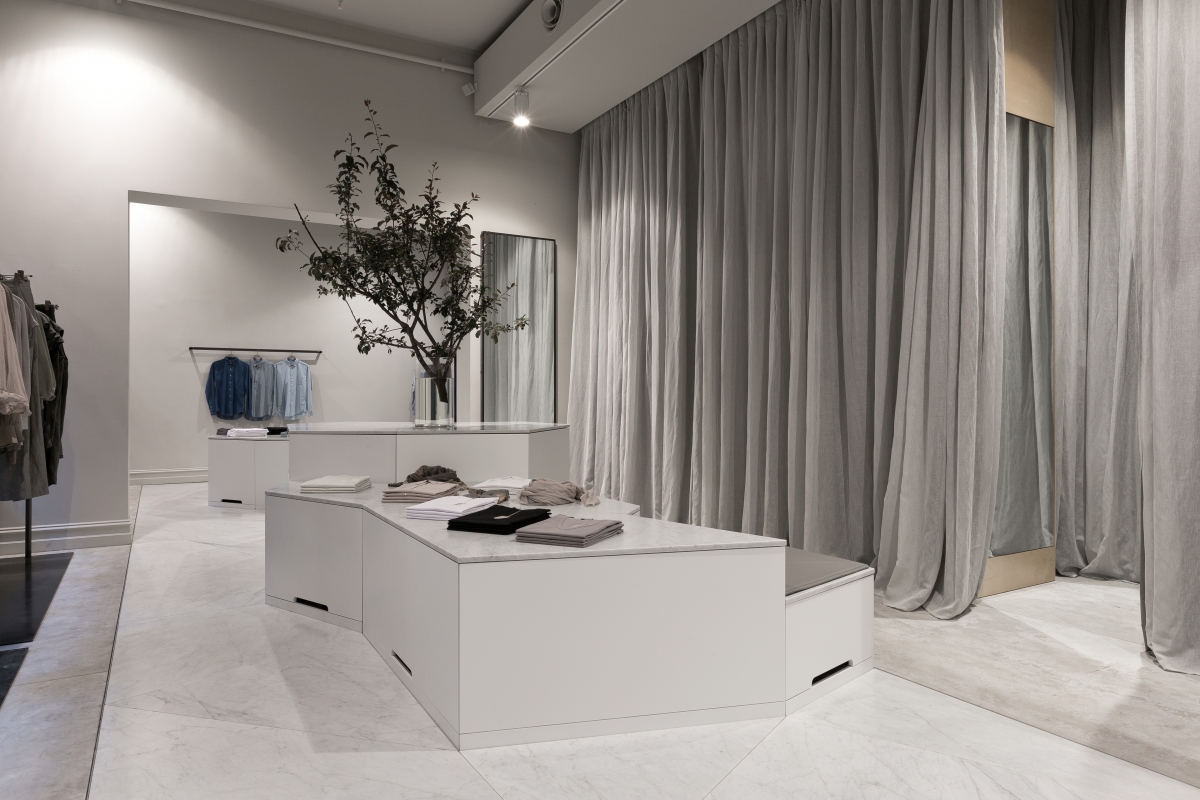 Jac+Jack boutique Strand Arcade designed by George Livissianis
TUL: Around Sydney, do you have any favourite buildings, spaces, places—either inside or out?
GL: The Opera House is still undeniably no.1 (in the world I think). Also the interpretation/re-use of the reservoir in Paddington by Tonkin Zulaikha Greer.
TUL: Do you have a guilty design pleasure?
GL: I love my drawing board and I have a scale ruler collection—weird?
TUL: Ha ha no wonderful. What design item is your home in dire need of?
GL: So many things—we are awaiting development approval so we can start!!
TUL: Is there a design element you would like to see more of in Sydney homes?
GL: Open fireplaces.
TUL: Agreed, nothing better. Can you tell us some of your favourite design stores in Sydney?
GL: Corporate Culture, dedece.
TUL: Any exciting projects in the works?
GL: A couple of restaurants, the first to open is at 73 Macleay Street in mid June.
TUL: What should our city look like in 20 years' time?
GL: Need more time on this one!
Thank you George!


Image credit: George Livissianis courtesy of Manuscript and shot by Christopher Morris