Gelato Messina's head chef Donato Toce, and his passionate team, work tirelessly literally day and night to bring us the incredible delight that is Gelato Messina gelato. Scroll down for a fantastical tour of gelato heaven.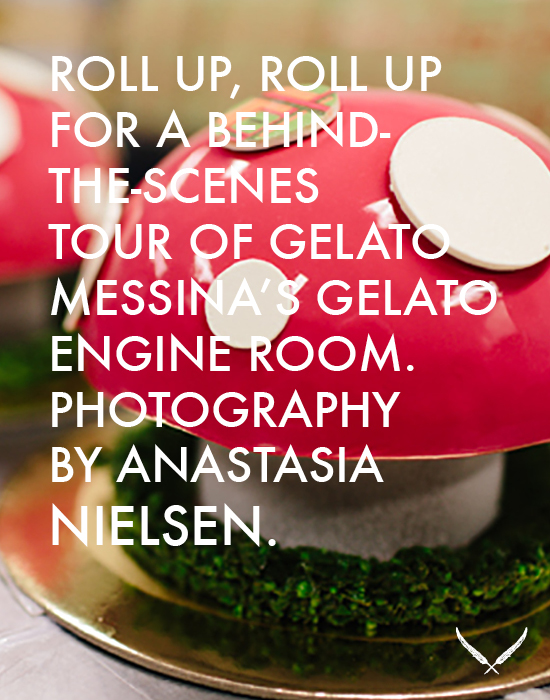 Starting at 6am, the gelato team work at a frantic pace producing 3.2 tonnes of ice cream per day, three flavours are pasturised at a time and take approximately two hours to make depending on the flavour's density—think chocolate sorbet. In total, 12 flavours are created each day. At 3pm the cake chefs enter and take command of the kitchen, working until the early hours of the morning. One hundred cakes are made per day, with 250 of Dr Evil's Magic Mushrooms sold alone each week. This is a 24-hour operation.

One is inclined to imagine Willy Wonka's wonderland factory when you think of Messina's fantastical cakes and out-of-this-world gelato flavours. The reality is sobering: imagine a kitchen the size of Doctor Who's Tardis—on the outside not the inside—filled with 20 staff working with military precision to fulfill Sydney and Melbourne's insatiable appetite for Messina.

"In the early days it was gelato and that's what you went to Messina for, but now we call it the animal. Yes the gelato is the same but there's so much more involved: it's the music we play; the artist Jeremyville who does all our graphics; the actual fit out; and to top it all off customer service," explains Donato. "The last thing you want after waiting in line is a surly person serving you, the people we have working for us in customer service are the most joyous bunch of people I have ever met."
The business began with its pumping Darlinghurst store, followed by Crown Street Surry Hills, and then late 2013, in the space of just several weeks, Bondi, Melbourne's Fitzroy café and a shop in the Hangzhou province of China, all opened. Donato was there to oversee it all.

"It literally amazes us, we still don't understand it, we are just four guys trying to make a go of things. There are even urban legends surrounding us—it's crazy!" Donato laughs. Founded by Nick Palumbo, Nick taught Donato everything he knows in order to run the kitchens, Danny Palumbo manages operations and Declan Lee manages marketing and PR.

"Our philosophy is that there is no one person behind Messina, we all pull together. We're very serious about what we do and we take what we do very seriously. But we have a lot of fun doing it: the quirky names and the weird flavours, because it's all about creating a vibe."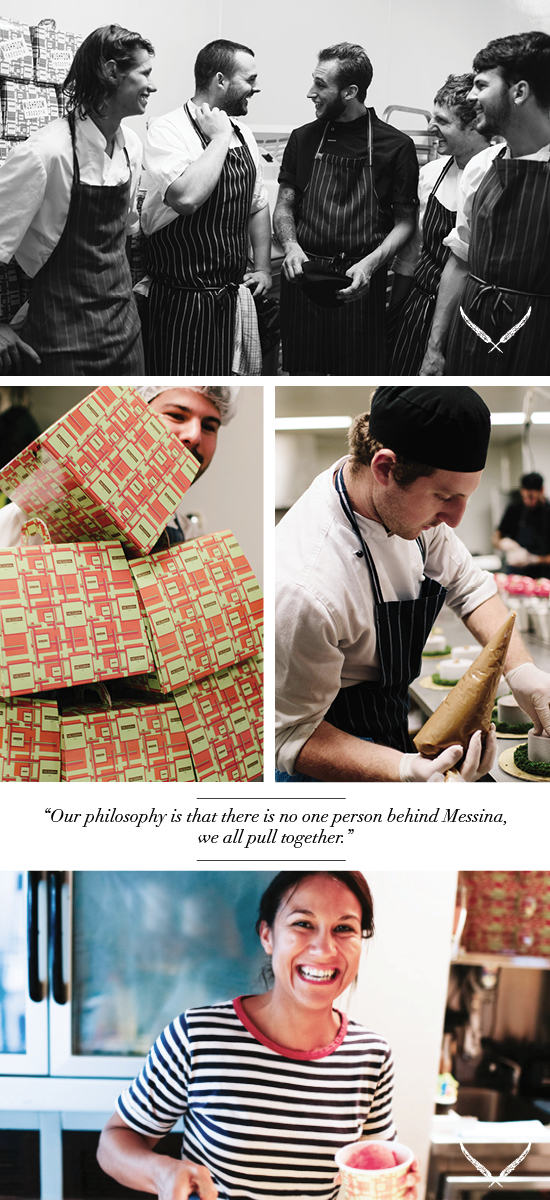 "Most of the flavours are stabs at one another, in-house jokes like 'Anyone For Tennis', that was named after Nick because he had a business meeting over a tennis match, it consists of apricot gelato with lavender and fudge. And then there are movies we just really love, like the flavours Dr Evil or Derelicte—for a laugh," continues Donato.

Gelato Messina has 40 flavours consistently in the counter, 34 are permanent, one rotating sorbet flavour each week, and five other specials. Within the specials there is always one peanut butter-based flavour and the remaining four are chosen from Messina's bank of 900 varieties. The gelato leaves the factory bagged to be freshly churned in store.

According to Donato the biggest sellers are Salted Caramel and White Chocolate, Milk Chocolate with Choc Peanut Fudge, the Chocolate Fondant, and sorbets like Pandan & Coconut, and Salted Coconut and Mango Salsa. In fact Salted Caramel alone sells three to four tonnes a week, "I don't understand it, Salted Caramel is like crack to some people," Donato jests.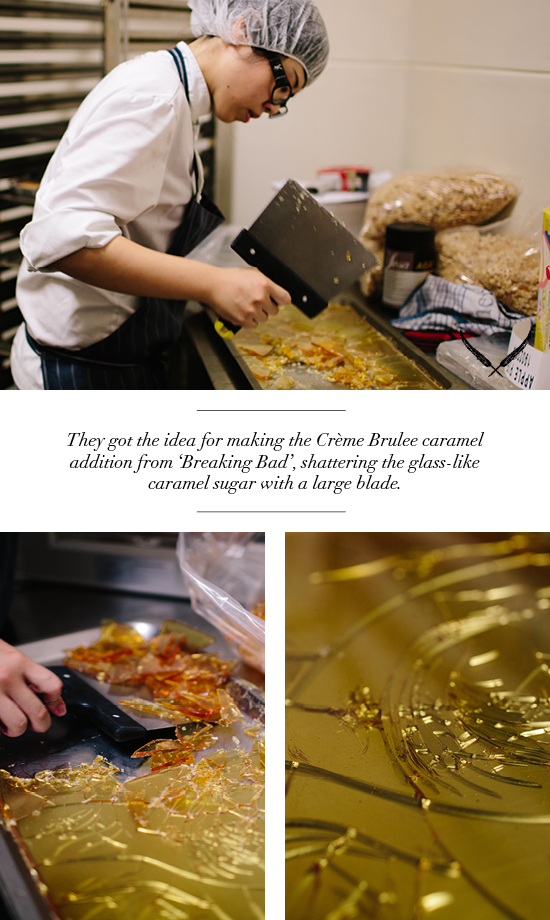 Speaking of umm crack, chef Tom Mitchell explains they got the idea for making the Crème Brulee caramel addition from Breaking Bad, shattering the glass-like caramel sugar with a large blade. "That is one of our biggest problems, preventing the sugar from melting or on the other hand freezing," explains Tom.

Now it's not all fun and games, creating gelato is quite the science. The Crème Brulee for example took years to perfect, Donato experimenting with various methods to ensure the shards of caramel didn't turn into syrup. Creating a new flavour involves a methodical process.

First up you start with the base, pure gelato, then experiment with mixtures of flavours to create a general recipe. A one-litre sample is made for tasting and testing in the cabinet. Then the additions are added, such as fudge, chocolate and jams, different additions require varied temperatures. Finally, a 7kg batch is produced in order to be tested in the freezers (when freezing you lose 20% flavour and colour), here you can assess how well everything holds together. If a success, it is run out across stores as a new special.


Specials this week include: Rum Baba infused with Messina's homemade rum and an eclectic mix of spices, citruses, coffee and vanilla custard; and Persian Rocky Road with white chocolate, rosewater gelato, marshmallows, pomegranate, pistachios and roasted peanuts—need we say more?

If you have ever wondered what differentiates gelato and ice cream, Donato is here to explain. "In Italy gelato is anything frozen. In Australia, gelato contains less fat and air, or what we call over run, than ice cream. Ice cream has over 12% animal fat and is aerated by 100%, a 1kg batch of ice cream becomes 2kg. Gelato has a maximum of 25% over run [air] and the animal fat cannot exceed 10%."

"At the end of the day, it's ice cream. It makes you happy when you're sad. It brings a smile to your face. There's no point making it without any of that love." Well said Donato.