It was mid-week when we schlepped it into the CBD for a cheeky lunch at Since I Left You, and the crowd is exactly as you'd expect. People looking for a quick lunch, with a mandatory beer on the side, because life is hard and if you can't pop into a bar on a Wednesday arvo, then when can you?
We settle into a booth seat at the end of the alley-style bar, order beers, and turn our attention to the menu. Now, when it comes to bar snacks at SILY, you'll want to order one of everything—waffle everything that is. They don't believe in only serving waffles with maple syrup (although they do a damn good one of those too). Here you'll have to decide between hash brown waffles, served with smoked ocean trout and crème fraiche, banoffee waffles, waffalafels (yep) and (wait for it) mac 'n' cheese waffles.
These bad boys are as beautiful as they sound, with big scoops of the good stuff sandwiched in a waffle iron and drizzled with syrup, and because we just don't believe in difficult decisions, we ordered one of everything.
Once it's time to choose a main dish, you've got options. You can either keep up the charade of your clean eating lifestyle by ordering a poké bowl, or swing the other direction and order the cheeseburger toastie. We think life is all about balance—so we ordered both and we want none of your judgement thank you very much.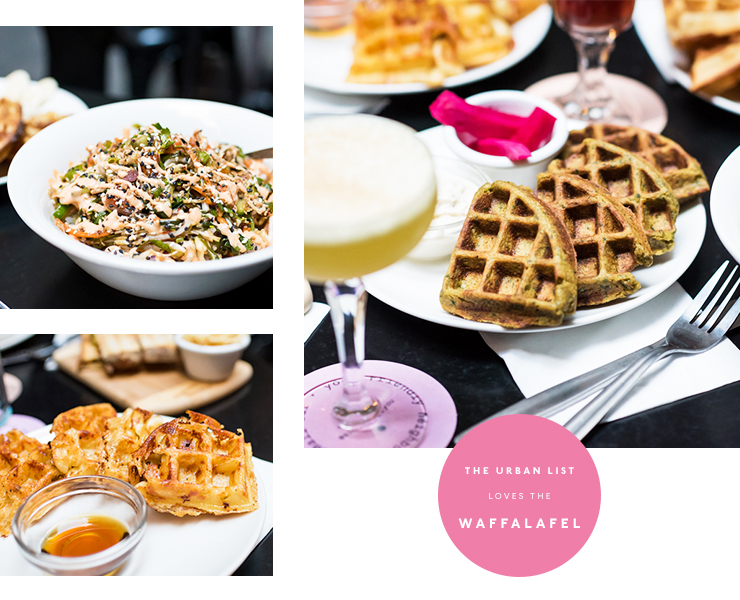 The poké bowl is a choose your own adventure situation, so you'll pick your base (sushi rice, shredded kale or cabbage), your protein (tuna, salmon and tofu), and then your flavour (traditional, miso ginger, or spicy). The cheeseburger is all of the things you'd both want and expect it to be, with a beef patty, caramelised onions, cornichons, le superbe Swiss gruyere, ketchup and mustard, all wrapped up in a delicious toastie. Yep—we'll just let that sink in for a second.
Now onto those lunchtime drinks we mentioned earlier. The wine list is concise, with plenty of options by the glass and a few premium options if you're going straight for the bottle. But if wine's not your jam, then the craft beer selection is where you should head first. On the cocktail front, there are classics like a pisco sour and Negroni, plus a few SILY originals incorporating vodka, Aperol, elderflower liqueur, and lemon (that one's the citrus self down, in case you're wondering).
Head here for a mid-week respite from work (we promise not to tell your boss), and on Saturdays, they open the back courtyard right up, and there are fairy lights involved. You know what to do.
In other news, Japan's giant Insta-famous pancakes are here.
Image credit: Caitlin Hicks