When the cast iron provolone lands on our table, my heart sings at the incoming deliciousness, whiles simultaneously recoiling at the impending cholesterol peak.
It's the most popular dish at Paddington's Tequila Mockingbird—a pan of melted provolone cheese, topped with sauteed shimeji mushrooms and Pedro Ximinez sherry glaze that has magically turned into balsamic-vinegar-y sauce. It's their autumnal version of Argentina's provoleta. Spoon into the accompanying tortillas, and savour the savoury, sweet and sour—the ultimate grilled cheese sandwich.
Since opening in late 2016, Tequila Mockingbird has been slaying with its mod-Latin-American menu and boutique tequila menu (bou-tequila?). Newly appointed exec chef John Frid is on the pans, originally hailing from Toronto then making his way to Sydney (via Queensland), and bringing his love of of the big, bold flavours of Lat-America to the Five Ways dining crowd.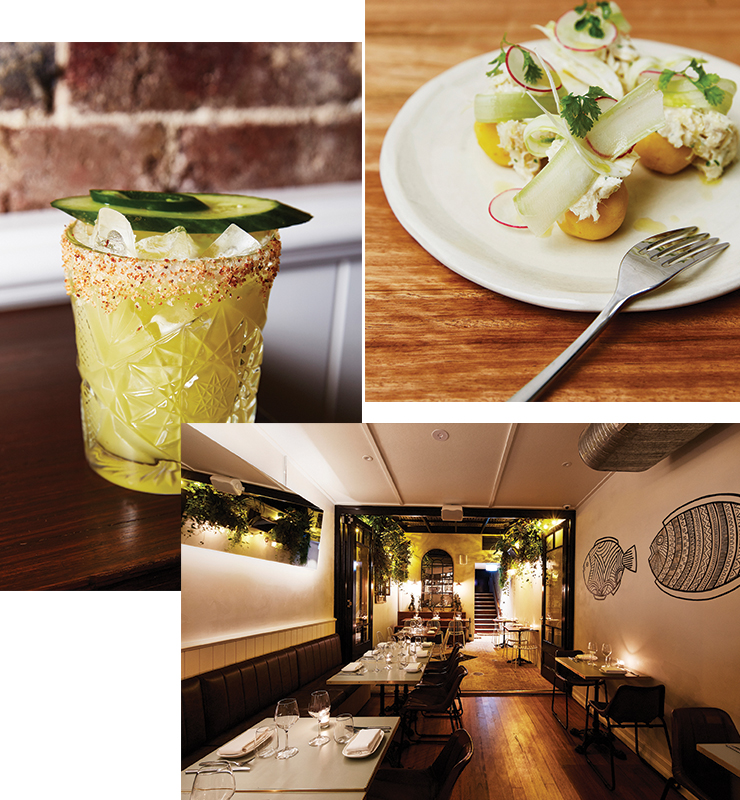 The menu is divided into raw, street, flame, with a good mix of lighter ceviche dishes to slow-cooked hunks of meat. The ceviche mini-taco is a super moorish snack of smoky salmon in a crisp shell (tip: order two), and I'm still dreaming of the zingy guacamole and pico de gallo with plantain chips. The calamari comes lightly-battered, all yielding flesh and buttery-textured, with a sweet and smoky mole sauce (our only gripe: more lime please!). The massive lamb shoulder with chimichurri could do with a little less cook time, but it's still a delicious, carnivorous end to the mains. Desserts-wise, it's a happy marriage of zingy and creamy flavours in the yuzu and lemon suspiro limeno (a Peruvian caramel and custard dessert) or chocolate torte with pineapple sorbet.
Or, you could just go another cocktail. The signature cocktails are an all-singing, all-dancing tequila roadshow (duh) of the best of the agave spirits, from the clear blancos to aged extra añejos. The house-favourite Tequila Mockingbird is too easy to drink—with blanco tequila, elderflower, cucumber and jalapeno salt, it's like a really refreshing margarita. Purists can work their way through the 30-something straight-up tequilas and mezcals. Good luck to you, brave souls. As the tagline to the drinks menu goes, it's a sin, tequila mockingbird.
FYI, here are Sydney's best bars in the CBD.
Image credit: Supplied