Welcome to Adelaide! City of Haigh's Chocolate, Australia's first vote for women, and all the churches you can gawk at.
Though on a pilgrimage to bask in the wisdom and dulcetry of two public treasures. I was well aware of South Australia's reputation for excellent food so I wasn't about to let an opportunity to devour my bodyweight in chow go to waste. But to tell you the truth I was a wee bit scared.
The first thing you have to understand is that the Adelaisians are a pernickety people utterly spoiled by proximity to the Barossa Valley. As a result, the standards in this town are stupidly high, which makes for a lush and rampant food scene too daunting to face alone so I had to radio* for back up. H** is my oldest friend and a semi-professional badass who has about as much tolerance for bad feeds as there are apples on Mars.
So it happened that we found ourselves in the southland; awed and flawed by the bounteous edibles lobbed at us from every vantage, and the sheer magnificence of what a truly beautiful metropolis Adelaide really is. So here, have a heatmap of the most underrated city in Australia (official title pending):

Day One
Breakfast
I landed early and set about strolling stag down the lilac streets of Unley and King William Road. Idyllic surroundings sure work up an appetite so I ducked into Pollen 185. It's a pretty slick operation where they make everything from sambal to cashew cheese themselves (half-arsing is for jags).
I had: a mushroom fiasco featuring black and pink oyster mushrooms and buttons with herbs and garlic on the fluffiest sourdough I have ever sunken my teeth into, and dotted with delicate little flowers.
Dining companion: We Are All Completely Beside Ourselves by Karen Joy Fowler
Listening to: an acoustic cover of Blackstreet's Hot Diggity.
Other notable breakfasteries include Nutrition Republic, Café Troppo and Pickle in the Middle (see below) in the outskirts, and Bar 9, Penny University, and Exchange Specialty Coffee in the CBD .
The Central Markets
After breakfast was a wander through the Adelaide Central Markets to ogle at the stalls, pick up some second hand reads, and curate a picnic lunch. The legal definition of a picnic requires at least three different cheeses so the first stop has to be the Smelly Cheese Co. Creamy cultures were then rounded out with some fresh bread and some succulent strawberries from the Adelaide Hills before plonking in the idyllic and nearby Veale Gardens. The Adelaide Oval is also fairly stellar for a frolic in the greenery.
If the weather doesn't lend itself to picnicking, the Central Markets are also home to some cracking eateries. Personal favourites are the super green Let Them Eat for when you want to be pious, and Middle Eastern kitchen Le Souk for when you don't.
Dinner
Dinner was set to be a casual affair and we eventually wound up on Peel Street, the epicentre of foodwows guaranteed to knock your socks off. More specifically, the upmarket burger joint Bread and Bone.
Dining companion: the long awaited wit and sparkling conversation of my travel pal.
I had: black pepper quail and slaw. The bird was entirely slathered in the most perfectly piquant and unctuous glaze you can imagine; homemade gin, cucumber and apple soft-serve for dessert.
She had: classic cheeseburger and fries, and peanut butter soft-serve with caramel popcorn.
Listening to: the cacophonic rabble of similarly rowdy carnivores.
The rest of Peel Street (and the surrounding laneways) is furnished with some stellar bars for a nightcap. Clever Little Tailor is especially good for making clever little drinks, La Moka is a neat and intimate café-cum-wine bar, check out the Thrift Shop's for a mellow, homey vibe, and The Gallery rooftop bar gives a nice vantage without too much danger of clipping the wing of a 747.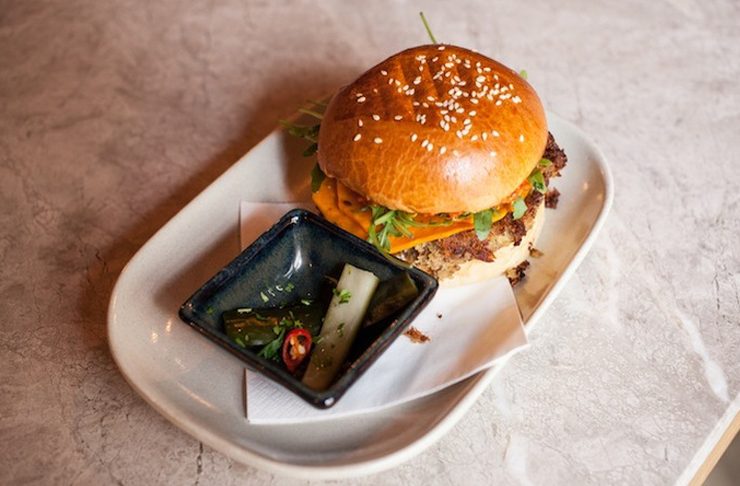 Day Two
Breakfast
By this point, the idea that there could be a place down the road that made their own sourdough starter wouldn't even be a surprise. So it was almost expected that Pickle in the Middle took a literal reading and adorned every menu item with their extravagant house made pickles.
Dining companion: the lingering philosophies bestowed upon us by the Archmaiden of Snap and the Prince of Swimwear.
I had: a green bowl of every health cliché from the past three years (think kale, broccolini, brown rice, red quinoa and a pickled chilli situation that touched my soul). I'm pleased to report that it was magnificent.
H had: parmesan crusted Panini toastie feat. smoked mozzarella and home made mustard zucchini pickles.
To drink: caffeine and tannin courtesy of the Barossa's own Scullery Made.
Lunch
Despite having our keen eyes on a whole bunch of deliriously good-looking places, we were so charmed with the frivolities and exuberance of Peel Street the night before we couldn't resist a second round.
Destination: Peel St Kitchen, a sharer's haven of mind-bending flavourgasm.
Dining companion: H's twisted sense of humour.
We had: share plates of spiced lamb with tahini eggplant, and sumac buttered toast; and roast pumpkin with tom yum tomatoes, kaffir lime, and cardamom toasted onions.
Listening to: the guy at the next table explain to his friend what made Leonard Cohen a badass in boxers.
Other languid lunches can be had at Street ADL (big spenders ascend for a degustation at the famed Orana upstairs, but let's not get ahead of ourselves), or at the AVPN approved ethical pizzeria, Etica.
Dinner
For dinner we were lucky enough to get a tip-off from our correspondent in the 'Laide (henceforth known as A for legal reasons) on a Peruvian joint called Mestizo in Glenelg. It was sold to us as a local pearl hidden down a random street, so, you know, it's not like we could have resisted.
Dining companions: the other two prongs of my prandial troika: H and A.
We had: staple Peruvian chow of cassava and sirloin, as well as some zesty salmon sashimi courtesy of the really strong Japanese influence in Peru (who knew?). Strawberry sorbet with anise macerated blueberries, white chocolate, and meringue to finish.
To drink: Ganacha and something called a Picho Sour that came with inflated roasted corn kernels.
Listening to: A's font of local knowledge and some ambient Peruvian melodies.
The tantalising allure of Peru unfortunately usurped the other frontrunners for our last supper. There was some serious competition like the decadent dinner promised by Thai restaurant Golden Boy where the flavours pack a divine, cosmic power and you can order a tuk tuk banquet menu. Also on the cards was Sean's Kitchen, especially good for the heart/showstopping desserts, and the meaty and refined Press Food and Wine.
*I didn't use a radio.
**Not her real name.
Image credits: Tourism South Australia, Adelaide Now, Maggie Beer, thethousands.com