Living in Sydney, we can sometimes take our harbour views, pristine beaches, and Saturday morning breakfast perfection for granted. Everyone has their favourite Sydney rituals: whether it's diving into the salted caramel at Gelato Messina, or surfing on Bondi beach. We all have our passions, and now we want to know yours!
What do you love the most about Sydney?
We've put together 32 things we love about Sydney, and we're throwing it over to you to vote.
Help us crown the most-loved thing about our city!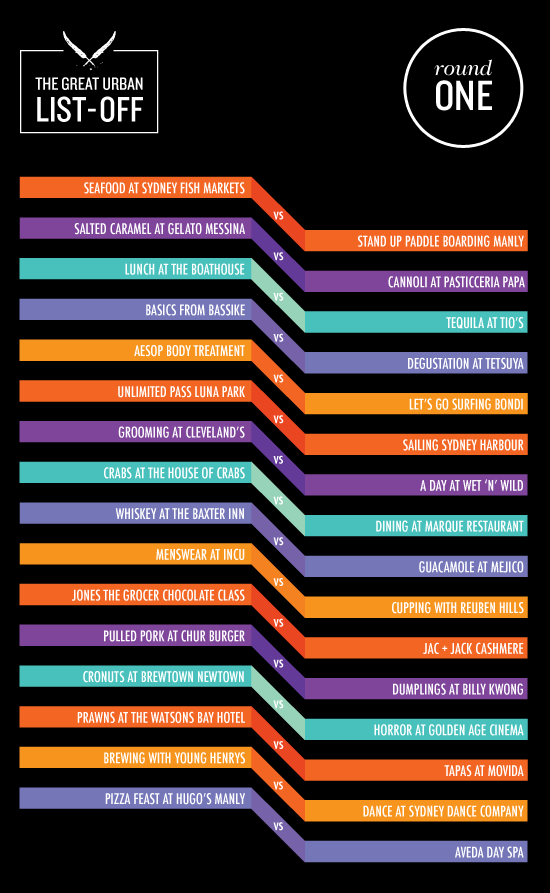 Every day for 7 weeks we'll be matching up two impeccable Sydney outings, each one vying for your voting affection until we have whittled our way down to the last man standing.
Not only do you get the satisfaction of plugging your favourite thing in Sydney, but you also have the chance to win a FABULOUS prize - you will automatically go into the draw to WIN a Luxury Getaway For Two to Noosa! (The prize is valued at $2000 including flights, accommodation, dinners and a spa package! Terms and conditions apply*.)
What are you waiting for? Head to our voting page and get cracking! And yes, those Noosa die-hards can vote as many times as they like!