Thursday afternoon has us contemplating the weekend—and it's shaping up to be a good one! From exhilarating art openings to delicious bagels with schmear, and an invigorating harbour swim—here's where you should be this weekend in Sydney.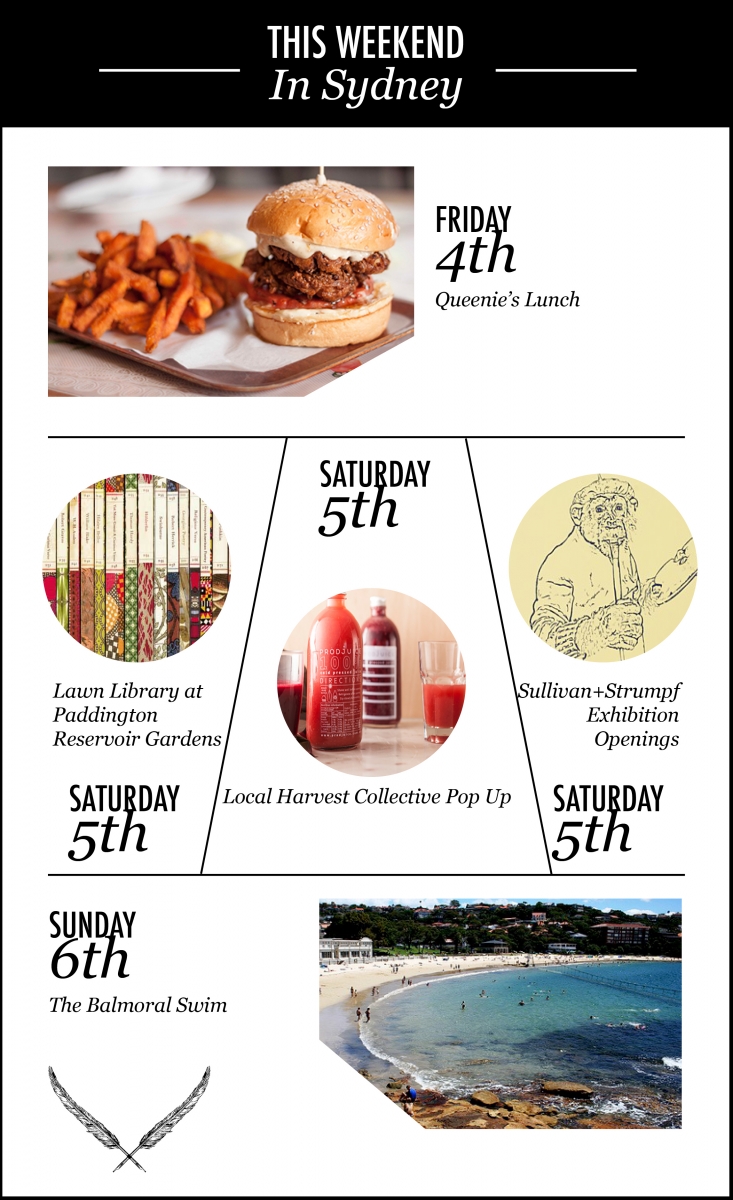 Friday 4th
Queenie's Lunch

Queenie's Friday lunch is back with a vengeance, offering a dazzling new autumn menu—think BBQ jerk chicken, coconut soft shell crab, sweet potato fries and pork burger with cheese and slaw. Kick-start your weekend and get down early!

Saturday 5th
Lawn Library at Paddington Reservoir Gardens

The City of Sydney's iconic Lawn Library is locating inside the Paddington Reservoir Gardens, for a week of free books, jazz, drawing classes and children's storytelling. On Saturday, artist Kathe Payne will host a very special workshop, giving budding artists the chance to develop their sketching skills within the beautiful surrounds. From 11am-12pm.



Local Harvest Collective Pop Up

Darlo Bar's communal lounge room will be transformed into a fresh food breakfast haven, as Sydney's Local Harvest Collective is joined by the likes of Brooklyn Boy Bagels, Cornersmith and Prodjuice cold pressed juices. From 9:30am.

Sullivan+Strumpf Exhibition Openings

Michael Lindeman's Notes to Self/Letters to Others and Leah Emery's Twist and Shout exhibitions both open today at Sullivan+Strumpf gallery. Lindeman employs his distinctive medley of linguistics and imagery, satire, and social concern, to explore a vast range of ideas and images. Leah Emery on the other hand, transforms appropriated vintage pornography into beautifully hand-stitched curios. Drinks from 3-5pm.

SUNDAY 6TH
The Balmoral Swim

In its 24th year, The Balmoral Swim offers plenty to whet your appetite—including a 1k harbour swim, 200m junior swim for the kids, relays and prizes, all in support of the Children's Cancer Institute of Australia. Get to Balmoral Beach before 9am on the day to register.