We're jumping for joy at another long weekend! To celebrate, we've compiled an epic three-day itinerary with plenty to keep you on your feet.
Whilst you're at it, be sure to check out our hit list of Cafes Staying Open Anzac Day and What To Do Anzac Day In Sydney.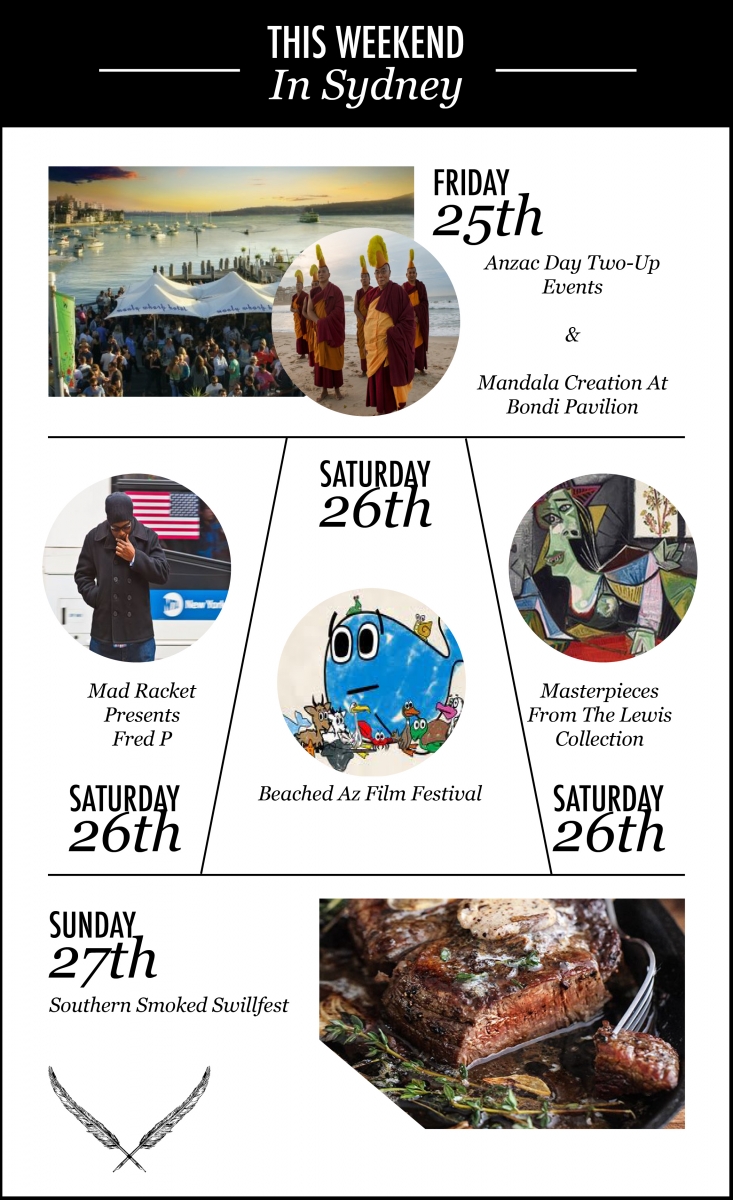 FRIDAY 25TH
Anzac Day Two-Up Events

Kick start your long weekend festivities with a game of Two-up, great food and good mates at one of Sydney's iconic pubs. We've scoured the city to bring you our top pick of places that will be commemorating in style—think Two-up arenas, local beers, pizza and homegrown DJs.

FRIDAY 25TH
Mandala Creation At Bondi Pavilion

The Gyuto Monks have arrived at Bondi Pavilion with a 13-day event program, including daily meditation sessions, Buddhist talks and ceremonies, a 2-metre sand mandala creation and kids activities. All welcome, entry by donation.

SATURDAY 26TH
Mad Racket Presents Fred P

Brooklyn-raised Fred Peterkin, aka Fred P, is bringing his beautiful productions and hypnotic deejaying to Marrickville Bowlo. Joined by Racket residents Simon Caldwell, Jimmi James and Ken Cloud, get loose into the early hours of Sunday morning!

SATURDAY 26TH
Beached Az Film Festival

Laugh your way through all 21 episodes of the cult-animated comedy Beached Az, which will be projected at the iconic rooftop of the Australian National Maritime Museum. Created by Jarod Green, Anthony MacFarlane and Nick Boshier the series is a brilliant collection of comedic conversations highlighting social differences. Free entry.

SATURDAY 26TH
Masterpieces From The Lewis Collection

From the magnificent private collection of British businessman and avid art collector Joe Lewis, comes six outstanding works including paintings by Picasso, Bacon and Freud on display at the Art Gallery NSW. The exhibition entitled In the Flesh offers an intimate encounter with the human figure. Free admission.

SUNDAY 27TH
Southern Smoked Swillfest

Frankie's is firing up the ol' smoker to char out another hearty Swillfest. There'll be smoked meats and country music aplenty, featuring the likes of Morgan Evans, 50 Million Beers and The Sweet Jelly Rolls, plus many more. It's party time!