Ice-cream is a dicey topic: you've got the purists who'll do anything for a spoonful of vanilla bean, then the fruity flavour lovers who are all about the brave new world of flavour mash-ups, and the choc-mint fans who swear it doesn't taste like a mouthful of toothpaste (yeah, right, you guys keep on telling yourselves that).
With ice-cream maestros Häagen-Dazs™ launching their Häagen-Dazs™ House in Sydney, which is home to 12 mouth-watering flavours, we've been wondering... What exactly does your favourite ice-cream flavour say about you? Read on for a highly scientific breakdown of our insights.
Caramel Biscuit & Cream
You are ALL about the bells and whistles—from your smart phone to your bathroom taps, if it comes in 24ct gold you'll take that one, thank you very much. As for your dessert choices, make it sweet, smooth, crunchy and creamy, all at once—and then pass you a spoon that's a royal heirloom to eat it all with, amirite?
Pralines & Cream
On the surface, you're a 100% placid, normal human being with a job in finance and a cat called Nora. But give you a few cocktails at the end of a long week and you're guaranteed to be dancing on the table, belting out a classic, 'School of Rock' style, before demanding that your cab driver take you to the airport to jump on the next flight to Vegas. Ouch.
Mint Leaves & Chocolate
It might by the year 2016 but you're still embracing a look that's more cat lady than catwalk, and you are convinced that the Egyptian pyramids were build by aliens. Your mates might complain that your, um, eccentricities can be a liiiiittle off-putting, but you remind them that the only voices you have to answer to are the ones in your head. Mint and chocolate is right up there with peanut butter and salt'n'vinegar crisps as your favourite flavour combinations—and you Just. Don't. Get. why the rest of the world doesn't feel the same.

Vanilla
You're the all-white sneaker-wearing, hipster backpack-owning, super-minimal watch-wearing champion of normcore classics. Your palate can't handle much more than vanilla, and—as long as it's of the highest quality—you are quite alright with that. Don't knock a classic.
Strawberries & Cream
You love a little sweetness in life, so much so that you've started a Pinterest board that's dedicated to all pink-and-white everything <3 <3 <3. You can't get enough of those flouncy floral headpieces and embrace them even when it's not Cup day. If you're treating yourself, you'll allow yourself a scoop of strawberries and cream AND a pumpkin spice latte within the same weekend.
Raspberry Sorbet
Bada-BING! You looooove a little spark and zest in life, and when you're not letting loose at a bush doof or finding yourself at hip-hop yoga, you're perfectly happy sunning yourself amongst nature and licking a freshly scooped cone of raspberry sorbet.
Macadamia Nut Brittle
You lift monster truck tires for fun, and you pretty much wrote the rule book for those extreme decathlon challenges. You eat an entire tub of Macadamia Nut Brittle right after you finish 2kg of wagyu beef and at least three heads of broccoli—and that's just for an evening snack. Balls of steel? We're talking balls of protein, mate.
Green Tea
From riding a bamboo bike to your native landscape gardening job, and wearing only fibres that have died from natural causes, zen living is central to everything you do. You'll do anything for a delicious mouthful of matcha, especially if it's paired with a sip of your mate's new kombucha-coconut water hybrid. Plus, everything green is good for you, right?!
Coffee
Ice-cream is a challenge because your caffeine jitters keep making the scoop fall off the cone—but hey ho, you'll soldier on through one delicious mouthful at a time until it's time take your diazepam and get the 3 hours sleep you run on every night.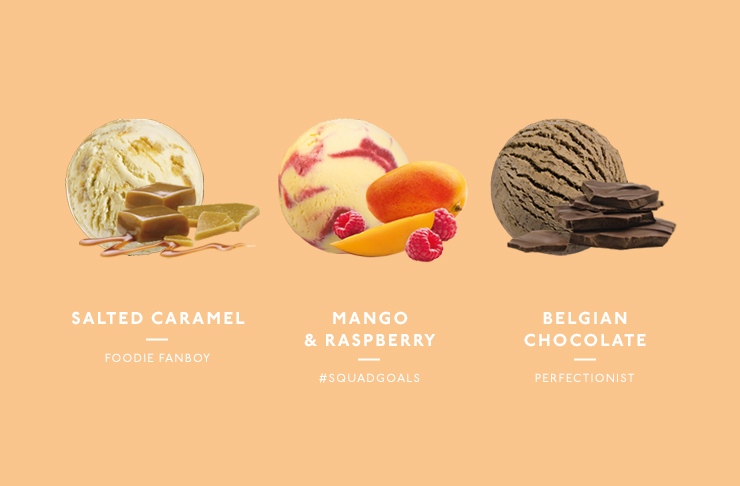 Salted Caramel
You're a total fanboy/girl of the latest food trend and are proud to say that you've sampled every bacon glazed doughnut, double-fried chicken burger, and lobster mac'n'cheese bombe in the country. You're all about the Insta factor when it comes to food, and queuing 6 hours for the latest pop-up is totally worth it. Freakshakes come and freakshakes go, but salted caramel is forever.
Mango & Raspberry
The idea of more than 72 hours passing without hanging with your #squad makes you dry-wretch because your crew is EVERYTHING. When it comes to social occasions, you don't do anything without at least six mates present, and your Snapchat feed is basically a live stream of beach dates, bar crawls and hangovers en masse. You are all about trying anything and everything once—which unfortunately includes 90s cartoon character tattoos. YOLO should've been your middle name, you mango and raspberry-fuelled firecracker.
Belgian Chocolate
You know all too well that the devil's in the details, and when it comes to anything that you're involved with—your work life, your home style, your hair—you're a total perfectionist. You always opt for Belgian chocolate because it perfectly matches the colour of your custom-made Italian leather handbag and miniature Beagle.
Häagen-Dazs™ House runs from Saturday 7–Saturday 21 May at the Overseas Passsenger Terminal at The Rocks. Read our preview article, and head on down to the Häagen-Dazs House for a scoop or three.
Show us your fave Häagen-Dazs™ ice-cream Instagrams using the hashtags #helloaustralia & #hellohaagendazs
---
Image credit: Häagen-Dazs
Editor's note: This article is proudly sponsored by Häagen-Dazs and endorsed by The Urban List. Thank you for supporting the sponsors who make The Urban List possible. Click here for more information on our editorial policy.