Often overshadowed by their distant cousin, the pancake, waffles are making a huge comeback across the Gold Coast and, predictably, the world. No exaggeration, guys.
What once was a simple batter and maple syrup combo with the occasional icing sugar dusting is now transforming into so much more. Oozing with chocolate or relish, bananas or bacon, there's a salty, sweet or savoury treat out there for all of us and here are the best waffles on the Gold Coast that were made to be loved.
Dragonfly Waffle | Dragonfly
Broadbeach
We could waffle on all day about Dragonfly's signature Hong Kong style bubble waffles made with a condensed milk and vanilla custard batter, but we're not going to. Okay, we lied, let the waffling begin! Along with having a totes unique tasty foundation, these little delights include a mini Magnum ice cream smack bang in the middle. How ballsy is that? "You want a dessert? You'll get two!" Add in a scatter of seasonal berries, pistachio praline and a final sprinkle of edible flowers, and this has gotta be one of the most gush-worthy waffles on the Gold Coast. All for just $18—make that a double!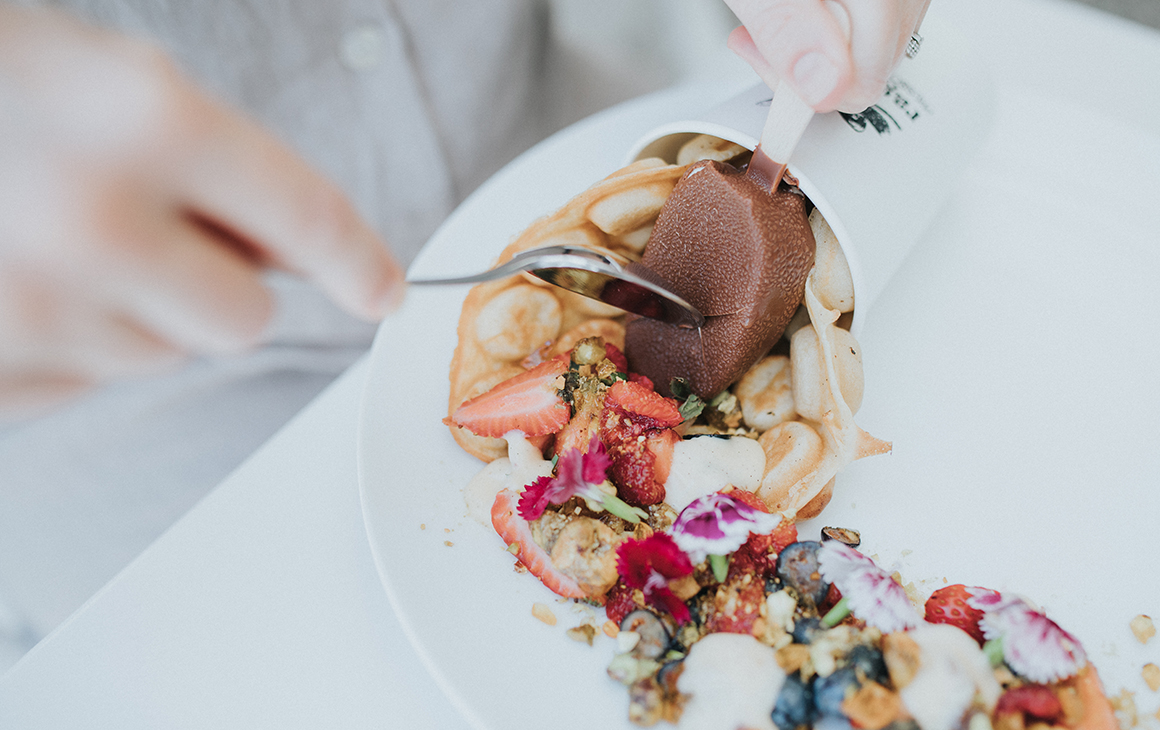 Super Oreo Bubble Waffle | Bubbo Dessert
Surfers Paradise
Fresh kids in town, Bubbo Dessert, have rolled into the Gold Coast and we're pretty bloody excited to have them. Setting up shop in Surfers Paradise, these traditional Hong Kong style egg waffles are bubblier than your regular waffle but that's for one very good reason. To use each air pocket as a secret snack stashing spot, duh! With so many waffle styles and flava flaves, we can't go past the Super Oreo. Oreo crumbs are skillfully hidden between the layers of each waffle, topped with ice cream, a coupla bikkies and rolled into a cone. Budda bing, budda boom, you've got yourself one of the best waffles on the Gold Coast.
Savoury Breakfast Waffles | Elk Espresso
Broadbeach
Prefer your waffles with a side of spice? We'll be honest, the experimental bunch at Elk Espresso have surprised us with some of their more unique dishes over the years. And when this lil creation hit our desk for the first time, we were intrigued yet totally confident that Elk was onto another winner. Pairing freshly made waffles with succulent buttermilk fried chicken, jalapeno maple and blackberry butter, Elk's savoury waffle serves as an interesting, yet totes delectable dish perfect to devour anytime of the day.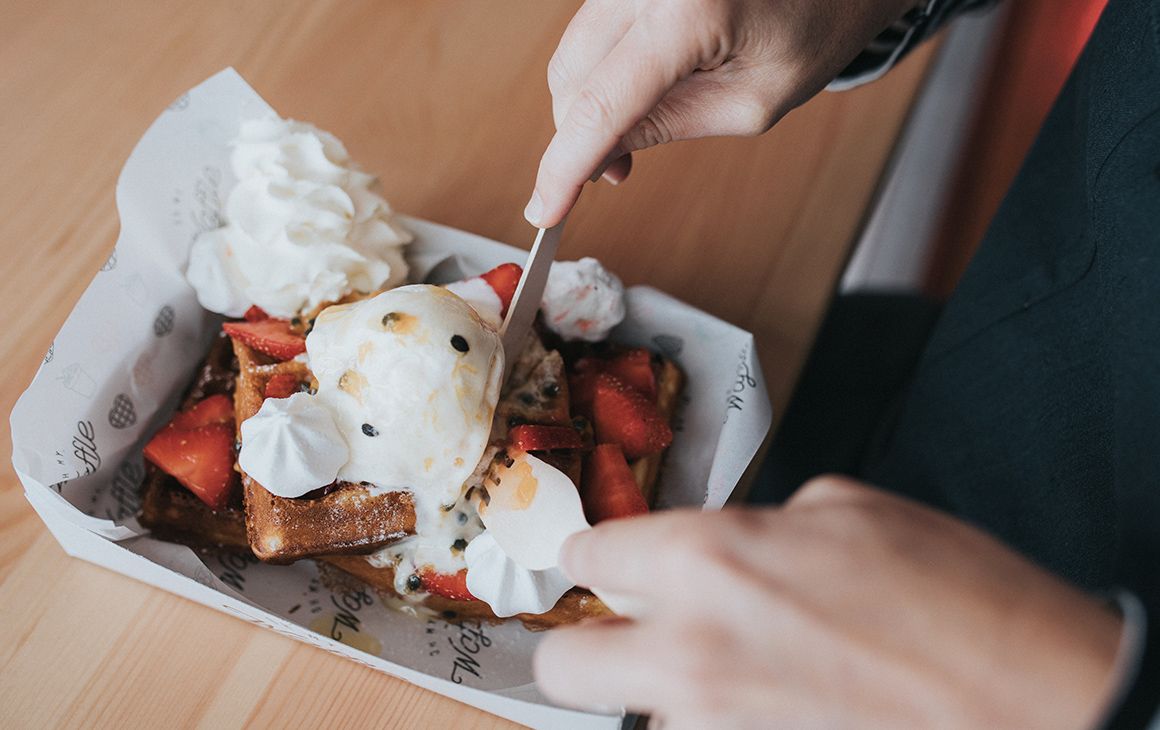 Anything On The Menu | Oh My, Waffle
Burleigh Heads
If you thought that waffle heaven was simply a distant mirage on your dessert horizon, think again. Offering OTT milkshakes and deliciously decorated hot choccies, put aside a good 10 minutes to peruse the waffle menu at Oh My, Waffle. Crisp, golden waffles topped with creamy milk chocolate, homemade Oreo whipped cream, a sprinkle of Oreo crumb, plus cream and iced cream, we'd just about follow Alice in Waffleland down any rabbit hole. And if you're looking for a vegan waffle option, the gals have you covered too. The Halle Berries not only has a downright fabulous name, but it's also a delicious medley of all of the tasties. Golden vegan waffles drizzled with premium dark chocolate, an assortment of berries, housemade honeycomb and vegan vanilla bean ice cream. With options ranging from $14 to $16, we say skip dinner and head straight to Oh My, Waffle for one of the biggest selections of waffles on the Gold Coast.
Chicken & Waffles | Easy Street Diner & Luckies At The Collective
Mermaid Beach & Palm Beach
It's no secret that Easy Street Diner and its lil' bro Luckies at The Colective have some pretty diehard fans. Not only for their dripping-with-cheese cheat meals, but also for their out of the box menu items. Offering Belgian waffles baked to order, topped with crispy chicken tenders, maple syrup, whipped butter and optional bacon, Easy Street Diner's Chicken and Waffles are legen, wait for it, dary. The perfect loophole for a breakfast meets lunch decision debacle, everything about this dish is oh so right.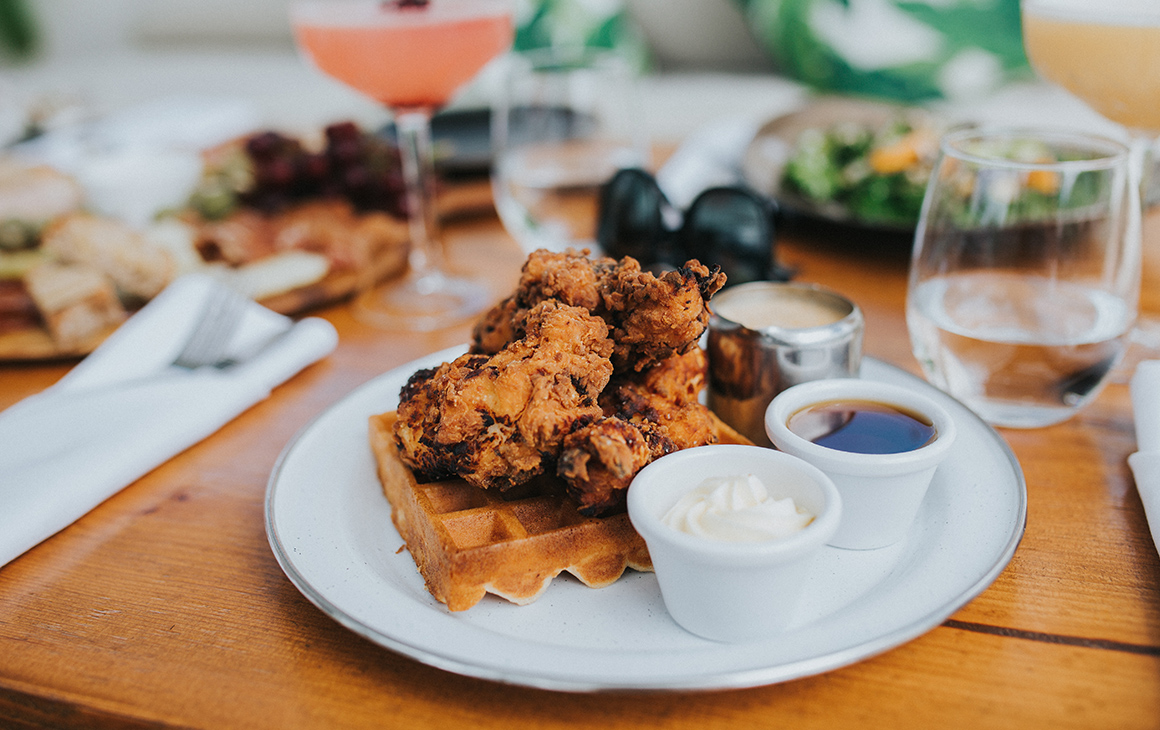 Nutella Waffles | The Loose Moose
Broadbeach
When we're not eating Nutella from the jar and then blaming it on the dog, we're scouring the Gold Coast for socially appropriate Nutella based meals. The Loose Moose can do no wrong and taking all of their eats to the next level is no new venture. And in true Loose Moose fashion, their Nutella Waffles are out of this world cray cray. Lashings of Nutella cover a delish buttermilk waffle, then add in a toss of roasted hazelnuts, a drizzle of raspberry coulis, dollops of vanilla mascarpone, creamy vanilla bean ice cream and fresh berries, and voila! Sex on a plate. Pick this bad boy up for just $16.
Waffle Burger | Tella Balls Dessert Bar
Surfers Paradise
Fact: Anything with a couple of pieces of fruit on it is way healthier than anything without. Another fact: Burgers are way healthier without cheese. So scoffing down a Waffle Burger at Tella Balls Dessert Bar is totally fine, okay? Teaming two fluffy waffles with banana, chocolate, strawberries and housemade vanilla bean gelato, follow the trail of drool to this fave Surfers Paradise chow down spot. Check out their old school milk bar, pancakes drowning in chocolatey goodness or pick up some downright delectable crepes. BYO appetite for a serious waffle scoffle.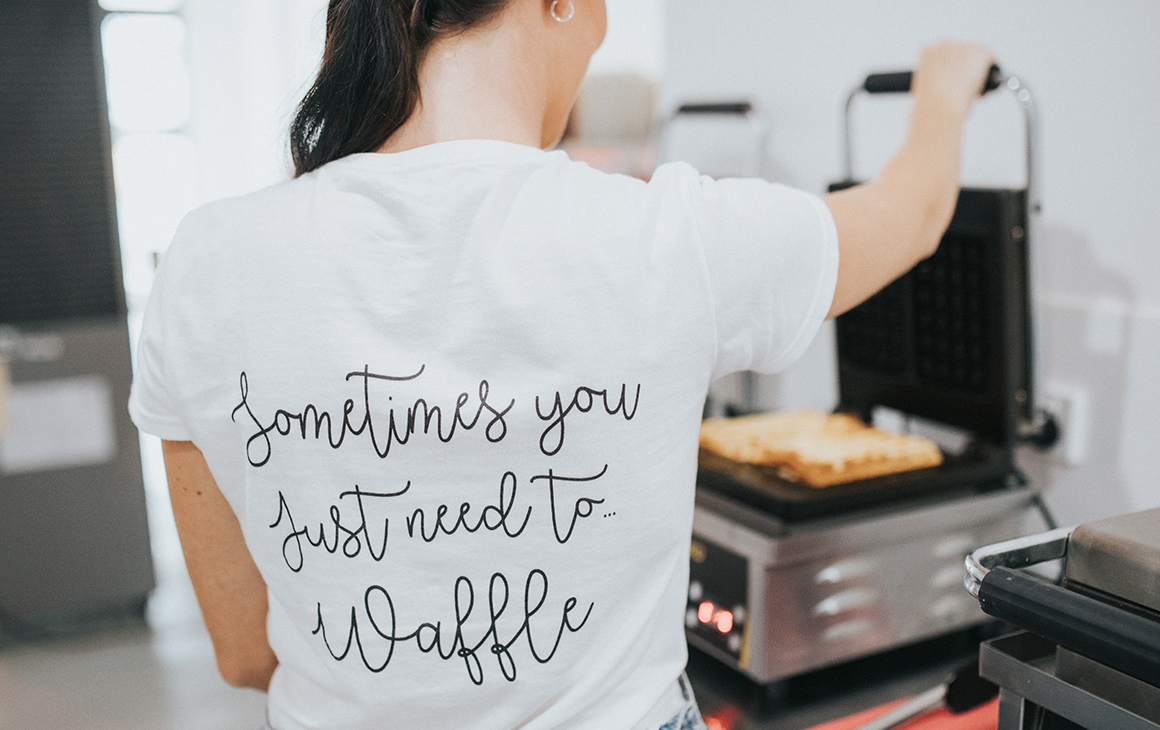 Cornmeal Waffles | Cardamom Pod
Broadbeach & Southport
Is savoury your jam? The groovy cats at Cardamom Pod are not just a pretty face, y'know. Dishing up vegan and vegetarian meals is their specialty, but showing that even the biggest of meat lovers can also love a new take on an old fave is another super power too. The Cornmeal Waffles are a clever creation of corn fritters stacked with tomato, chutney, avo and BBQ tempeh. We told you it was good. Add a side of kombucha and you have found the healthiest darn waffles on the Gold Coast, friend.
Cinnamon Waffles | Alfred's Diner
Mermaid Beach
Oh baby, that's one way to wake up in the morning. The selection of acai bowls, burritos and burgers at Alfred's Diner are obvs delicious. But they can get a little overwhelming when you've got a sweet spot for morning desserts. Luckily, indulging in a well deserved early morning sugar hit at old mate Al's is totally doable. A modest piling of cinnamon, mascarpone, maple syrup, seasonal fruit, icing sugar and of course, waffles. A quick stroll on the beach should work this cheeky dish off…Or so we've heard.
Worked your way through the best waffles on the Gold Coast? You'll probably be needing this then.
Image credit: Hayley Williamson for The Urban List