Last weekend something very special happened at the northern end of the Gold Coast. Something that's been a long time in the planning and eagerly anticipated since news broke earlier this year.
Something that will forever change the face of weekends for the surrounding community, and is certain to attract inquisitive visitors from further afield.
Gold Coast's deserving northerners got their very own night market. And it is epic!
NightQuarter is the shiny new twice-weekly event which burst open its doors to throngs of enthusiastic folk in Helensvale last Saturday.
But if you missed out on the grand opening, good news is, NightQuarter returns this weekend and is here to stay—every Friday and Saturday evening, between 4pm and 10pm. And you are definitely going to want to check it out!
Metropolist got among the action, moseying and tasting our way around the eclectic sprawling night market that was bursting with energy, colour, and plenty of ridiculously good smells.
Arriving on dusk, we wandered around every new corner wide-eyed with discovery and awe. It was the same childish excitement I vividly remember when the annual fair would roll into town. Except this was permanent, and we could return as often as we wished.
First to check out were the dozens of creatively upcycled shipping containers circling the perimeter. Painted canary yellow with cute red and white candy-striped awnings—they were converted into pop-up fashion boutiques and mini homewares stores, as well barbers, beauticians, henna tattooists, and a flower market. At the rear of the venue, a massive undercover entertainment area branded The Paddock was alive with drumming and fire jugglers under lights, and was an exciting indication of Helensvale's new capacity for live music events.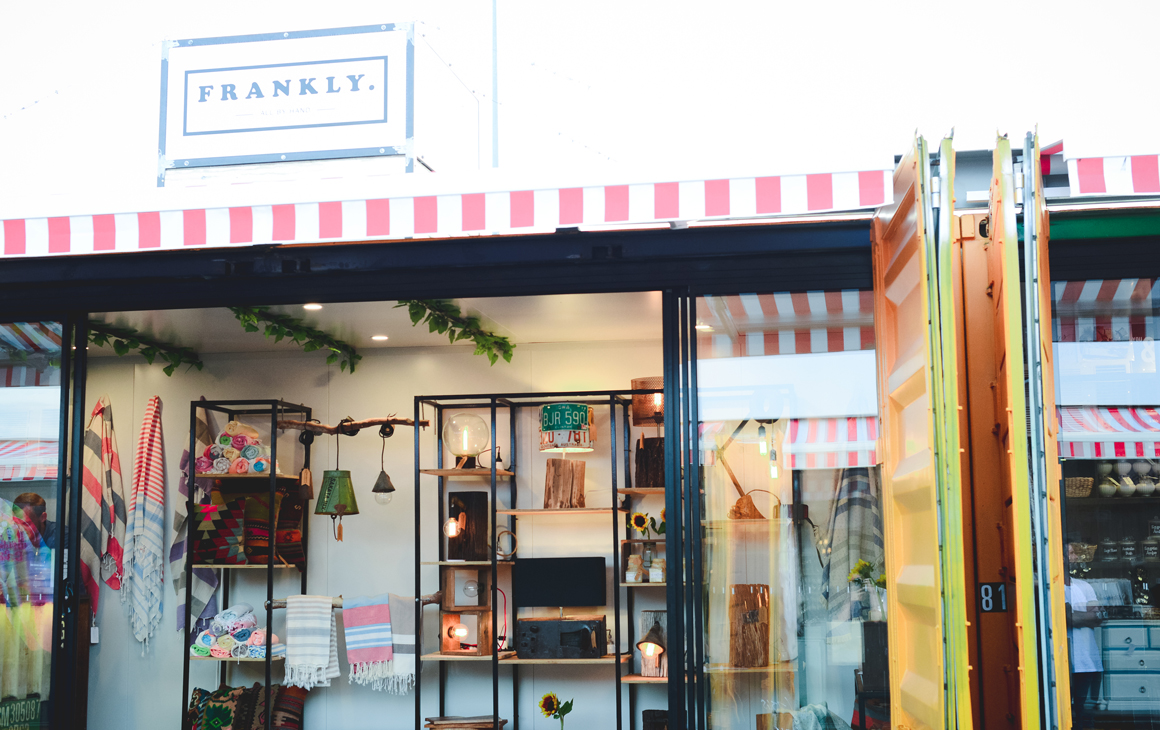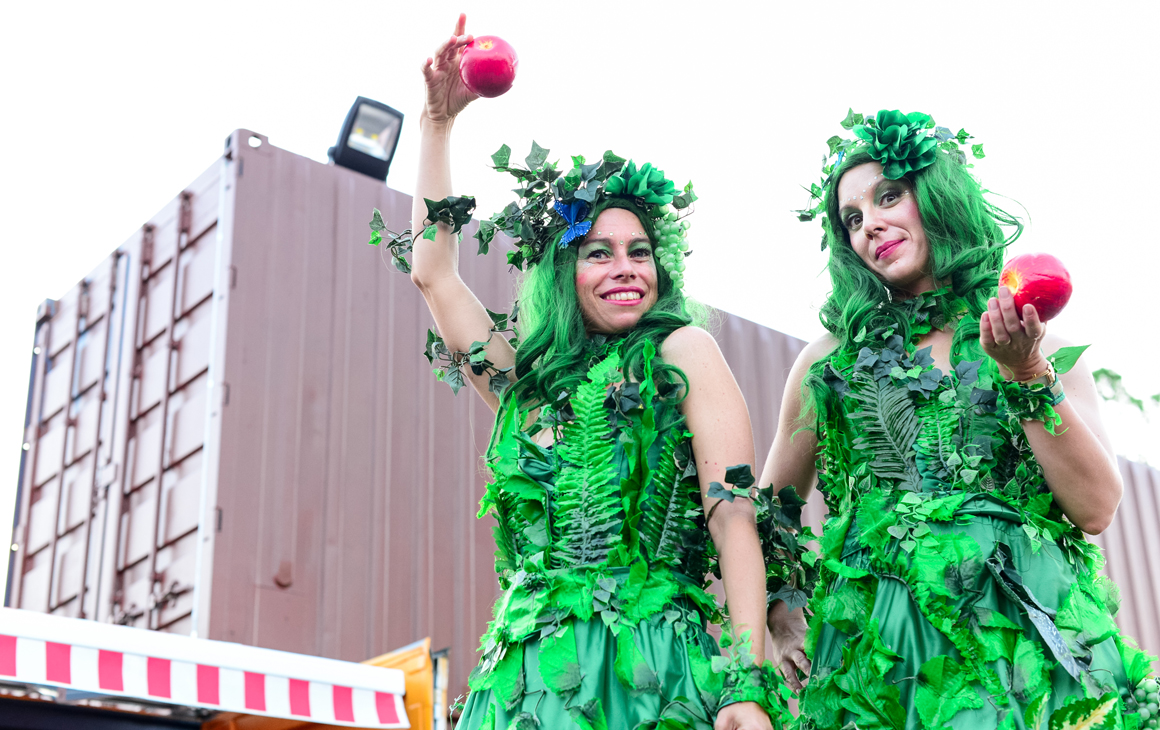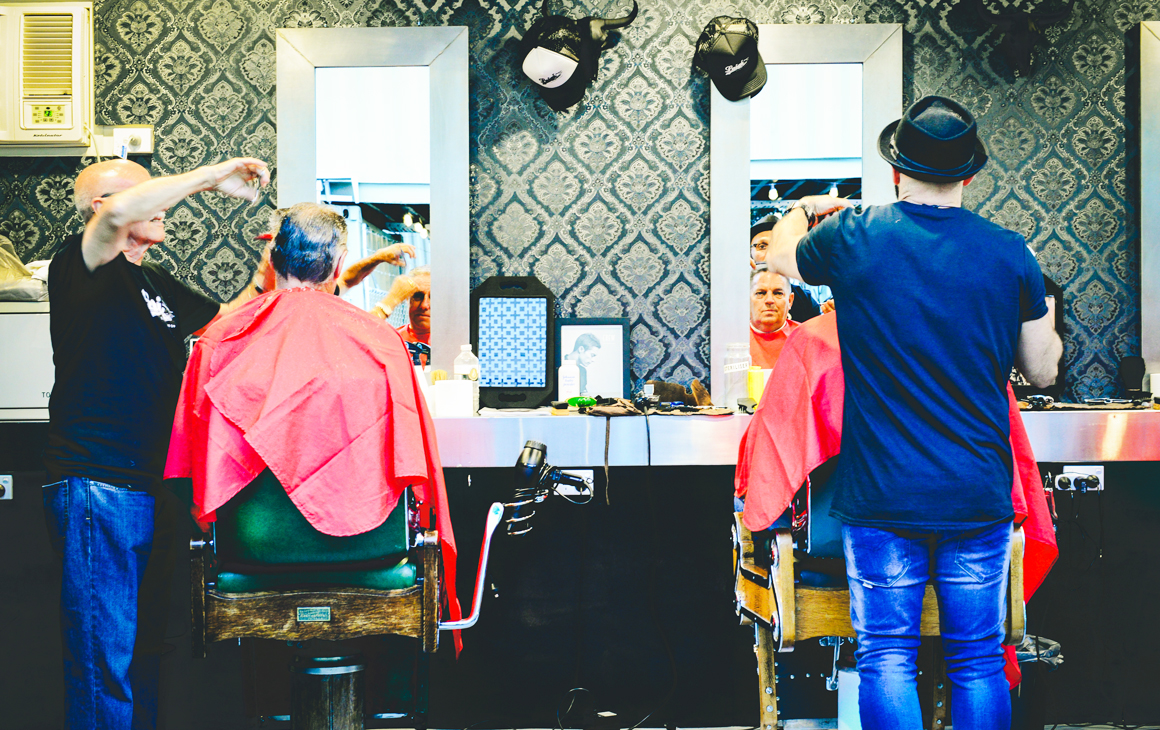 My hard-to-impress partner in crime was seriously impressed and insisted we explore every last corner of the market festivities before tackling the difficult task of deciding where to eat.
Where to eat? Oh the dilemma! A problem that's amplified when accompanied by an indecisive Libran. I can not remember the last time I saw such variety in one compact venue, with continuous waves of hunger-inducing smells taunting us with every few metres covered.
It was an international affair from home-grown Aussie bush tucker like kangaroo and crocodile, to Canadian poutine and turkey rolls, Spanish paella, American slow-cooked BBQ, Turkish gozleme and kebabs, Greek souvlaki, German schnitzels and bratwurst, Hungarian langos, and South East Asian dishes of all variety. Not to be forgotten were established Gold Coast favourites such as Longboards Burgers and California Tacos. Eat your heart out!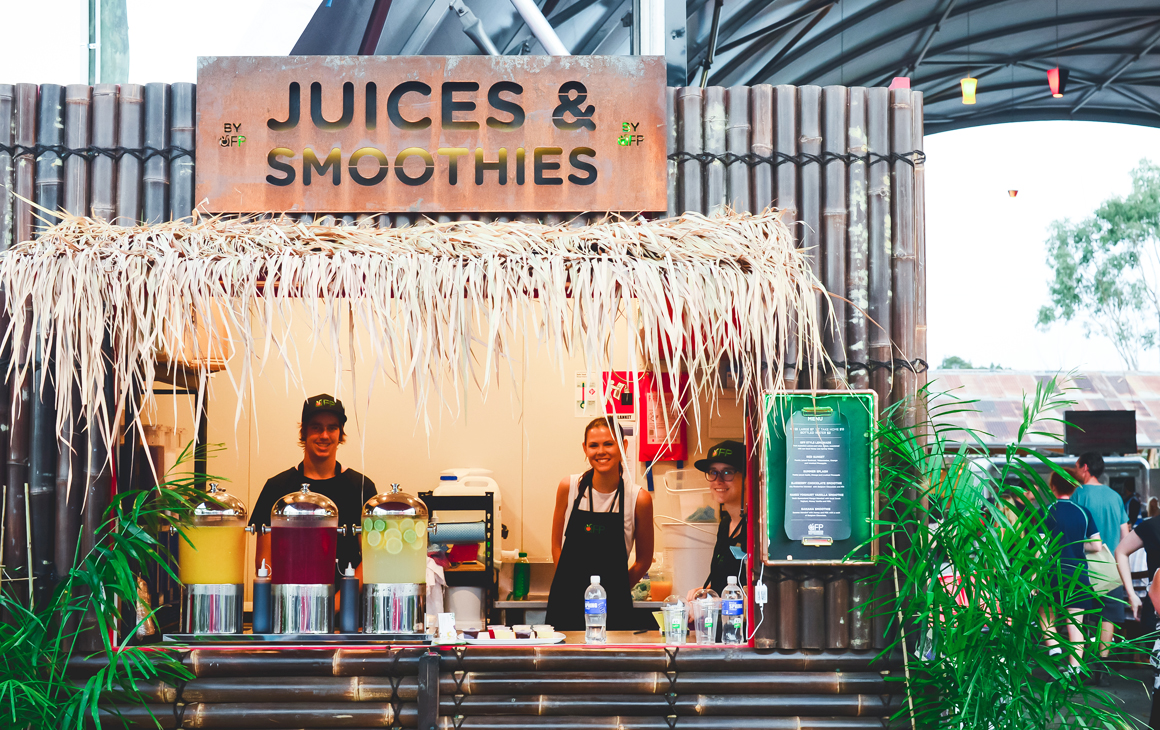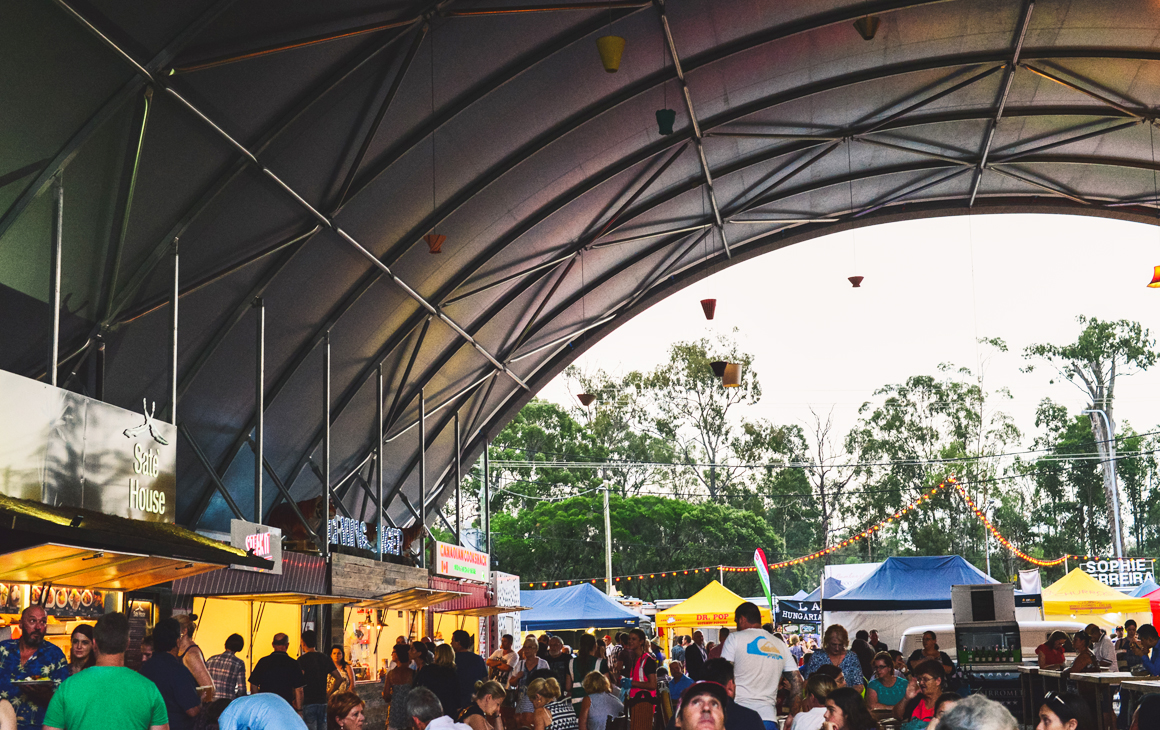 Trust us, you'll want to be leaving room for sweet treats like fudge, cronuts, cakes, candied popcorn, refillable iced teas, fresh-squeezed juices, funnel cakes, Belgian waffles, Dutch pancakes, injectable donuts, churros, and ice cream spiders. Ice cream spiders!!! Squeal!
I wish I'd come wearing looser pants.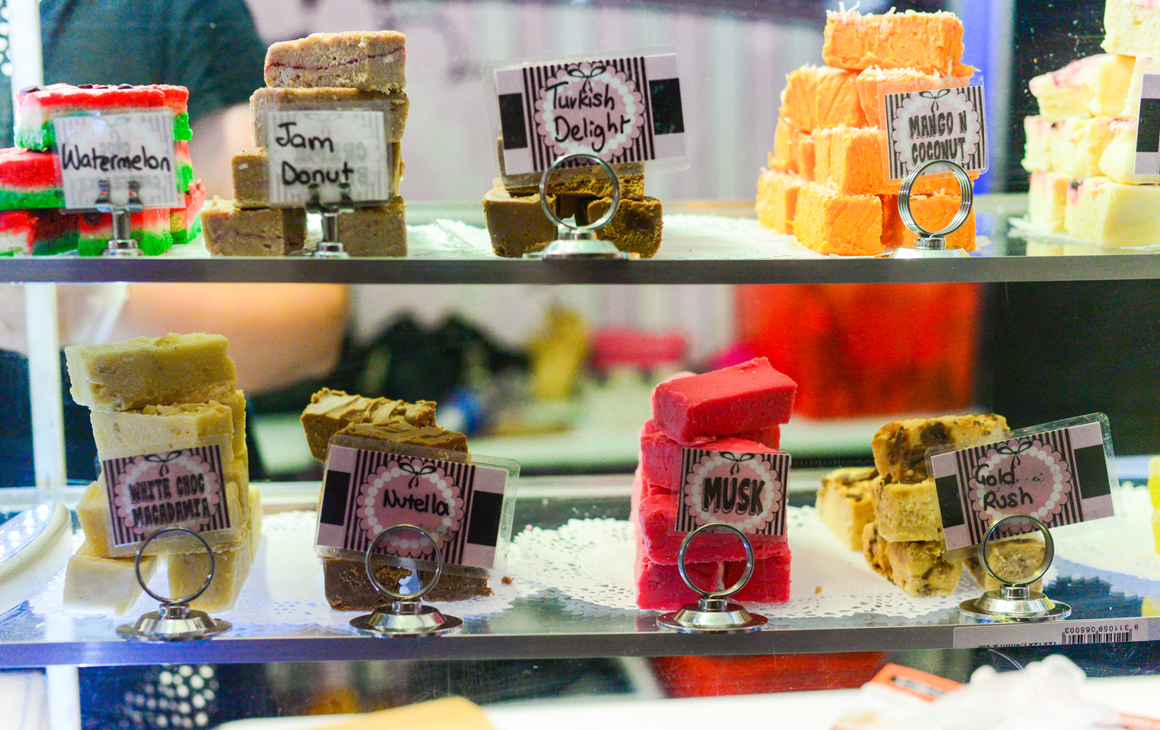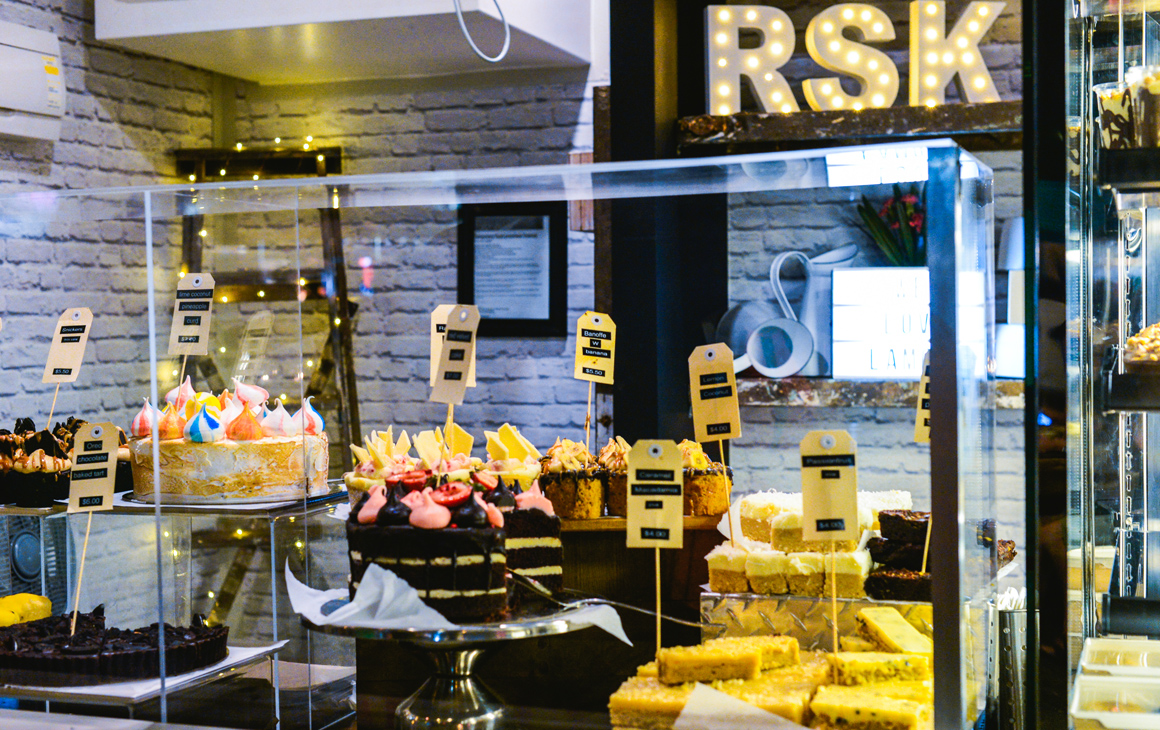 Grabbing a few bites under the towering domed roof of Hawker Street, we moved next door to buzzing Tapas Street, where the soulful sounds of a smooth surfy crooner drew us in for craft beers and shucked oysters. We didn't make it into The Backyard, a cool undercover Aussie barbecue-slash-outback-pub shin-dig with bar and hay bales. Next time!
What's more, the entire indoor-outdoor venue is licensed so you can peruse the markets, drink in hand. Not bad, huh?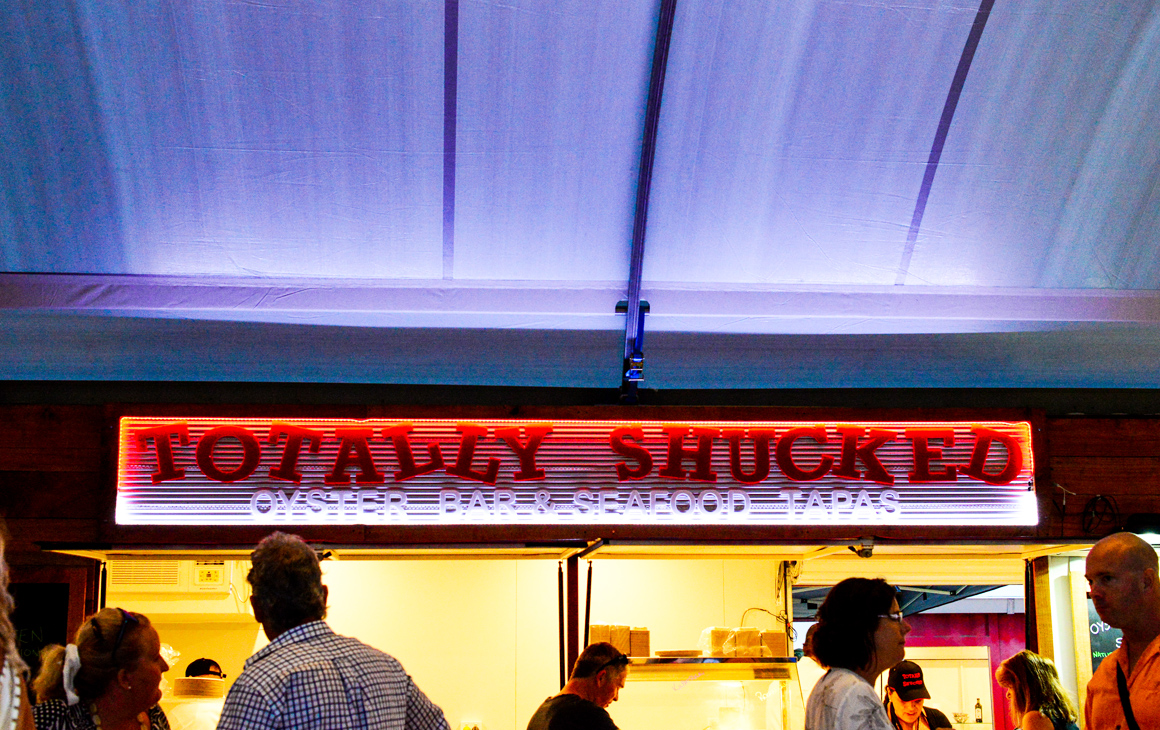 It was at this point we had regretted driving. It doesn't help when home is the southern Gold Coast and the train line doesn't quite run that far. For those with access to the train—take it! Helensvale Train Station is conveniently located across the road, so you can graze your way around the precincts, while sipping on craft beers or vino tastings from the Sirromet Kombi, and then let someone else get you home safely.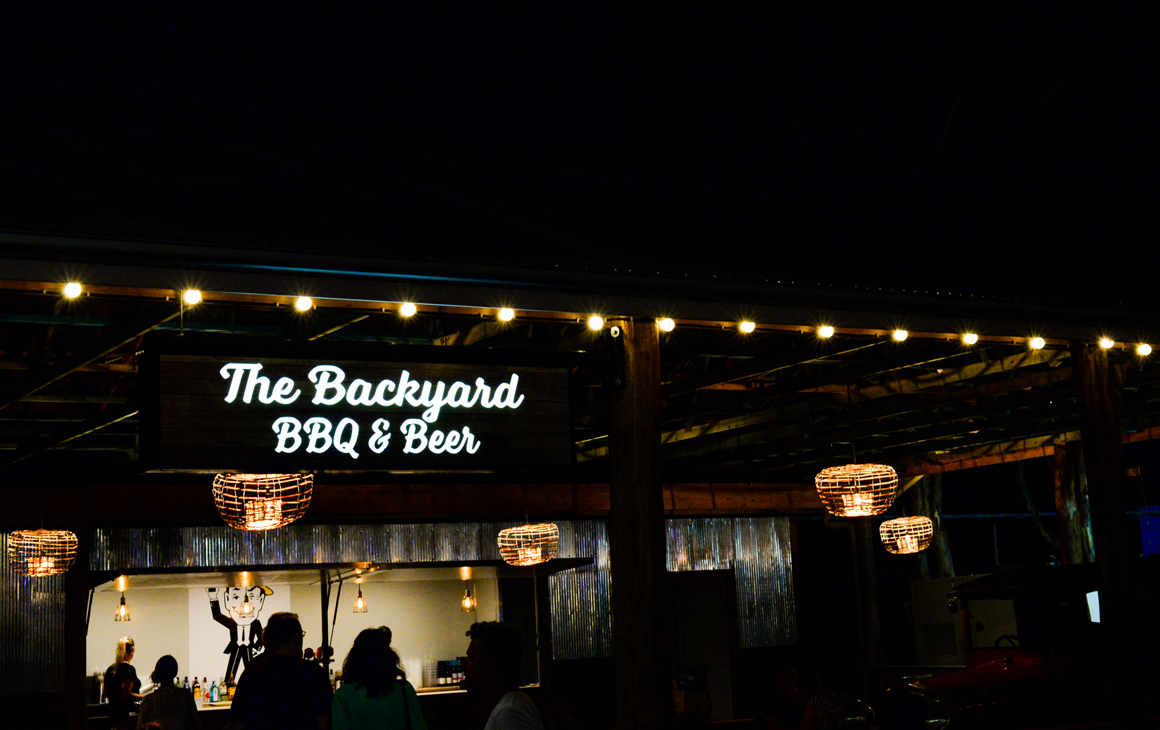 That said, for those who do choose to drive, there's ample free parking at the adjacent Westfield Helensvale—access is an absolute boon for this once under-utilised location.
It's so wonderful to see established business-owners alongside mum and pop entrepreneurs making their first foray into the market scene. So much local love, talent, and positive energy wrapped up in an atmospheric twice-weekly festival. Helensvale you have been spoilt.
Thanks for the good times NightQuarter. We'll be back!
Where: 1 Town Centre Drive, Helensvale
When: Every Friday and Saturday night, 4pm—10pm
Cost: $3 entry fee, children under 12 are free (a portion of which goes to Starlight Foundation)
When Brooke Darling is not travelling to far flung places or sailing around the world, she's scouring the coast for the best ethnic food, new openings, and hidden gems, all in the name of research for Metropolist. She loves motorbike rides to the hinterland, learning (frustratingly) to surf, and will try any adventure sport at least once. Find her on Instagram @darlingisamrs
Photo Credit: Brooke Darling for Metropolist