We eat out a lot here at The Urban List. Like…a lot. Probably too much. So, when we say Mermaid Beach's newest after-dark offering, The North Room, is one of the most outstanding dining experiences we've had on the Gold Coast in recent years, you can take that baby to the bank.
It's not the first time we've met power duo Tim and Shannon Stewart and, by gosh, we've been spoilt now they've taken the plunge to open their first solo venture on the Coast.
Talented chef Tim and his wife Shannon, who effortlessly commandeers The North Room's intimate dining room, originally opened their own cafe—Pippi's in Yamba—in their early 20s, afterwards moving to the Coast with stints at Honey Eater Kitchen, Videre and Jimmy Wah's between them. When struggling to find a fanciful restaurant for their wedding anniversary earlier this year, they were motivated to bring a casual yet polished European-style offering to Gold Coast diners. It was their migration 'north' and their previous connection to the fertile Northern Rivers via Pippi's that inspired the name—The North Room. And it's clear we're the real winners here!
The first thing we noticed when we stepped off the sidewalk and into the tiny 28-seat restaurant was that it was dark, like, 'did someone forget to turn the lights on?' dark. The North Room is quite possibly the moodiest and most dimly lit eatery on the Coast, in a good way.
Aside from the lighting; the room, no larger than a grand master bedroom and just as cosy, is minimalist with brushed concrete tiles, dark wood tables, white paneling lining the walls, and a custom-made and oh-so sinkable ink blue velvet banquette running one length of the room. There's also a luxe marble-topped bar with bar stool seating for up to eight diners; perfect for those who wish to swing past for a vino and one of chef Tim's artfully-presented share plates.
With a burger and pizza joint seemingly popping up every other week (don't get us wrong, we loooove a good burger), it was pure joy to be spoilt with a refined dining experience combining faultless, personalised service, buttery smooth ambiance and an ever evolving menu that champions the finest of seasonal, locally-sourced produce.
We start where every date night should, with a glass of Laurent-Perrier champagne as we pondered the compact menu and quickly opted for the five-course tasting option ($59 per person) with paired wines (price varies). An intriguing mini 'snack' arrived at the table (vegos look away)—crispy, paper-thin chicken skin sprinkled with Tim's homemade gherkin salt (um, where has this been all our life?). A fresh-out-of-the-oven pretzel bread roll with cultured butter was next-level delicious; we were already spellbound and the first official course had not even arrived yet.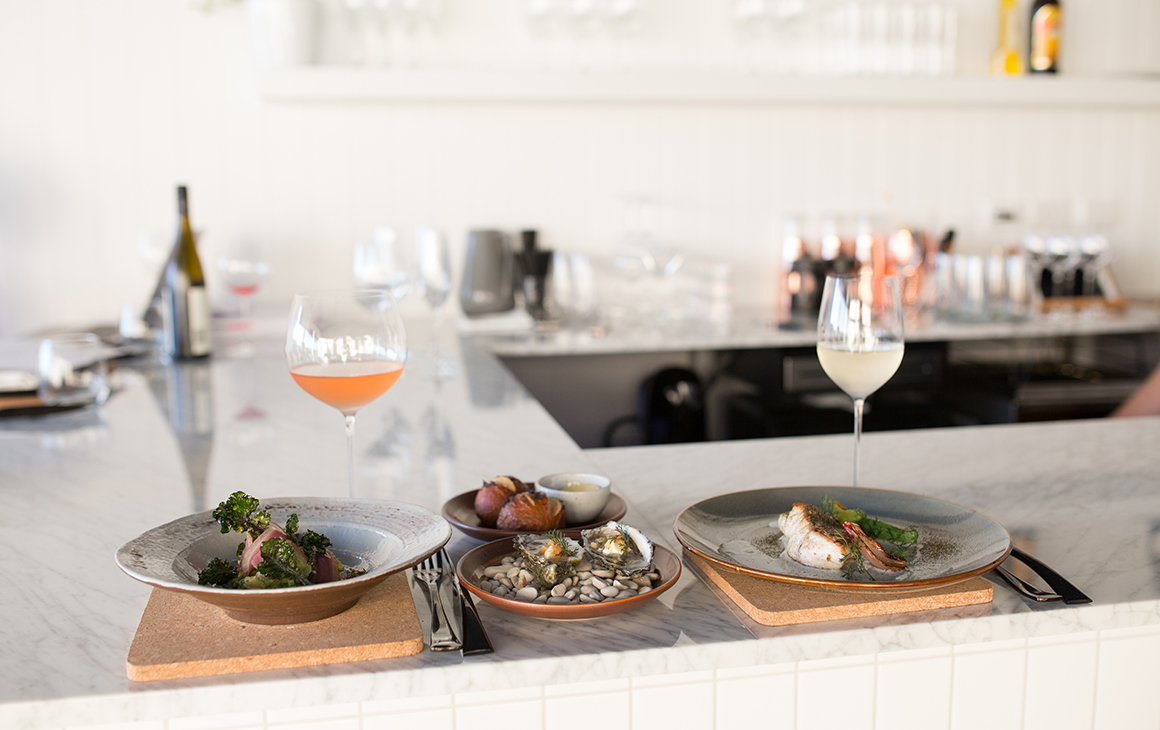 What happened next was like a succession of scenes from a food-lover's dream. We've never seen a plate of oysters look so pretty—fresh-shucked with smoked pork fat, rosemary and lemon, served on pebbles in a powder-blue bowl. There was whipped cod, adorned with white anchovies, pickled onion and crispy rye breads for spreading the creamy fish; seared to perfection pork topped with moist nashi pear and curry leaf, followed by beef short rib served with maple jam, burnt onion, celeriac and cured yolk. Each dish presented with another glass of wine that topped the last.
Co-owner Shannon is fiercely proud of her mostly Australian wine list, with 18 of the 21 bottles available by the glass and options rotating monthly, including drops that you won't find anywhere else. Such as Fleet's Cabernet Franc produced in South Gippsland, Victoria, by winemaker Justin Jenkins, an old school friend of Shannon's. If the delicately stemmed glasses feel luxurious, it's because they are. Riedel crystal glassware that somehow makes you feel like a baller with every sip.
For a wee $5 extra on the tasting menu, your night will end with the chef's dessert selection. Tim's choice on the night was a plating of beetroot meringue shards, strawberry sorbet, tart yoghurt and beetroot dust. Swoon. When did you last eat beetroot for dessert? Yeah, so we thought, never.
What you shouldn't be, is intimated by a menu littered with ingredients like kohlrabi (a radish-like vege) and guanciale (Italian cured pork). Any foodie worth their salt should know when to put their trust in a chef and a night at The North Room is one of those times to get adventurous. Not only will you walk away having sampled some of the most divine dishes on the Coast, you'll get schooled on some new lingo that you can next whip out to impress your other foodie friends.
So, are you sold yet? You should be! If The North Room is not date night material, we don't know what is. Now open Wednesday to Saturday for dinner, plus Friday to Sunday for gorgeous long luncheons, get yourself along and let us know what you think.
Where: 1/2527 Gold Coast Highway, Mermaid Beach
Date night sorted? If you're looking to punch on, here are some of the Gold Coast's best bars to keep the night rolling...
Image credit: Hayley Williamson for The Urban List