Here at Metropolist you could certainly say we're partial to a burger or two. I mean, isn't everyone?
We eat them pretty much four out of seven nights a week and we have our own internal burger rating scale… What I'm getting at here is that we f**king love a good burger.
So, we thought it would only be fair to step things up a notch, team up with our sister site The Urban List,  and impart our ultimate favourites: we've gone national and found the absolute best burgers in Australia.
Note pad and pen at the ready!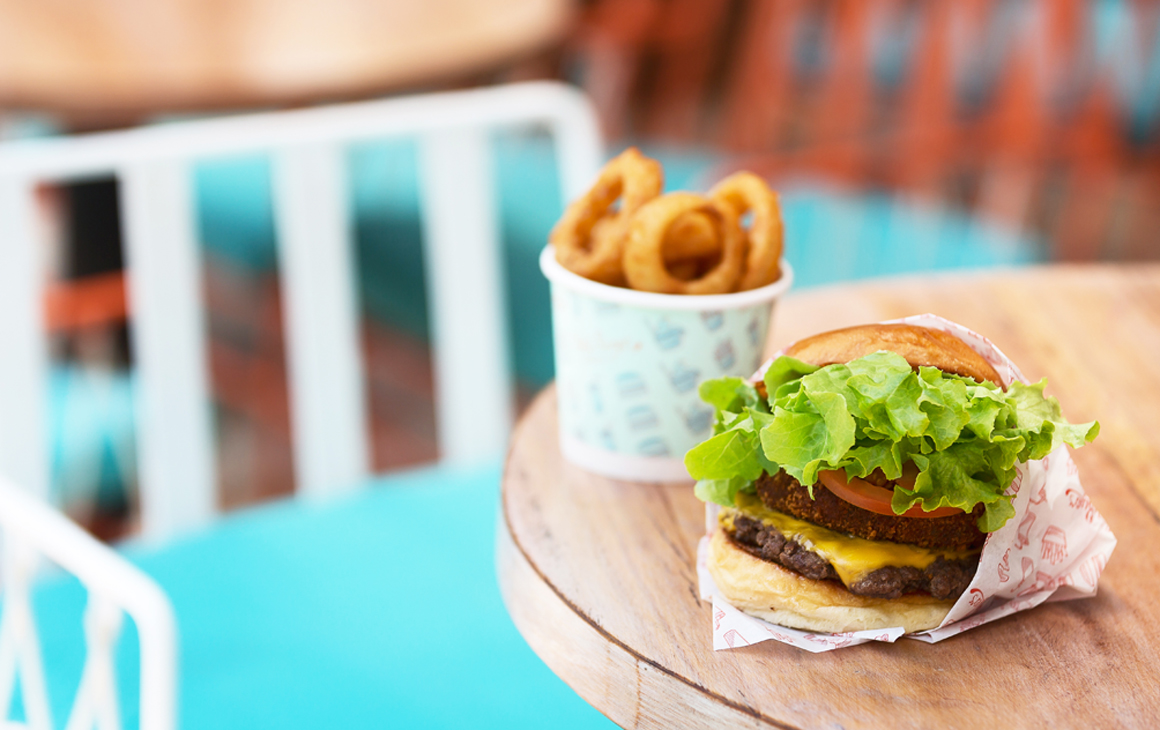 Queensland
BEN'S BURGERS | BRISBANE
Ben's Burgers is an institution in Brisbane. The no frills, no substitution burgers are simply perfect. Tender beef patties, milk buns, Ben's special sauce and oozey, melted cheese. There's the classic, the cheesey and the vego option. Order a milk shake (or a beer) on the side and call it a day.
BETTY'S BURGERS | NOOSA
Betty's Burgers have worked up quite the reputation Australia wide. The burgers dished out here are pure, unadulterated deliciousness. In case you couldn't pick up on the theme, Queenslanders like their burgers done simple and Betty's is no exception to the rule. Plus, being in Noosa means that the burgers taste better because the scenery is epic.
FRITZENBERGER | BRISBANE
Fritzenberger is a bit of a newbie on the Brisbane burger scene, but having already earnt a place on this list you can guarantee they're going to be an 11/10. The service is quick, the burgers are delicious and they have Twistie-salted fries. What more could you want?
CALIFORNIA NATIVE | BRISBANE
As the saying goes, everything is bigger is California. Even if that's not really how the saying goes, the burgers are huge at California Native. This Mexican-inspired eatery does burgers right: the Malibu wagyu burger comes stacked with cheddar, streaky bacon, chipotle mayo. Wow.
VIRA LATA | BRISBANE FOOD TRUCK
Vira Lata is one of Brisbane's favourite food trucks and, aside from their halloumi hot dog, their brisket cheese burger is kind of amazing. Plus, it's only $10! Keep an eye out for their location on their social media.
MISS KAY'S | BRISBANE
The OG burger lords from Brisbane, Miss Kay's know their way around a burger or two. There's mac n cheese burgers, giant burgers, plus a pretty insane burger eating challenge… they've got it all!
ZE PICKLE | GOLD COAST
Gold Coast's burger scene levelled-up when Ze Pickle opened their doors, and Brisbane cried real tears of joy when they opened their second store in Fortitude Valley. With a whole heap of crazy shit on their menu (deep fried oreos, for example) and burgers the size of your head, try the K F Ze deep fried chicken burger and listen to the distant whisper of us saying 'I told you so.'
JIMMY'S BURGER & CO | CAIRNS
Cairns fave burger spot, Jimmy's Burger & Co, takes the cake for some seriously delicious burgers. If you're ever up north, you can't miss this place. It's. So. Good.
BINGIL BAY CAFÉ | MISSION BEACH
Bingil Bay Café is pretty far off the beaten track, but they're burgers make the journey more than worth it. So, if you ever find yourself in Mission Beach–this is the place to check out. Trust us.
New South Wales
BANGBANG | SURRY HILLS, SYDNEY
On Fridays the burgers at Bangbang are $10, you can't really get better than that. Except that they're delicious, which is a lot better than a cheap burger. The menu boasts a pretty impressive roster of burgers, but these cheese burger is where it's at.
BUTTER | SURRY HILLS, SYDNEY
Butter is potentially the coolest fried chicken spot in all of Australia. There, we said it. Try their fried chicken sandwich and prepare to experience a full blown foodgasm.
MARY'S | NEWTOWN, SYDNEY
Mary's in Newtown are pretty much a Sydney icon. Obviously, order a Mary's Burger… because it would be rude not to. The cheese burger is also pretty epic, so whatever you order you can't really go wrong. And, OMG, there's a vege burger, too!
BURGER PROJECT | SYDNEY CBD
Neil Perry's Burger Project's place on this list is pretty self-explanatory. If a menu features rose mayo, we're obviously all about it. Every burger on the menu here is delicious and pretty much perfect, so close your eyes, point at the menu and get set for a taste sensation.
South Australia
BREAD AND BONE | ADELAIDE
Peel Street's Bread and Bone does what many other places on this don't: a crazy good seafood burger. Their soft shell crab burger is the stuff of legends, and, we're pretty sure it's the reason the southern city earned the name 'Radelaide.'
NORDBURGER | NORWOOD
Nordburger is the best. Why? Because there are potato gems on the menu. Oh, and they also do extravagant, slightly OTT burgers really damn well. Now, just come to the rest of Oz, OK?
Victoria
LEONARD'S HOUSE OF LOVE | SOUTH YARRA
We don't have much to say about Leonard's House Of Love's burgers other than they're literally the best. But, we'll also tell you that you need to order the brisket patty cheese burger because it will seriously change your life. Honestly, truly.
ROYAL STACKS | MELBOURNE CBD
The menu at Royal Stacks is a bit of an ode to our fave royals. There's the Prince Harry (fresh minced beef patty, American cheddar, Swiss cheese and a horseradish, shallot and gherkin mayo sauce) and the Miss Elizabeth (kinda the same, but with truffle mayo—very regal). In summary: you need to try this.
ANDREW'S HAMBURGERS | MELBOURNE CBD
Andrew's Hamburgers are kind of Melbourne stalwart—they've been around since 1939! It would be un-Australian to not try these burgers. Sorry, but it's true. Hit these guys up for a classic, unadulterated hamburger.
ST KILDA BURGER BAR | ST KILDA
St Kilda Burger Bar is amazing. If we're being honest, half the fun of SKBB is the names of the burgers (Uncle George, Mr Fun Guy, The Plugger) and they do combos! We love combos. On a serious note, The Grosvenor is kind of like a shrine to burgers (except you eat it): Gippsland beef, streaky bacon, shed sauce and salad. Mmmm.
TUCK SHOP TAKEAWAY | CAULFIELD
Caulfield's Tuck Shop Takeaway is the kind of throwback we love. Hand-written chalk board menus, milk bar vibes, and classic burgers. If the pretty much constant line up out the front didn't already tip you off, the burgers here are pretty freakin' good.
8 BIT BURGERS | FOOTSCRAY
8 Bit Burgers dish up a pretty nifty selection of burgers and hot dogs out of Footscray and the CBD. But, all you really to know is that the burgers here are epic. Try the double dragon or the altered beast if you want to take your burger game to the next level.
Western Australia
SHORT ORDER BURGER COMPANY | FREMANTLE
The bacon double cheeseburger at Short Order Burger Company in Fremantle will most likely (read: it defs will) change your life for the better. We're going ga-ga over their squishy brioche buns, hand-made patties and unique menu items (doughnut burger anyone?)
ALFRED'S KITCHEN | GUILDFORD
Alfred's Kitchen do burgers done good. The lentil burger and veg burger will keep vegos satisfied while the cram (hamburger patty, egg, cheese, and a pice of black angus scotch fillet steak) will keep the rest of us more than satisfied.
VARSITY BURGERS | NORTHBRIDE
Varsity Burgers in Northbridge have a menu just the way we like it—dedicated just to burgers. The tupac'd not only has a great name, but is delish: jerk spiced chicken, bacon, cheese, lettuce, tomato, red onion and avocado.
Tasmania
BURGER GOT SOUL | LAUNCESTON
Burger Got Soul is a Launceston institution. Their extensive menu covers everything from beef, lamb, chicken, seafood, and veggie burgers so even the pickiest of eaters will be satisfied. The 'lord of the rings' is pretty damn tasty; think beef burger with onion rings stacked on top.
STANDARD HOTEL | HOBART
The Standard does a mean burger. So next time you're making the trek down to soak up Tassie's epic beauty, do yourself a favour and stop by for a burger (or two).
This article also appears on our sister site, The Urban List.
Image Credit: Fritzenberger by Yaseera Moosa and Daniel Hine for Metropolist