Our search for the best breakfast on the Sunshine Coast has taken us through many a plate of poached eggs and stack of pancakes.
So we've put together our list of 27 Sunshine Coast breakfasts you need in your life—a monster list of breakfast dishes that have earned a spot in our Sunday routines, or a drive-by takeaway dash on our way to work.
Sweet or savoury, fried or scrambled, these are the start-of-the-day meals we roll out of bed for. Like to think of yourself as a Sunny Coast breakfast connoisseur?
Enter your details below and tell us just how much of a Sunshine Coast breakfast boss you are!
We want to know; how many have you got to go? Count up how many of these iconic Sunshine Coast breakfasts you've had as you move through the list!
Now we'll have you know, this is in no particular order as that'd be waayyy too hard!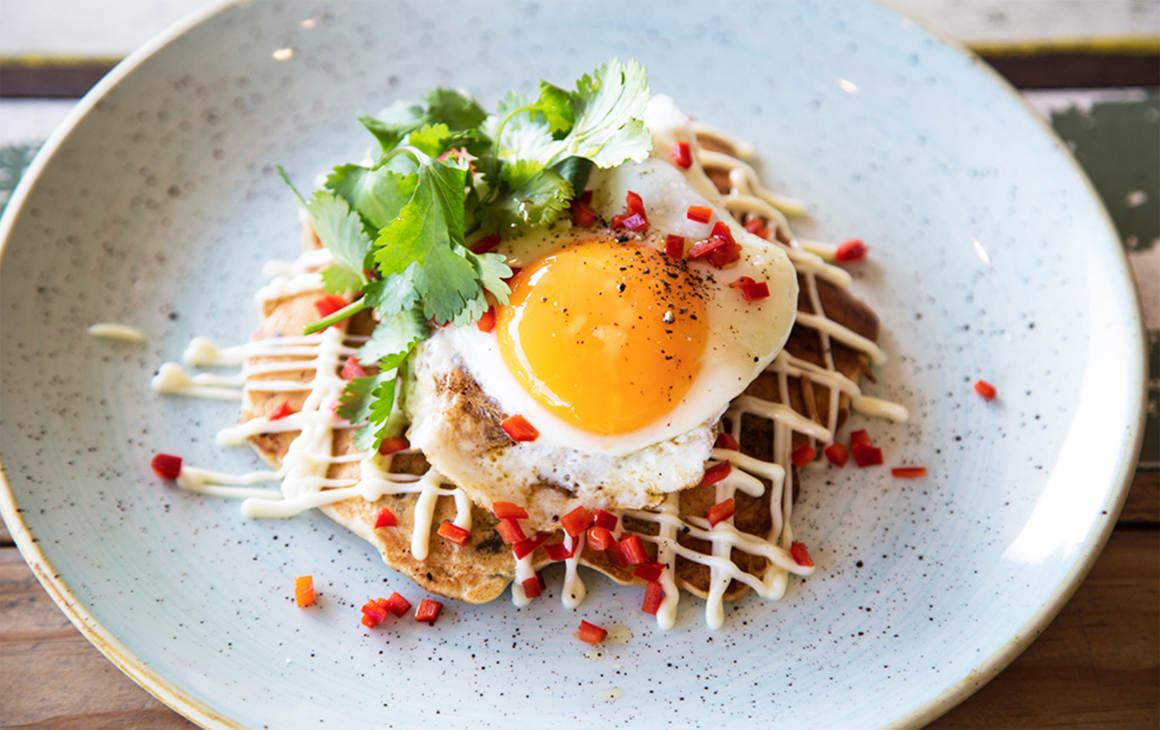 1. The Velo Project, Mooloolaba—The Hunter's Breakfast sets the "big breakfast" bar stupidly high with deliciously meaty ham off the bone, pork and sage sausage, grilled haloumi, toasted ciabatta, a sweet tomato chutney, and so much more than we can be bothered to write.
2. Greenhouse Café, Caloundra—Bits and Bobs with egg, spicy beans, tomato salsa, avo, feta, and fresh greens all piled high on long-fermented sourdough. So organic. So guilt-free.
3. Little Boat Espresso, Marcoola—Have you tried Little Boat's okonomiyaki served with twice-cooked pork belly, a fried egg, coriander, fresh chilli, and Japanese sauce and mayo? Do it!
4. Noosa Beach House, Noosa—Pretty much the most epic buffet breakfast in town.
5. Depot, Noosaville—Toast "N" Toppings, speaks for itself but our fave is the seeded sourdough topped with fresh fig, ricotta, quince ham, walnuts, and drizzled with just the right amount of honey.
6. Noosa Hot Bread Shop, Noosa—Pains au chocolat is the perfect brekkie-on-the-run where you don't have to compromise taste for convenience.
7. Canteen, Noosa—Granola Clusters is a symphonic concoction of golden rolled oats clusters, puffed quinoa and nuts, mixed with goji berries and raisins, and then topped with coconut yoghurt, local bush honey, cinnamon, and a handful of fresh berries. Holy deliciousness!
8. Decisions Café, Birtinya—Vanilla Pannacotta loaded with berry confit, buttermilk pancakes, Nutella mousse and choc honeycomb. The breakfast dessert everyone wants a piece of.
9. Beau's, Caloundra— Lox + Schmear, a New York City Bagel laid with smoked salmon, dill cream cheese, and capers.
10. The Shak, Buderim—The Gatherer, the ultimate brekkie in a bowl that's as nourishing as it is pretty.
11. Guru Life, Rosemount—All Day Breakfast is the king of A.M. eating 'round here with fried eggs, avo, mushies, tomato, cheese, and chutney making an appearance. Add bacon for the beastiest of feasts.
12. Husk and Honey, Nambour—Open BLT on gluten and grain-free bread with nitrate-free bacon, crispy lettuce, and homemade tomato chutney.
13. Little Miss Saine, Buddina—Pumpkin and Smashed Avo Bruschetta topped with cinnamon-roasted pumpkin, Meredith's marinated goats cheese, torn basil, and toasted pepitas served on Van Wegens organic crusty sourdough.
14. Monica's Café, Maleny—The holy grails of vegetarian breakfasts—poached eggs, avocado, mushrooms and spinach, haloumi, cherry tomatoes, sourdough, and basil pesto.
15. Little May Espresso, Montville—Potato and Leek Frittata with house-cured ocean trout, crème fresh, apple and greens.
16. Shotgun Espresso, Maleny—Crispy Sweet Corn Fritters with crème fresh and capers, smoked salmon, fresh dill and young greens.
17. Bistro C, Noosa Heads—Pulled Pork and Sweet Potato Hash teamed with poached eggs, apple cider and bacon jam, candied chilli, green apple and herb slaw. You'll be set for the day!
18. Gainsbourg, Mooloolaba—Brulee Brioche topped with strawberries, pistachio mascarpone, and drizzled pure maple. Just wow!
19. Paperboy Café, Tewantin—Bogan Burger, featuring bacon and eggs on toasted Turkish. A steal at 8 bucks! This one's a special though, so it's all about timing.
20. Jimmy Foxx, Noosaville—get your smashed avo fix from Jimmy Foxx, complete with feta, tomato salsa and mixed seeds.
21. Get Fresh, Cotton Tree—Superfood Pancakes with coconut ice-cream, nuts, cacao, blueberries, and strawberries. These babies are divine!
22. High Tide, Mudjimba—for the experimenters, go the Thick Cut Smoked Bacon with beetroot relish, poached eggs, ham and parmesan potato croquettes.
23. Sunshine Sunshine Espresso, Currimundi—Cherry Ripe Cronut. Some may think it ain't breakfast material, but the sweet-tooths out there know where it's at!
24. Noosa Farmers Markets, Noosa—Rotis, smoothies, and all things delicious. The go-to for a family with differing taste buds.
25. Hungry Feel, Buderim—Got a craving for baked eggs? Order the Eggs Middle Eastern baked eggs with tomato, quinoa, chorizo, and dukkah kibbeh.
26. Bohemian Bungalow, Eumundi—From Paris With Love, a French baguette dipped in maple flavoured egg, then fried and served with crispy shaved bacon, drizzled with maple syrup and topped with whipped cinnamon butter. That is all.
27. The Nines, Maroochydore— Waffles Squared, featuring two house-made waffles, salted caramel, banana, ice-cream, and sprinkled with a seed and nut mix. Delish!
Image Credit: Ariana Gillrie for Metropolist and Little Boat Espresso