While we regularly follow H&M for its sell-out designer collaborations (think P.E Nation, Alexander Wang and Kenzo), their latest partnership is something a little different. After being stuck at home for the majority of this year, we can't think of a better collab than one dedicated to days spent at the beach and in the surf.
For its latest line, H&M has teamed up with all-female surf collective, Women + Waves, to not only inspire women to feel empowered and get out and active, but also make the most of what our beautiful local beaches have to offer. So, if learning to surf has long been on your bucket list, this is the summer—and collection that's available now in-store and online—to get out and make it happen.
Originally founded by Rachel Murphy in England in 2017, Women + Waves is a sisterhood of surfers whose aim is to celebrate and strengthen the power and beauty of women and our oceans—and it was exactly this ethos that caught the eye of fashion-giant, H&M.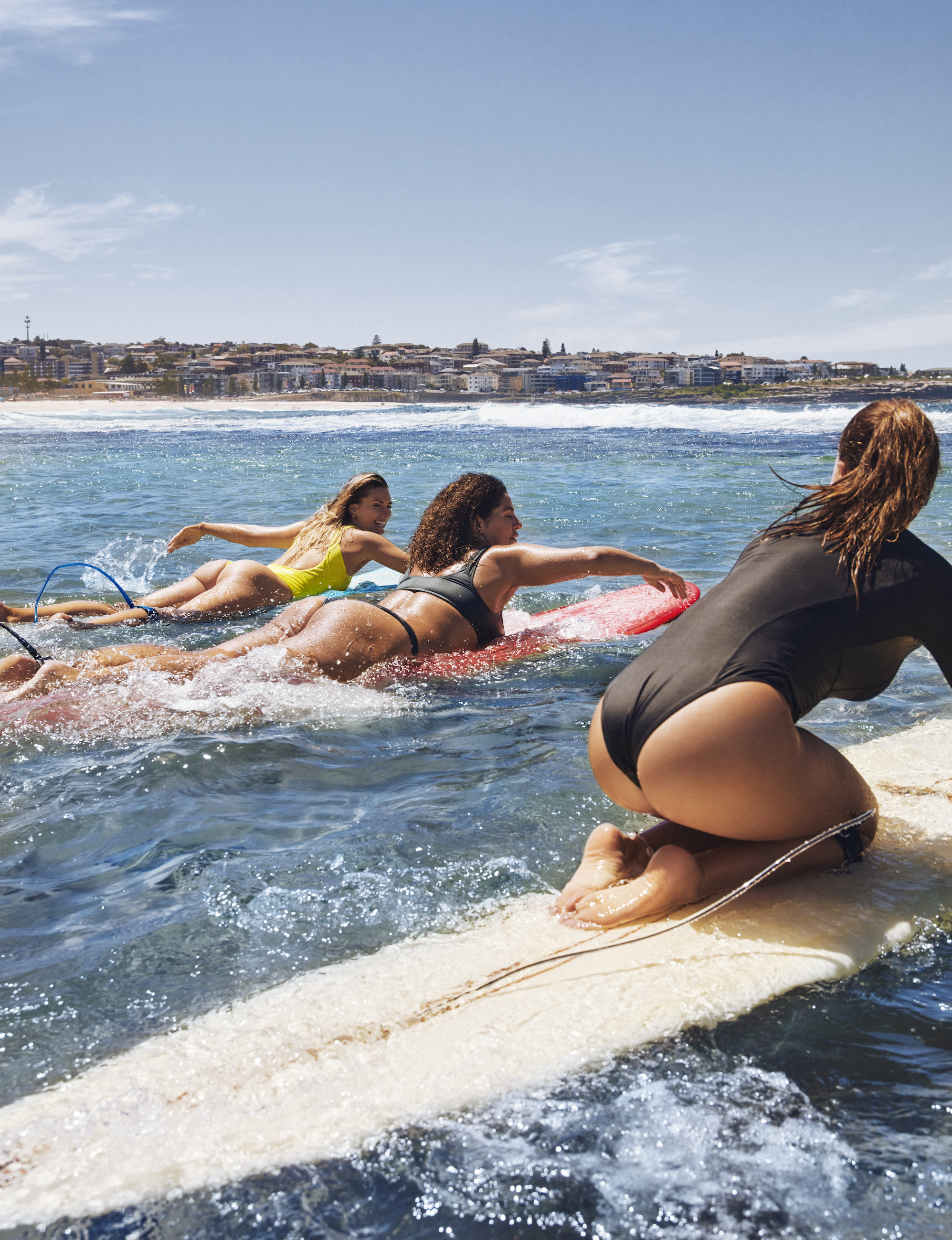 "When we came across Women + Waves for the first time, we were blown away by the power and authenticity of this all-female surf collective. It's unique, positive and inspiring, so we're absolutely thrilled to be collaborating with them. Together, we knew it was important to have functional and fashionable swimwear as the core of the collection, which could then be styled for any occasion under the current circumstances we are in," explains Maria Ostblom, Head of Design, womenswear at H&M.
The surf-ready collection includes everything you need for the beach and beyond, from '90s, inspired zip-up one-piece swimsuits, rash guards, and bikinis in a cool, muted colour palette of greens, soft yellows and blacks. There's also a t-shirt and hoodie featuring the Women + Waves logo, perfect for throwing on post-swim.
With the entire collection created in close partnership with both the H&M in-house design teams and Women + Waves, the final pieces are not only fashion-forward but entirely functional for hours spent in the water. With considered details such as zip fastenings, secure straps and body-enhancing seams, these pieces ensure you'll not only look great but feel comfortable, confident and carefree while in the water.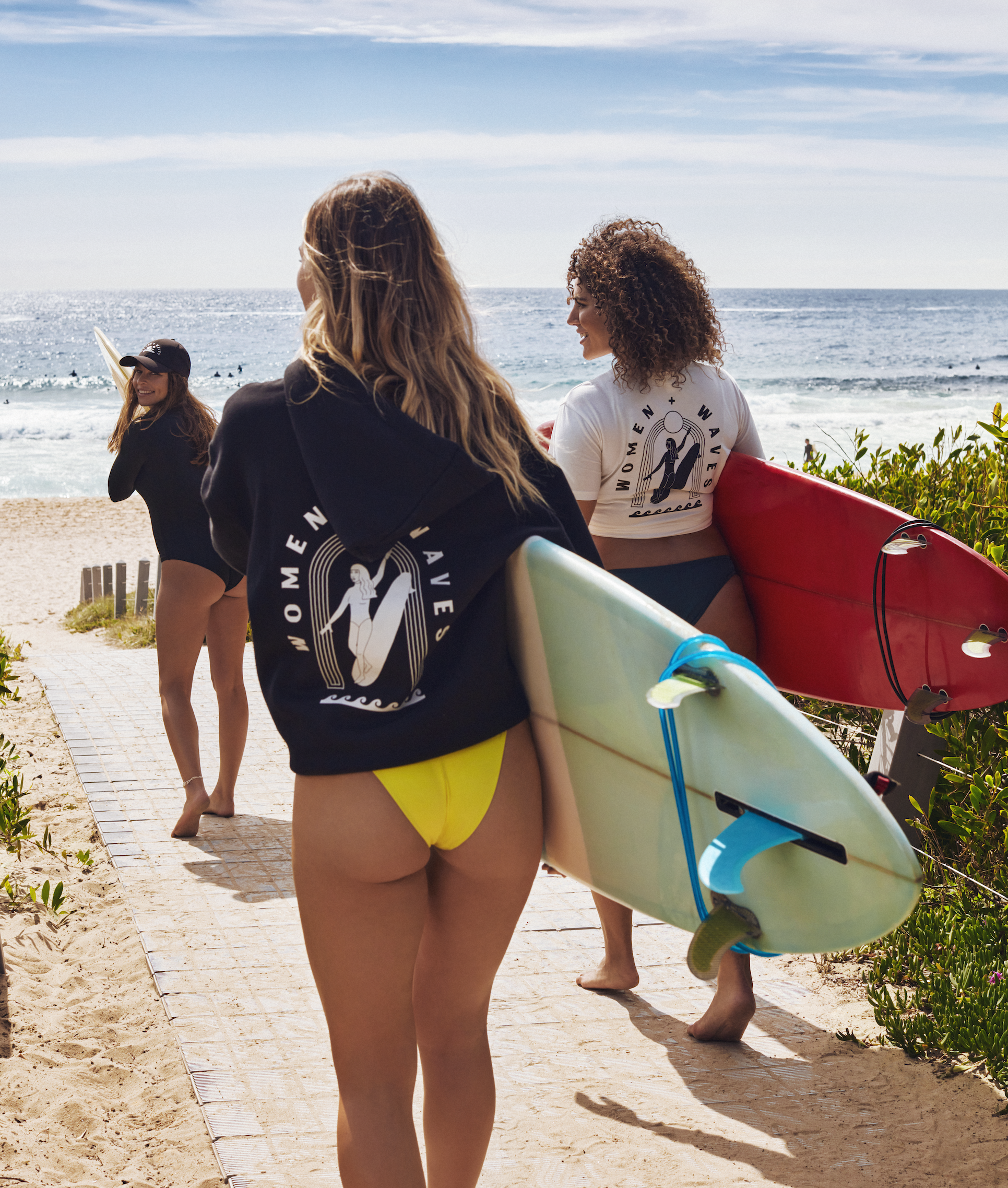 "With this H&M collaboration, we really wanted each piece not only to be practical but also reflect the strength and empowerment of women surfing together," explains Rachel Murphy, founder of Women + Waves. "Our community started from casual once-a-week gatherings and now it has grown into a real collective who constantly support one another. I hope the H&M collaboration will inspire women to surf, plus raise awareness of keeping the oceans clean."
Beyond looking and feeling good, The Women + Waves x H&M line is also environmentally friendly, with sustainability and the protection of our oceans at its core. Made from recycled polyamide, recycled polyester and cotton, the entire collection is crafted from fabric blends that are at least 50 per cent sustainably sourced materials.
Functional, fashionable and sustainable, we can't wait to put this collection to the test at some of our favourite beach locations this Summer. However, like most of H&Ms collaborations, we suspect these pieces will sell out quick! So, make tracks to your nearest H&M store, or shop The Women + Waves x H&M collection online here.
Editor's note: This article is sponsored by H&M and proudly endorsed by Urban List. Thank you for supporting the sponsors who make Urban List possible. Click here for more information on our editorial policy.